GIF: Yasiel Puig is happy; Hyun-Jin Ryu is tolerant
The Dodgers have been hot lately, and Yasiel Puig, to the possible chagrin of Hyun-jin Ryu, can scarcely contain himself.
More MLB: Scoreboard | Standings | Probable Pitchers | Sortable Stats | Odds
Dancing -- the act of surrendering one's body and essence to the beat -- is most often an involuntary action. At times, circumstance and rhythm conspire, and the entire being becomes like a heart -- an organ in thrall to the electric impulses channeled its way. So it is with Dodgers phenom Yasiel Puig, who, if left to his own devices, would surely dance until there was no more music in this or any other world.
As for his workaday teammate, Hyun-Jin Ryu, his relentless sense of mission will permit no hip thrusts, no gyrations that would surely make the spectral presence of Ed Sullivan recoil in modesty. Hyun-Jin Ryu, you see, was placed on this earth for two reasons: to pitch and to suffer the ministrations of Yasiel Puig ...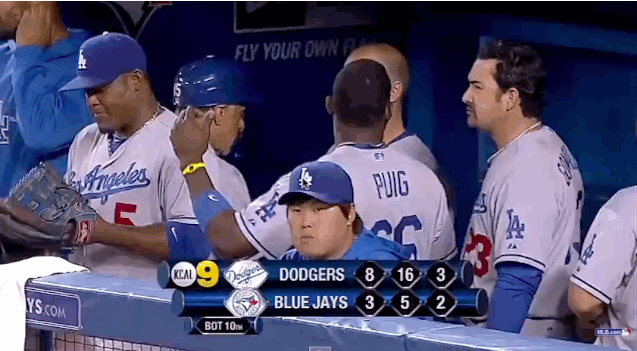 Yasiel Puig would very much like to dance the night away. Hyun-Jin Ryu would very much like to have some warm milk and go to bed.
Despite a seven-game ALCS, the Houston rotation lines up nicely for the World Series

Sabathia and the Yankees are a perfect fit for each other

Bregman threw out Greg Bird at the plate to preserve the Astros' lead
The 2017 World Series begins Oct. 24

The Yankees returned to contention even quicker than their front office expected

The Dodgers have the better defense, rotation, and bullpen, in our estimation