GIFs, CHIPPINESS: Pirates, Cardinals get testy
The Cardinals and Pirates on Wednesday seemed to be feeling the pennant race intensity.
So during the course of their fraught Wednesday afternoon contest, the Pirates and host Cardinals (STL 1, PIT 0) indulged in some stretch-drive chippiness between division rivals. 
Things began when Edinson Volquez plunked Matt Holliday on the arm with a 2-2 fastball in the fourth ...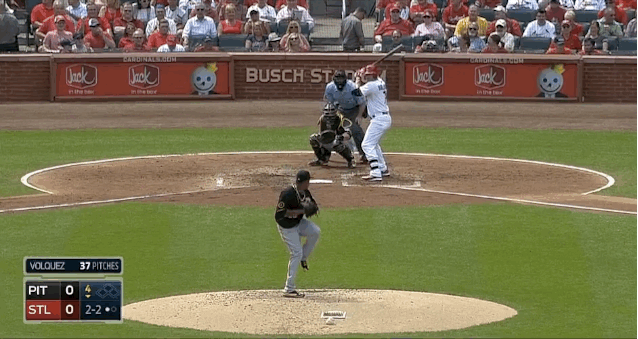 Obviously, that was neither egregious nor intentional. However, Holliday was struck by a pitch against the Cubs on Saturday and Sunday. While the Pirates obviously had nothing to do with that, there's probably some weariness on the other side when it comes to seeing one of their best hitters get drilled. As well, the Pirates have a reputation for pitching far inside quite often relative to most other teams. 
So that brings us to this: Shelby Miller versus Andrew McCutchen in the sixth ...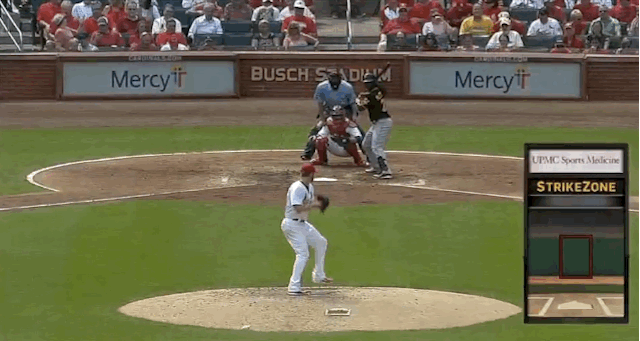 Well then. There's some escalation for you. That pitch by Miller was behind McCutchen. At this point, plate ump Ron Kulpa warned both benches. 
Let's recall that McCutchen not long ago missed significant time with a rib fracture/cartilage injury that may have been caused in part by his getting plunked by the Diamondbacks in early August. Needless to say, seeing the reigning NL MVP get thrown behind after an accidental HBP, which is exactly what unfolded in Arizona, was probably displeasing in the extreme to Clint Hurdle's club. 
So that brings us to the home half of the sixth, when Corsairs catcher Russell Martin, while taking his position, exchanged words -- possibly naughty words -- with Mike Matheny and Yadier Molina in the Cardinal dugout ...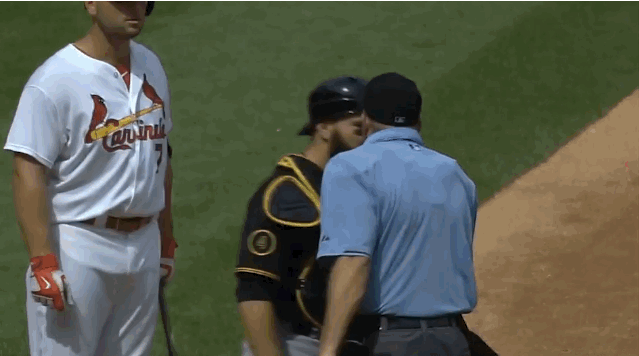 Three catchers yelling!
Fortunately, no brawl came of this, and any lingering hostilities will likely need to be tabled until 2015, as the Cards and Buccos won't meet again this season (barring any playoff encounter). 
Developing, maybe!
Plus the Indians are now 27-1 in their last 28 games. Here is everything you need to know from...

The soon-to-be 43-year-old Dickey said he wants to spend more time with his family

The two NL Central rivals opened a four-game series at Miller Park on Thursday night
The ballparks in Cincinnati, San Diego and Seattle will have expanded netting in place by Opening...

Mondesi spent six years as the mayor of San Cristobal in the Dominican Republic after reti...

The veteran skipper has been Mets manager since the start of the 2011 season