GIFs: Masahiro Tanaka looks strong in Yankees debut
Yankee import Masahiro Tanaka faced the Phillies in Grapefruit League play on Saturday. It was his MLB debut.
MORE: Spring Training | FA tracker: position players | FA tracker: pitchers
On Saturday, the Yankees got their first in-game look at right-hander Masahiro Tanaka, the 25-year-old Japanese right-hander they signed this offseason to a $155-million contract (plus the $20-million posting fee). Facing the Phillies in Grapefruit League play, Tanaka worked two scoreless relief innings (the fifth and sixth), gave up two hits (both on 0-2 fastballs too near the zone), struck out three, walked none and recorded three fly-ball outs, none of them well-struck. 
"I was nervous, but it was a really good nervous," Tanaka said afterward through an interpreter (source: Bryan Hoch, MLB.com). "It's the first time that the batters faced me. It'll probably be a little bit different the next time around. Everything is new to me, so for today, I was just trying to locate my pitches where the catcher was holding his glove."
Before making a few observations, I'm of course duty-bound to point out that this is a spring outing, and it's a single, isolated appearance. The sample size is infinitesimal, and it wasn't for keeps. As such, firm conclusions are not be drawn. With that said, we can dig in a bit and get our first taste of Tanaka ... 
By my count, Tanaka threw five of his six reported pitches. Unless I misidentified a particular offering (a distinct possibility), I didn't see the changeup or cutter, which he rarely throws. I did, however, witness the fastball (he topped out at 94 but was mostly 92, 93), slider, curve, splitter and two-seamer. Tanaka showed very good command of his fastball and was able to place it inside and outside, but he was inconsistent in spotting his breaking balls. In particular, his curve was quite loose and "loopy," and on this day it looked more like a "show me" pitch than any kind of swing-and-miss offering.
While Tanaka missed spots with a couple of his sliders, he did flash this one to Darin Ruf, the first hitter he faced ...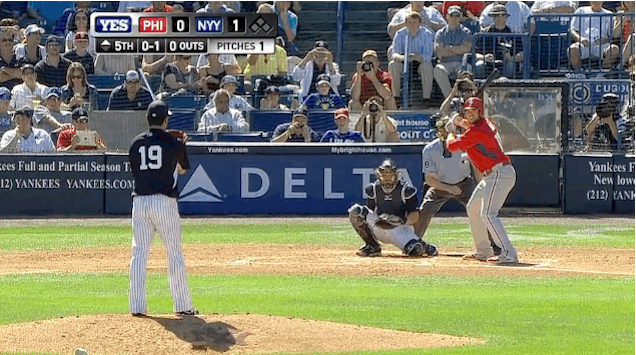 That's not a great pitch, but it's got enough break to make some hitters bite. 
It wasn't until the second inning that he called on his out pitch, the splitter. Indeed, it's as nasty as advertised, as Ben Revere learned ...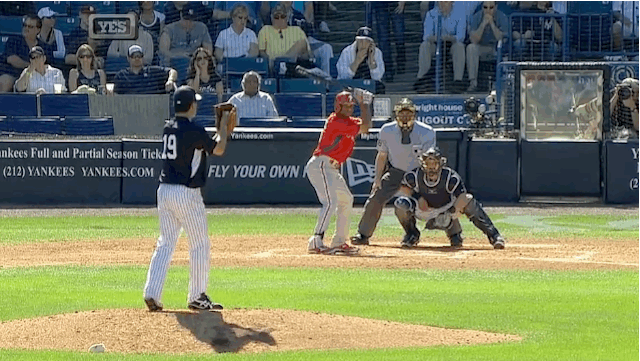 That's some serious drop as it approaches the plate. 
Some general observations ... Based on Saturday's outing, Tanaka likes to stay up in the zone against the opposite side, and he definitely favors the first-pitch fastball. The four-seamer is definitely major-league quality, especially considering that Tanaka seems to have very good command for it, and the wipeout split-finger is genuinely nasty.
Some of Tanaka's success moving forward may have to do with his ability to get a feel for his breaking stuff. In Tanaka's second inning of work, manager Joe Girardi commented, during an interview with the Yankee broadcast booth, that they were focusing on throwing Tanaka's curve more than he's accustomed to on Saturday. Perhaps, then, the Yankees want to focus on cultivating that pitch during camp and making it his go-to breaking ball. That's something to monitor. 
All in all, it was an impressive outing by Tanaka, particularly considering it was his first appearance of the spring. So far, so good for this year's marquee import. 
From the rebuilding Marlins to the aggressive Angels, here's how the most active teams made...

Plenty of other teams are involved, of course

Where might the Orioles third baseman land?
Kinsler will slot in at second base for the Angels

The Marlins got a better return for Ozuna than Stanton or Gordon

The two teams are going about things in very different ways