GIFs: TCU tops Sam Houston in epic, controversial 22-inning game
The Saturday night NCAA Tournament match-up between TCU and Sam Houston State will not soon be forgotten.
More MLB: Power Rankings | Expert Picks | Latest news & notes | Fantasy news
In NCAA Tournament regional play on Saturday night, TCU prevailed over Sam Houston State by a score of 3-2. The win left TCU at 2-0 and Sam Houston at 1-1 in the double-elimination first round. So, one-run, high-stakes game? That's compelling enough. But that's a mere trace element of the story. 
Please feast thine eyes on the following guffaw-inducing line score ... 

Yes, this meaningful encounter sprawled 22 full innings. That's the second-longest game in D-I tourney history (as Big League Stew notes, Texas and Boston College went 25 innings in the 2009 tournament). 
Among the marvels to be found in this particular box score ... 
- Two pitchers -- Trea Teakell of TCU and Ryan Brinley of Sam Houston -- each worked 6 1/3 innings in relief.
- TCU third baseman Derek Odell went 0-for-10 on the night.
- A total of 170 batters came to the plate -- exactly 85 for each team.
- A total of 593 pitches were thrown.
- Catchers Kyle Bacak (TCU) and Anthony Azar (Sam Houston) went the distance. Each also drew three walks.  
- The game lasted six hours and 55 minutes.  
It almost ended in the 13th, but check out this exceptionally nifty throw-relay-tag sequence by the Horned Frogs ...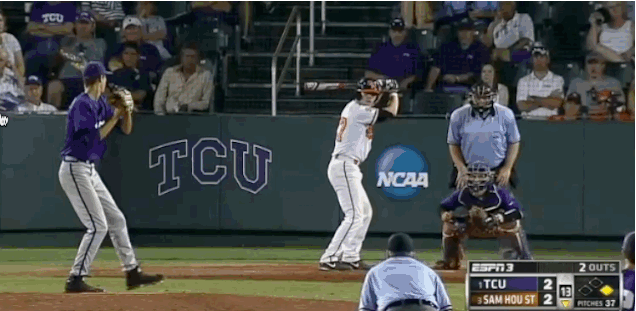 Most excellent!
Let is also be said that the game was steeped in controversy. Sam Houston appeared to win the game in the bottom of the 21st, when Luck Plucheck's takeout slide snuffed out a potential double play and allowed a run to score. However, the second base ump decided that he began his slide too late and ruled interference. Here's the play in question ...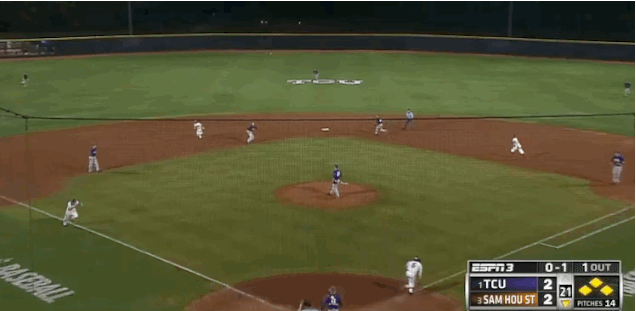 And here's another angle ...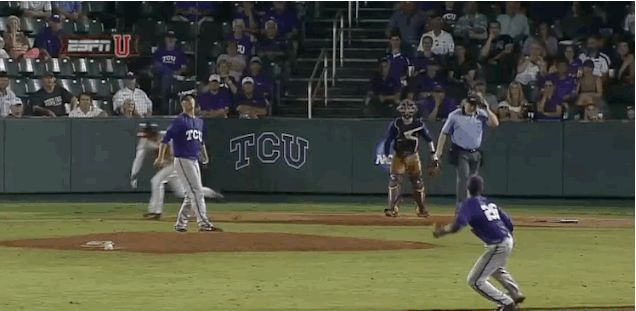 To say the least, that's an unfortunate way to help decide a game like this. In the end, this will be one of those "Rorschach plays," in which most people will see what they prefer to see. 
Here's what Sam Houston head coach David Pierce, who was ejected during the ensuing argument, had to say after the game:
In the end, those 22 innings left TCU one win away from advancing to the Super Regional and Sam Houston one loss from seeing its season draw to a close.
Understatement of criminal proportions: What a darn game.