GIFs: Yasiel Puig, Madison Bumgarner get chippy after homer
Friday night's Giants-Dodgers game was not without some of the usual Giants-Dodgers drama. Yasiel Puig was central to it.
More MLB: Power Rankings | Expert Picks | Latest news & notes | Fantasy news
Giants lefty Madison Bumgarner twirled a gem against the Dodgers on Friday night, but in the course of that gem Yasiel Puig managed to touch him for a solo homer in the sixth. As Puig rounded third following his customary bat-flip, he and Bumgarner exchanged words -- inhospitable words, presumably -- and for a few moments thing seemed on the verge of boiling over. 
Let's revisit things, shall we? At this writing, there's no embeddable video of said squabble, so let's turn to the timeless medium of the GIF, which was invented by Betsy Ross.
First, the pitch prior to the homer may have stuck in Bumgarner's craw just a bit ...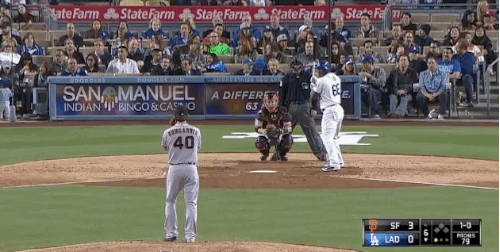 To be fair, Puig pretty clearly had something in his eye just prior to the pitch, and the offering was in fact ruled a strike. Still, pitchers (somewhat understandably) don't like mid-delivery interruptions. 
Then, Puig wrought this ...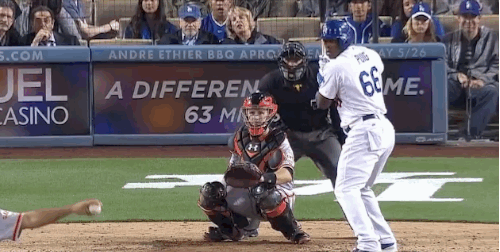 And then words were spoken, possibly through clinched teeth ...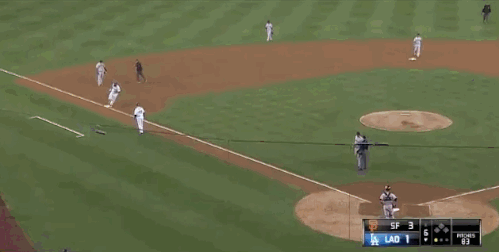 The guess here is that everything -- the stepping out of the box mid-pitch, the bat-flip, the somewhat leisurely trip around the bases (made more leisurely by Bumgarner himself) -- conspired to annoy the Giants' lefty. None of this, however, seems too egregious on the part of Puig. At least not as egregious as, say, this. 
Anyhow, via MLB.com's Ken Gurnick, here's what Bumgarner had to say after the game (note that tongue seems to be deeply ensconced in cheek):
"I was just congratulating him. That was a really good swing. I don't know why everybody got so mad. That was pretty impressive. I don't know what happened. Again, I don't know why everybody got so mad. It escalated quickly for no reason. I think he said, 'Thank you,' I'm not sure if he did. I don't speak Spanish very well."
And here's Dodgers skipper Don Mattingly:
"He hit it, flipped it and ran. I'm not sure what he's upset about. You see guys do stuff every day. The double standard is always annoying. Obviously, Yasiel is a little bit of a lightning rod. He plays hard. I didn't think he did anything wrong."
I'll go with Mattingly's take on this. I'm not sure why pitchers as a species remain so breathlessly concerned about post-homer decorum, but nothing Puig did strikes me as out of line relative what some guys on every team in the majors undertake on occasion. 
Developing, probably!
Where might the Orioles third baseman land?

Kinsler will slot in at second base for the Angels

The Marlins got a better return for Ozuna than Stanton or Gordon
The two teams are going about things in very different ways

The Marlins are indeed in teardown mode under new ownership

The Marlins still have more attractive pieces