Gio finds supportive fans, and a team supportive of the WBC
Many teams cringe when their starting pitchers go to the World Baseball Classic. The Nationals are different. They have two starters headed for Team USA, and they encouraged both to go. Gio Gonzalez appreciated the support (and also appreciated the support he heard from fans Monday night, in his first start since his name came up in the Biogenisis report).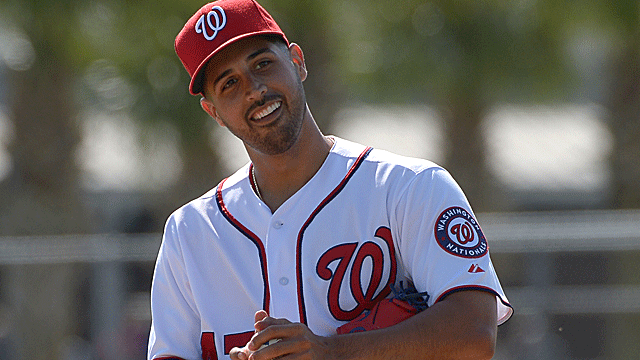 The Nationals' Gio Gonzalez is expected to make his first WBC start on March 12.
(Getty Images)
PORT ST. LUCIE, Fla. -- If there's any team that should be supportive of Team USA, it's the Nationals.

Their manager, Davey Johnson, was the Team USA manager the last time around. They play in the nation's capital, and they play off the patriotism theme whenever possible.

So the Nationals should be thrilled that 40 percent of their starting rotation will head to the World Baseball Classic over the next couple of weeks.

They are thrilled. The Nationals were happy Gio Gonzalez was on the initial roster, and they were very supportive when Team USA asked to add Ross Detwiler.

General manager Mike Rizzo encouraged Detwiler to accept the offer.

"Anytime you can represent your country, it's a great honor, a great experience," Johnson said Monday.

And a great imposition on a team with World Series aspirations?

Plenty of other teams think so. Plenty of other teams hoped like heck that their pitchers wouldn't be asked, or would find a reason to say no.

One rival general manager, told that the Nationals will have two starting pitchers in the tournament, chuckled and said, "I think [Stephen] Strasburg would look good on that team, too."

The implication was that it's a big risk to have your pitchers in the tournament, either because there's a bigger risk of injury or simply because of the need to crank it up earlier to something approaching regular-season intensity.

Truth be told, the Nationals worry, too.

"It's a great experience, and they're getting an opportunity that may never come along again," pitching coach Steve McCatty said. "It's a pretty cool deal. But is anyone comfortable with it? No.

"I still don't feel good, but I don't feel good every day."

Gonzalez, who made his spring debut for the Nationals on Monday night against the Mets, said he appreciates the organization's support.

"To represent the U.S.A. is the biggest honor you can have," Gonzalez said.

This was going be a different spring for Gonzalez, anyway, once his name came up in reports about the Biogenisis clinic in Miami. Gonzalez acknowledged Monday that he didn't know what reaction fans would have when he took the mound for the first time, and he seemed relieved that the reaction was positive.

"It's good to hear that the fans still love you," he said. "When a lot of people are supporting and showing you love, you appreciate it. I can take that to the clubhouse tomorrow with a smile."

Gonzalez has already been told his first WBC start will come March 12, in the first game of the second round in his hometown of Miami. Because he won't be needed in the first round, he won't need to travel to Arizona, so his WBC experience will be less disruptive.

Johnson said he was told Detwiler is going to pitch on March 9, against Italy in Phoenix, in Team USA's second game.

"I think this could be a very constructive experience for him," Johnson said. "You're seeing good hitters from all over the world. They'll glean things from being around [Team USA coaches Marchel] Lachemann and [Greg] Maddux."

But there's no question Johnson was happy his 20-game winner won't be away for too long, and won't be going to Arizona.

"He's not too far out of our clutches," Johnson said.

The truth about the WBC is that even the most supportive team will worry a little bit every day until the pitchers come back healthy.

But the Nationals want the WBC to work. Johnson wants it to work.

Johnson said he thinks that even though this Team USA roster will have fewer stars than the one he managed four years ago, he thinks this team may be better suited to win.

"I told [Team USA manager Joe Torre], 'I really like your roster, and I really like your schedule,'" Johnson said. "I think they have a heck of a chance to win the whole thing."

If the two Nationals pitchers help them do it, the Nationals will be thrilled.
The team could instead use a closer by committee approach

Both Seung-Hwan Oh and Trevor Rosenthal are free agents

The Yankees may plug their third base hole with a familiar face
Darvish's poor World Series hasn't scared the Dodgers away

GM Sandy Alderson said he followed his manager's recommendation

A report indicates the Rays are listening to trade offers on Chris Archer and Evan Longori...