Girardi turns Raul into Yankee hero, A-Rod into a $29M cheerleader
With one decision to have Raul Ibanez pinch hit for Alex Rodriguez in the ninth inning Wednesday, Joe Girardi helped the Yankees to a crucial win, but also finally and fully exposed his $275 million man as one no longer worthy of the prime-time stage.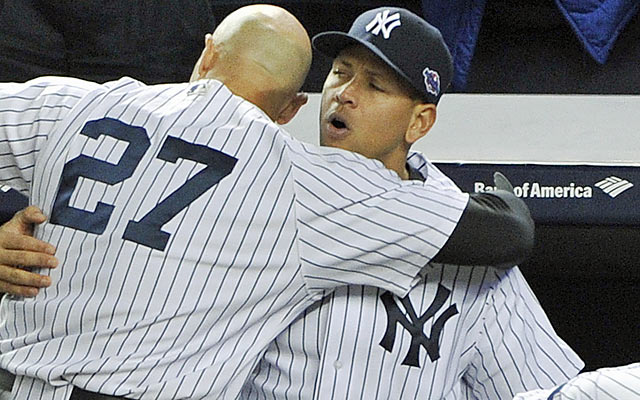 A-Rod, who congratulates the player who replaces him in the lineup, says 'I wish that was me hitting two home runs.' (AP)
NEW YORK -- In October, there's no deeper story.

You win. You lose. That's the story.

That's the story, until you get to a crazy night in the Bronx, where Joe Girardi made the move that won the game . . . and the move that finally and fully exposed his $275 million man as one no longer worthy of the prime-time stage.

In the biggest moment of the Yankees season, Girardi decided he'd rather count on Raul Ibanez than on Alex Rodriguez. He'd rather count on a 40-year-old who is guaranteed nothing for next year than on a 37-year-old who the Yankees owe at least $114 million over the next five years.

And he was right. Of course he was right.

There's no doubt he was right.


More on Orioles-Yankees
Related links
Who wins World Series?
You knew he was right. I knew he was right. Everyone in the Yankee dugout knew he was right, even before Ibanez homered his way into Yankee history, and pulled the Yankees back in front in this hard-fought Division Series.

A home run off Jim Johnson (while batting for A-Rod) to tie it in the ninth. A home run off Brian Matusz to give the Yankees a 3-2 win (and a two games to one series edge) in the 12th.

All while Alex Rodriguez was reduced to being a $29 million a year cheerleader.

"I wish that was me hitting two home runs," A-Rod said.

He said he had no problem with Girardi's decision. He said he was "on the top step" pulling for Ibanez. He said he's a team guy and a team leader.

"I never question my manager," he said. "That's where my head is now. I'm coming right back at them, and I'm going to be swinging out of my ass."

But will he get the chance? Should he get the chance, when he so clearly wasn't the best option for the Yankees with a season on the line?

Girardi tried so hard to show faith in A-Rod Wednesday. He resisted all the outside calls to drop him out of the third spot in the batting order. He watched him go to the plate three times, make three outs, and inspire boos from the Yankee Stadium fans three times.

But Girardi also knew he had Ibanez on his bench. He knew that just a week ago, Ibanez had tied a game with a ninth-inning home run off Andrew Bailey, then win it in extra innings with a single.

"What [Ibanez] is doing right now, I can't believe what I'm seeing," Eric Chavez said.

Sending Ibanez up to save a game in the ninth was an obvious call. Sending him up to pinch-hit for your third hitter was bolder, even if it was right (and even if that third hitter didn't have 647 career home runs, a huge contract and a huge self-image).

"I just kind of had a gut feeling," Girardi said. "I just felt I had to do what was in my gut, what my stomach was telling me and what I thought was the best thing to do."

He wouldn't say whether Rodriguez will bat third in Thursday's Game 4. He didn't even know whether Derek Jeter will be in Thursday's lineup, one of many points overshadowed Wednesday by Ibanez and Rodriguez.

Jeter left Wednesday's game just before A-Rod did, because of a bone bruise on his foot. It was just the fourth time in 155 career postseason games that Jeter had left early, and the first time it happened with the Yankees trailing by fewer than nine runs.

That would have been a huge story. Orioles starter Miguel Gonzalez's brilliance would have been a huge story. Orioles third baseman Manny Machado becoming just the third 20-year-old to homer in a postseason game, joining Miguel Cabrera and Mickey Mantle -- that would have been a huge story, too.

Give A-Rod this: He may not be able to take over a game anymore, but he sure can take over the story of a game.

But that's not really worth $29 million a year, is it?

Neither is this: Over the last two postseasons, Rodriguez is 3 for 30 (.100) with no extra-base hits and 13 strikeouts. Since the middle of September, he's 18 for 80 (.225) with one extra-base hit (a double) and 27 strikeouts.

He keeps talking about how relaxed and comfortable he feels. He keeps looking like he'll never hit another home run again.

Since the last time A-Rod homered, Ibanez has hit six -- in just 42 at-bats.

"He's in a happy place," Russell Martin said.

It was Martin who said he realized that Ibanez was pinch-hitting in the ninth when he heard the crowd erupting in cheers and "Rauuuuul's." The fans knew who should hit.

It was also Martin who inadvertently said what everyone else was thinking.

"With Raul, you just feel it's a better matchup," he said.

Realizing what that implied, Martin quickly added: "With any right-handed hitter [against Johnson], it's a better matchup [to use the lefty-hitting Ibanez]."

Perhaps it is, but if A-Rod is who he's supposed to be, no one is pinch-hitting for him there, not against any pitcher in the world. There's a reason that no one had ever hit for A-Rod in a postseason game before -- or in any game where an injury or a lopsided score wasn't the reason.

"Maybe in junior high or high school," A-Rod said, when someone asked the last time he was pinch-hit for.

You can argue about whether this is worse than the 2006 Division Series, the one where Joe Torre batted a slumping A-Rod eighth in the final game in Detroit. When I asked that question on Twitter Wednesday, I got reasonable answers arguing each way.

A-Rod was better then, so that was worse, one fan said. No, this is worse, said others.

This is worse, I say, because of what it says. It says that at age 37, with five years at huge money remaining on his Yankee contract, A-Rod isn't the guy you believe can win a game for you.

It's hard to argue that he is. It was hard to argue that Girardi made the wrong move, even before you knew how it was going to turn out.

It's easy to think this is a night none of us will ever forget, because of the guy who hit the two dramatic home runs.

And because of the guy who didn't.
A beardless Wilson says that he tried to outrun the police on the second day he had his driver's...

The Diamondbacks outfielder was not impaired, he was just going way too fast

MLB can unilaterally implement rule changes, which will also include limits on mound visit...
If the MLBPA wants to repair MLB's salary structure, it should push for more money for young...

Fans aren't happy Gerrit Cole and Andrew McCutchen have been traded away

Acuna is arguably the best prospect in baseball