GM Neal Huntington's big additions help Pirates to NLDS Game 2 win
The Pirates knotted the NLDS at one apiece with Friday's 7-1 win. GM Neal Huntington's biggest moves all contributed to the win.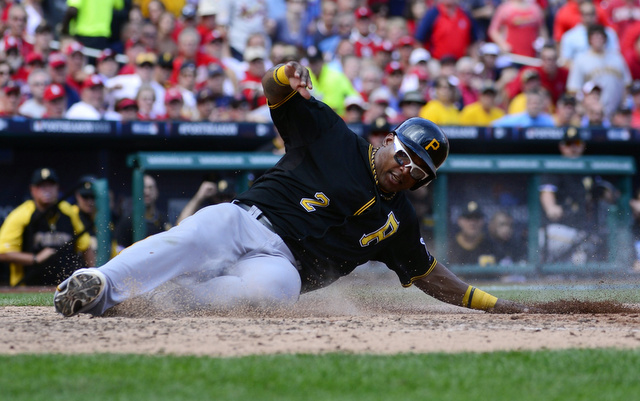 More: NLDS Game 2 quick hits | Who has the edge?
If it wasn't for Tuesday's NL wild-card game against the Reds, we would be able to make an argument that Friday's NLDS Game 2 against the Cardinals was the biggest Pirates game of the last two decades. Pittsburgh rebounded from a blowout loss in Game 1 to even the series with a 7-1 win on Friday.
The Game 2 win featured prominent contributions from many of GM Neal Huntington's biggest acquisitions. Biggest financially, highest profile, you name it. Here's a break down.
2011 Draft: Taking Gerrit Cole first overall
You needn't look outside of Pittsburgh to see how having a ton of high draft picks does not guarantee success. The Pirates had high pick after high pick in the late 1990s and early 2000s but got little production from those players. Cole is proving to be the exception, and in Game 2 he held the best offense in the NL to one run on two hits and one walk in six innings of work. Huntington signed Cole for $8 million out of the draft, the largest signing bonus in draft history.
2008 Draft: Taking Pedro Alvarez second overall
Huntington made a statement with his first ever draft pick. Alvarez is a Scott Boras client and, as you surely know, Boras clients tend to come with big price tags. The Pirates were fighting the perception that they were cheap and Huntington wanted to show everyone he meant business, so he selected Alvarez and met his $6 million asking price. Just like that, the perception changed. Alvarez clubbed a two-run homer in the third inning to give his team a 3-0 lead on Friday.
Trade: Acquiring Justin Morneau from the Twins
No, Morneau is not the same hitter he was a few years ago, but Huntington went out and acquired the former AL MVP in August to add some depth to his lineup for the stretch drive. Morneau didn't do much in the regular season for the Pirates, but he doubled off the center field wall with one out in the fifth to start a rally in Game 2 against the Cardinals.
Trade: Acquiring Marlon Byrd (and John Buck) from the Mets
The Pirates have had strong first halves before fading in recent years, and Huntington wanted to make sure that didn't happen by going out and landing Byrd (and Buck) from the Mets in an August trade. The Bucs were winning but had some offensive issues, and suddenly Byrd gave them another power bat to pair with Andrew McCutchen and Alvarez. His ground-rule double following Morneau's double gave Pittsburgh a 4-0 lead on Friday.
Free Agent: Signing Russell Martin
It's not often a big(-ish) name free agent heads to Pittsburgh. Martin is the exception, joining the club when Huntington handed him a very reasonable (if not an outright bargain) two-year, $17 million contract last winter. The catcher was a strong two-way player for the team during the regular season before leading them to a win over the Reds with two homers in the wild-card game. In Game 2 of the NLDS, Martin singled in Byrd following his ground-rule double and gave the Pirates a 5-0 lead. Five runs and five big Huntington moves.
Granderson heads north of the border for his age-37 season

What did the Pirates get in return for their franchise player?

Rivero could remain in Pittsburgh for some time to come
The White Sox, Angels, Athletics, Orioles and Marlins are the holdouts after Blue Jays fol...

The Pirates have several attractive trade chips if they decide to go into a full rebuild

Gerrit Cole was traded over the weekend and now McCutchen is on the move