GM Ned Colletti to return for Dodgers under new multiyear deal
Colletti has been the GM in Los Angeles since late 2005, and he'll be staying to work under new Dodgers ownership after serving most of his tenure under the reviled Frank McCourt.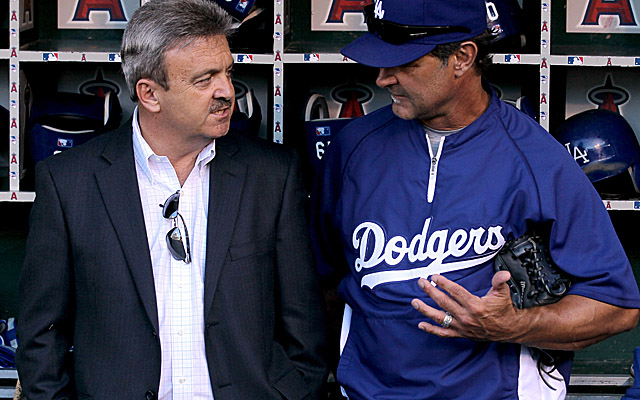 Both Colletti (left) and manager Don Mattingly will be back for the Dodgers next season. (Getty Images)
Dodgers GM Ned Colletti and the team have a new deal to keep Colletti in the role he's held since late 2005, CBSSports.com has learned.
Colletti told reporters in Los Angeles Friday that manager Don Mattingly would be returning, but nothing's been said officially yet about Colletti.
Colletti served under penurious former Dodgers owner Frank McCourt for most of his tenure, but his job became very different went the cash-rich new owners, the Guggenheim Partners, led by Mark Walter, Magic Johnson and Stan Kastem bought the team in March.
Colletti's old contract called for mutual options after this season, but a new deal was being discussed for more than a week. The Los Angeles Times reported eight days ago that an offer was on the table from the new Dodgers owners.
Colletti couldn't be reached Saturday morning for comment. Club president Kasten declined to address the question specifically.
The new deal will be a multiyear arrangement. One person said it could wind up being for three years, though previous reports suggested two.
Colletti received praise from his bosses for being the point man to engineer the difficult trade with the Red Sox that brought Adrian Gonzalez, Josh Beckett and Carl Crawford to L.A. in a nine-player deal after Colletti claimed on waivers both Gonzalez and Beckett. A deal for Gonzalez had been talked about in July and was in the works before he made the claim, which ensured it would happen.
The Dodgers are only 7-12 since the trade but remain in the thick of the N.L. wild card race.
Perhaps Colletti's best move over the past year was the signing of superstar Matt Kemp to a $160-million, eight-year extension. It's been a very active season for Colletti. He also acquired in trade Hanley Ramirez, Shane Victorino and Joe Blanton, and he extended Andre Ethier with a new contract.
Colletti made the postseason in three of his first four seasons in Los Angeles, but he was criticized for a couple high-priced signings that didn't work, Jason Schmidt and Andruw Jones.
Coillettii had cut the Dodgers' payroll from $110 to $90 million at McCourt's orders in two years. But the Dodgers will have one of the highest payrolls in baseball next year. They are expected to be active on the free market even after all their in-season acquisitions, though a so-so free-agent class is part of the reason they made the big trade.
Arrieta is the top starting pitcher left on the market

The Angels are lowering the fence from 18 feet to 8 feet, so we should see a jump in home...

Mathis is one of the best at something that cannot be measured but is valued
J.D. Martinez is reportedly headed to Boston on a free-agent contract

Keep tabs on the top 50 free agents on the market right here

Arizona didn't waste much time turning to its fallback option following Martinez's deal with...