GM survey: Garza more valuable as trade commodity than even Greinke or Hamels
Top baseball executives agree that Matt Garza is worth more as a trade chip than Cole Hamels or Zack Greinke because Garza potentially would be tied to his new team for one extra year. Jon Heyman explains why.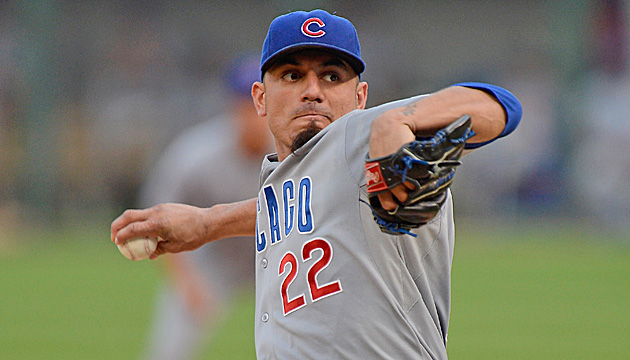 On a bad Cubs team, Garza has been a bright spot. (Getty Images)
Cole Hamels is an All-Star, and Zack Greinke should be one, too. But as trade candidates, Matt Garza beats them both, MLB GMs and other top executives suggested in a quickie, informal poll.
Maybe that's obvious since Garza isn't a free agent until after the 2013 season, and Hamels and Greinke can be free agents after this season. But with all three star pitchers being talked about on the trade market, it probably needs to be said.
Word going around is that the Phillies, who are now talking to other teams about Hamels, as was reported here first, have suggested they seek four good pieces for Hamels (that steep price may be an indication that they aren't trying very hard to trade him and may only be gauging interest). The Cubs, meanwhile, are said by one interested party to be asking for three top pieces for Garza.
But just because the asking price for Hamels may be just as high (or higher) doesn't mean he will bring the same sort of haul as Garza.
While Garza's 4-6 record and 4.01 ERA aren't going to blow anyone away, and certainly pale next to Hamels' 10-4 record and 3.08 ERA and Greinke's 9-2 record and 3.08 ERA, Garza also seems to get sympathy points for being undermined by his own Cubs hitters and fielders. While not one of the executives made the case Garza is as good as the other two pitchers, he also scored for some bonus points because he succeeded in the tough American League East as a Tampa Bay Ray.
Several MLB GMs interviewed expressed the opinion that Garza should draw the most in a trade if all three pitchers are indeed dealt (it's far from a certainty that will happen) even though none suggested Garza was the best of the three pitchers. A couple abstaining GMs reserved judgment until later, saying the trade market is too unpredictable to know.
There may be teams aiming high, of course, and those teams may only consider a No. 1 type pitcher such as Hamels or Greinke. Danny Knobler of CBSSports.com reported on Tuesday that the Rangers are one of those teams, and that they favor Hamels, then Greinke, and probably no one after that.
The general consensus, though, is that while Garza seems to rank third among these three good pitchers, he is worth more than the other two on the trade market because of the following two points:
Garza will be tied to the acquiring team for a year and a half, not just a half year
A draft choice will still be attached to Garza whereas a team acquiring Hamels or Greinke would not have the benefit of an acquired draft choice should Hamels or Greinke leave via free agency after this year. That's because of the new CBA rules stipulating free agents must spend a year with their final team for their team to be awarded a pick.
"The duration always trumps how good the player is," one N.L. GM said, suggesting that while Garza wasn't as good as the other two, he is currently more valuable in trade.
"Based on 1½ years of control and the draft pick," Garza is worth more, said another N.L. GM.
Another GM pointed out that Hamels (or for that matter Greinke) would only be coming for 13 or 14 starts. That GM pointed out that the trade of star free-agent-to-be outfielder Carlos Beltran brought back one top prospect (Zack Wheeler), and even that was considered extraordinary.
Yet another high-ranking A.L. executive said that while he likes Hamels, even he is "no CC Sabathia situation.'' Sabathia was acquired in June by the Brewers and was seen as a savior with the switch from the A.L. to the N.L. (and performed like one, too).
One more baseball official on a team looking for pitching said that while they consider Garza only a No. 2 or even No. 3 starter, they are more interested in him than the other two pitchers.
Garza is drawing interest from the Red Sox, Blue Jays, Yankees and several others. Greinke has been tied to the Rangers and Braves so far, but the Brewers haven't decided they are definitively sellers yet. The Rangers also could have interest in Hamels if he's definitely available (it's believed the Phillies still would prefer to lock him up long term, though they haven't broached a contract with him since late last season when they were talking about Jered Weaver's $85 million, five-year deal, and Hamels passed).
The Brewers are seen as less likely than the Phillies to be able to keep their star pitcher longterm. But the new draft-pick rule complicates the trade situation for both teams.
As with the other two, Garza and the Cubs haven't talked about a contract for months. But the Cubs are in a different situation than the other two teams.
The Cubs know they are sellers who are playing for 2014 and beyond. And they know they have a valuable trade chip to sell.
Marcell Ozuna figures to be the next Marlins star on the move

Several relievers have signed in the last two days

Several teams are interested in the switch-hitting first baseman
Neshek and the Phillies are closing on a two-year contract

And the team that first drafted Cole is interested

This scout was SUPER into Jeter