Gold Glove outfielder Paul Blair dead at 69
Former All-Star outfielder and longtime Oriole Paul Blair has passed away.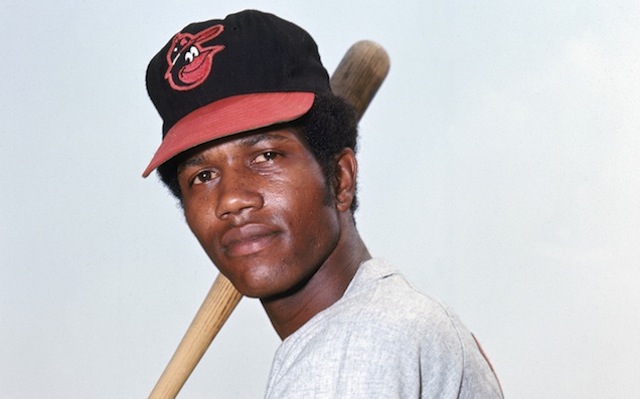 Former All-Star outfielder Paul Blair has died at the age of 69, according to a spokeswoman for Sinai Hospital of Baltimore.
Blair's wife, Gloria, told the Baltimore Sun he collapsed at a celebrity bowling tournament in Pikesville, Maryland following a round of golf.
"Paul was honestly too tired, but he never says no," Gloria Blair said. "During a practice round, he threw two or three balls, then sat down and told a friend, `I feel funny' and kind of collapsed. He lost consciousness and they called 911 and the ambulance took him to [Sinai], but the doctors there told me they never got a pulse."
Blair spent 13 of his 17 major-league seasons with the Orioles and along the way distinguished himself as one of the best defensive center fielders of all-time. He ended his career as a two-time All-Star and eight-time Gold Glove winner who also tallied 1,513 hits; 134 home runs and 171 stolen bases. 
According to Blair's SABR bio, he was born in 1944 in Cushing, Oklahoma and grew up in Los Angeles. Blair was originally signed by the expansion Mets in 1961 but was later nabbed by the Orioles when the Mets left him unprotected. Under Earl Weaver in Baltimore, Blair blossomed. He became renown for playing an improbably shallow center field and using his speed and practiced instincts to run down balls in all directions. With the bat, Blair developed power and in 1969 hit a career-best 26 homers on the season. 
"It is with great sadness that we learned of Paul Blair's passing last evening," Orioles owner Peter Angelos said in a statement. "Paul was a key member of many of the Orioles' most memorable and successful teams, as his contributions at the plate and his Gold Glove defense in center field helped the club to two World Series and four AL pennants. After his on-field career, Paul made the Baltimore area his home and stayed involved with the organization through his appearances in the community and at the ballpark. On behalf of the Orioles I extend my condolences to his wife, Gloria, and his family."
After late-career stints with the Yankees and Reds, Blair retired in 1980 and became a coach -- first within the Yankees' organization and then for Fordham University and later Coppin State. His strongest baseball legacy, though, is as one of the most valuable fielders of the modern era. 
Does the Jackson signing mean the Giants are out on Lorenzo Cain?

Acuna edged out Shohei Ohtani and Vladimir Guerrero Jr.

There's no reason to run over the cases for and against Bonds, so let's have fun instead
The coveted right-hander would certainly be a fit in Milwaukee

We rate the best mustaches from random baseball cards because, why not?

Colon wants to break a Dennis Martinez record