Good problems: Cardinals have too many starters (and relievers)
The Cardinals won't guess at their 2014 rotation, not because they have too few options but because they have too many. That includes Trevor Rosenthal and Carlos Martinez, who have starred in the bullpen this month.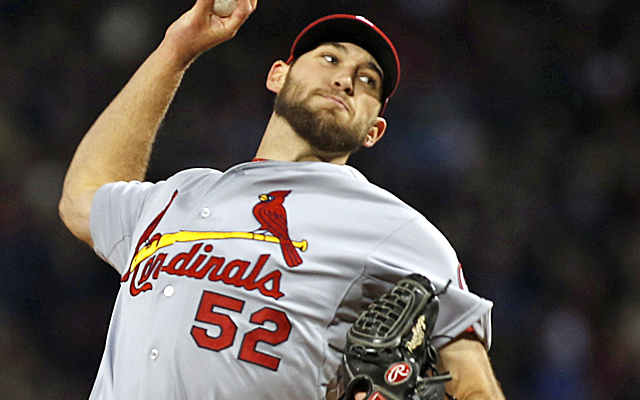 ST. LOUIS -- The question to a Cardinals official was a simple one.
I wasn't asking for names. I wasn't asking for secrets. I only wanted to know if he had an idea in mind of what the Cardinals rotation would look like on opening day 2014.
"I couldn't even begin to guess," he said.
He said it not with a groan, but with a smile. This isn't bad news for the Cardinals. It's great news.
They aren't stumped because they worry they'll have too few candidates to fill out a rotation. They're stumped because they know they'll have too many.
In a world where the Giants felt they have no choice but to give Tim Lincecum $35 million for two years, because they worried that it would be too hard to replace him, the Cardinals believe they could have as many as 10 quality pitchers who they could consider for the rotation next spring.
Who else has depth like that? Who else has problems like that?
"Nice problem to have," pitching coach Derek Lilliquist said with a grin, after three of the youngest Cardinals combined to beat the Red Sox in Game 2 of the World Series.
And that's the thing, of course. It's not just that the Cardinals have plenty of pitchers. It's that they have plenty of very good pitchers -- very good young pitchers, like Michael Wacha, Carlos Martinez and Trevor Rosenthal, the three guys aged 22, 22 and 23 who combined to allow the Red Sox two runs on four hits Thursday night.
Lilliquist acknowledged that Martinez and Rosenthal, the Cardinals setup man and closer this October, could both be considered as starters next year. There are those in the organization who believe Rosenthal profiles better as a starter than Martinez, even though he has yet to start a big-league game and has excelled out of the bullpen (and Rosenthal is said to like the idea of starting).
"We're giving them high-leverage roles right now," Lilliquist said. "And we'll see what spring training brings."
The Cardinals would hardly be the first team to consider turning a successful closer into a starter. The Reds tried it each of the last two springs with Aroldis Chapman (and considering that new manager Bryan Price was one of the biggest proponents of the idea, it would hardly be a surprise if they try again).
It makes perfect sense, if you're just considering pure value. Even the best closer on the free-agent market would be lucky to get $10 million a year. Try finding a solid starting pitcher for that.
One American League general manager said recently that a pitcher only needs to profile as a No. 3 starter -- or maybe even a No. 4 -- before it makes more sense to start him than to put him in the bullpen.
In a pure value sense, the Cardinals could justify starting Rosenthal, Martinez -- and perhaps left-hander Kevin Siegrist as well.
All three started at times in the minor leagues. Cardinals general manager John Mozeliak says Martinez could maintain his 97-99 mph velocity into the late innings of minor-league starts (and in his one big-league start, his 92nd pitch was clocked at 99 mph).
"I think he's someone who should come to camp ready to start," Mozeliak said.
But will there be a spot for him? Will there be any room for Rosenthal, if he wants to start and the Cardinals want to try him there?
"I'm certainly not going to sit here in October and tell someone like Trevor Rosenthal or Kevin Siegrist that they can't start," Mozeliak said. "But they can see the competition. You're only going to have five starters, and you're going to have seven relievers.
"If you take a real quick snapshot of the St. Louis Cardinals, it doesn't appear that there will be a whole lot of vacancies in the rotation."
Some rival officials have wondered whether the Cardinals might want to trade some of those young pitchers, perhaps even for someone like local kid Max Scherzer, who will likely win the American League Cy Young but could be dealt by the Tigers.
But why would the Cardinals need to do that? It seems to have worked out pretty well when they went with the kids this year. They are in the World Series, after all.
So about that 2014 rotation, assuming no deals for anyone like Scherzer . . .
It's fairly clear that Adam Wainwright will be starting. The way Wacha has pitched in this postseason, it seems fairly safe to say he'll have a spot, too.
And after that?
Shelby Miller won 15 games this year with a 3.06 ERA, but has been a little-used long reliever this October. Joe Kelly had a 2.28 ERA in his 15 regular-season starts, and started Game 1 against the Dodgers. Lance Lynn is in the postseason rotation (although some think he'll be the odd man out and could be traded).
Oh, and Jaime Garcia, who has been a full-time starter when healthy and threw seven shutout innings in Game 2 of the 2011 World Series, is due back from shoulder surgery.
Rosenthal has proven he can close games, and perhaps the Cardinals could decide that he's needed more right now in the bullpen. But Jason Motte, who led the National League with 42 saves in 2012, is due back from Tommy John surgery.
The Cardinals will have options, and they will have competition. They've always loved the idea of going to spring training with a spot or two open, of giving young players an opportunity but telling them they need to earn a spot.
They'll have competition next spring, almost without doubt.
I couldn't begin to guess how it will play out. Neither could they.
The lefty starter is coming off a terrible season

After acquiring Ian Kinsler and Zack Cozart in recent days, the Angels are trending upward

Cozart's coming off a big season as the Reds' shortstop
The veteran slugger spent the last eight seasons with Cleveland

The Padres may be poised for an active winter

Yes, Bryce Harper is going to make a lot of money next winter