Grading Cardinals-Dodgers NLCS Game 4: Some love for Cards bench
Let's do the grade thing for NLCS Game 4, which saw the Cardinals top the Dodgers.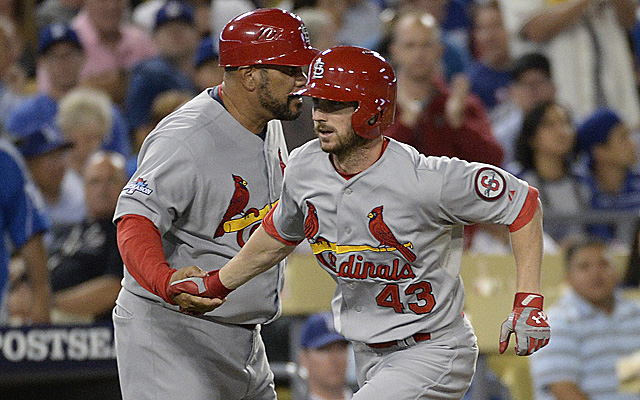 Quick hits: Holliday, Cardinals put Dodgers on the brink of elimination
The Cardinals beat the Dodgers in Game 4 of the NLCS, 4-2, meaning they're now ahead three games to one in the best-of-seven series. That also means they're just one win away from their second trip to the World Series in the last three seasons.
Let's get out the red pen and assign five grades -- A-F, with some possible pluses and/or minuses.
| Team | Grade | Analysis |
| --- | --- | --- |
| | A | Yes, I'm going with the Cardinals bench here. And if we need to change the phrasing a bit so I can include the bullpen, we'll say the Cardinals non-starters. Pete Kozma entered the game at shortstop in the sixth inning, just in time to range far to his right to begin an outstanding inning-ending double play in a one-run game. Had Daniel Descalso still been at short, that ball probably would have ended up being a game-tying single. Next inning, pinch hitter Shane Robinson homered for an all-important insurance run. The bullpen played a key role as well, working 3 2/3 shutout innings and allowing only two hits. |
| | B | In all likelihood, going up against Ricky Nolasco -- who was coming in on a real short leash -- Lance Lynn didn't have to be stellar to give his team a chance to win. The Cardinals really just needed him to get them through five or so serviceable innings. He did so, working 5 1/3 innings, allowing two runs (3.38 ERA) on six hits. He struck out five and was able to get out of his only real jam before it was too late by inducing a double play to end the fourth. |
| | C- | Dodgers starter Ricky Nolasco wasn't taking the mound with the highest of expectations. He was known to be facing a pretty quick hook, too, and he did. He went only four innings, though he didn't allow a run in three of those four innings. Still, coughing up three runs in four innings is a 6.75 ERA and only inspiring enough confidence in your manager to last four innings makes it awfully difficult on the manager and the bullpen alike. |
| | D+ | Dodgers reliever J.P. Howell didn't have a meltdown by any stretch. He only pitched one inning and only allowed one run. Still, with the Dodgers offense scratching and clawing to score runs and Hanley Ramirez hampered by the rib injury, the Dodgers needed zeroes to be put on the board. And it's not like it was Matt Holliday, Carlos Beltran or Yadier Molina who got to Howell. It was Robinson, who only had five homers in 397 career plate appearances -- regular- and postseason -- heading into the game. |
| | F | This is reserved for what the members of the left-side of the Dodgers infield did on offense. Though he's obviously fighting through the broken rib, Ramirez went 0-for-3 with three strikeouts before departing. After he left, Nick Punto came through with a one-out double in the bottom of the seventh with the top of the order coming up. Yet he was picked off second in a pretty unforgivable baserunning error. Juan Uribe went 0-for-4 while leaving five men on base. Yes, he did hit it hard several times, but the Dodgers needed those runs home. |
Puig has a healthy relationship with his club of choice and gave the quote of the night

The Dodgers are back in the World Series thanks to a smartly built roster, analytics and m...

Seager missed the NLCS with a back injury
The Cubs foundation is still strong, but Theo Epstein and company have work to do

Turner and Taylor are the third set of co-MVPs in LCS history

Stylistically, the Dodgers seem to match up better against the Yankees and here is why