Grading Game 5 of NLCS: Dodgers take power to Cardinals
The Dodgers beat the Cardinals in Game 5 of the NLCS, extending the series to at least six games. Let's grade 'em up.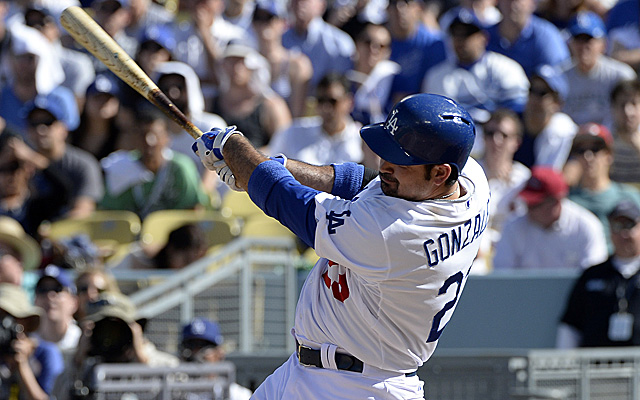 Quick Hits: Adrian Gonzalez the hero, Yadier Molina the goat
The Dodgers have sent the series back to St. Louis by beating the Cardinals, 6-4, in Game 5 of the 2013 NLCS. The Cardinals lead it, three games to two, in the best-of-seven series. Let's hand out five grades, A-F, for the game.
| Team | Grade | Analysis |
| --- | --- | --- |
| | A | This specific entry is for the Dodgers' power. They had gone without a home run since Juan Uribe's blast helped seal the NLDS. Wednesday, the Dodgers clubbed four home runs, getting a mammoth blast from Carl Crawford, a pair of homers from Adrian Gonzalez and one from A.J. Ellis. Might the power bats now be awakened from their temporary slumber? They better hope so, as stud rookie Michael Wacha is set to take the hill for the Cardinals in Game 6. |
| | B+ | No A for Zack Greinke because he faced a bases-loaded, no out situation in the first inning, gave up two runs in the third inning and was bailed out in both innings by a double play. Other than that, though, he was a double threat and quite a good one. In all, he went seven innings, allowing two runs on six hits. He also drove home a run with a two-out single in the second. Good day for Greinke. |
| | C- | Kenley Jansen is the Dodgers closer and he recorded the final out, so we can't drag him too far down here -- especially since he's been so unhittable of late and had some margin for error with the four-run lead. Still, he was knocked around the yard to the tune of four hits and two earned runs in the ninth. The Cardinals got the go-ahead run to the plate, too, so it had to have been rather scary for the Dodgers faithful. But, again, at the end of the day, Jansen's job was to get the final three outs and he did so. |
| | D | It was a pretty rough outing for Cardinals starter Joe Kelly. He only lasted five, giving up four runs (7.20 ERA) on seven hits. Even though the opposing pitcher is a damn good hitter for a pitcher, he's still a pitcher -- and Kelly coughed up a two-out RBI to Greinke. He allowed runs in three of the five innings he pitched, including two homers. |
| | F | The absence of Shelby Miller is the pick. Kelly started getting knocked around the yard in the second inning. The Cardinals have studs Michael Wacha and Adam Wainwright lined up for Games 6 and 7. Greinke settled in after the third inning, so the Cardinals needed to hold the Dodgers down. Why isn't a talent like Miller being used more aggressively here? Why not at all? If he's hurt, he shouldn't be on the roster and he definitely shouldn't have warmed up during the game. It's hard to figure why he's being wasted away while Kelly was able to give up runs in three different innings and Edward Mujica was used. |