Grading the Week: Brewers ride high during NL West visits
After going 6-1 on a trip to Arizona and Colorado, the Milwaukee Brewers have scored an A for the week.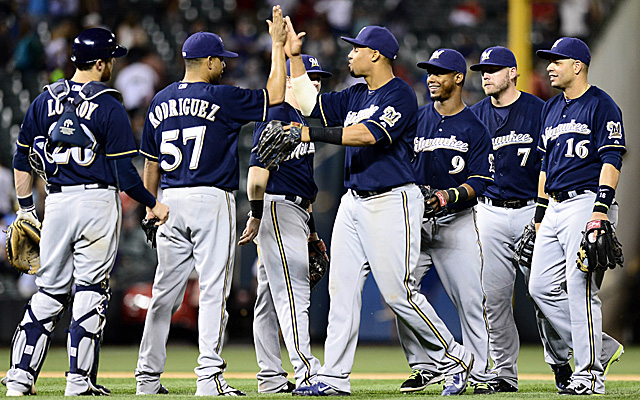 More MLB: Power Rankings | Expert Picks | Latest news & notes | Fantasy news
Another week in the books in this dramatic 2014 season, so it's time to throw out some grades. As usual, we aren't going to grade every single team. We'll instead assign each of the five traditional letter grades to one team each, because that's how we roll.
On top this week? The team with the widest margin atop the standings in all of baseball.
| Team | Grade | Analysis |
| --- | --- | --- |
| | A | Their only loss was a walk-off single by the Diamondbacks in Arizona. That's how good the Brewers were this week; their only blemish was a game that could have easily gone either way. They went 6-1 on a trip to Arizona and Colorado. Granted, neither of those teams are going to be confused for the '27 Yankees any time soon, but a seven-game trip isn't easy in the majors, regardless of the opponent. The Brewers went out and battered said opponents 51-32. They won low-scoring games, close games, blowouts and slugfests along the way. That's the sign of a great team. And this great Brewers team now has a 5½-game lead in the NL Central. |
| | B | The Orioles just took two of three from the Yankees to move into a second-place tie and within 1½ games of the Blue Jays at the top of the AL East. They ended up 4-2 on the week and outscored their opponents 30-16 -- all of this coming on the road against divisional foes. That's impressive. They even handed Masahiro Tanaka a loss, which is a feat in and of itself these days. What kept the O's from an A was a rare Zach Britton meltdown on Friday night. Had he put together his normal outing, the Orioles would have gone 5-1 this week and would only trail the Jays by a half game. |
| | C | The Red Sox started off the week with a three-game sweep of the Twins and then gave the games right back, as they then lost three in a row to the A's. Boston almost blew the game Sunday, too, but they salvaged it in extra innings on the strength of a David Ortiz homer. It was a 4-3 week, which isn't bad at all -- especially with having to play in Oakland. Still, the offense only scored 11 runs in the first six games of the week and the club has been unable to sustain any success this season. |
| | D | The Braves were swept by the Phillies in three games to start the week, being outscored by the last-place team 21-8 in the three-gamer. They then took two from the Nationals and at the time it could have been said they completely owned their division rival. But things changed. The Nationals took the final two games of the series and again lead the Braves by 1½ games. The Braves' offense is a problem, but it's not the only one for this club. It is 21-30 since April 27. |
| | F | This is brutal. After a five-game winning streak seemingly got their season back on track, the Rockies went 0-6 this week. They were outscored 18-3 by the Dodgers in three games before coughing up 28 runs in a three-game series to the Brewers in their return home. Quality competition? Of course, but an awful week nonetheless. And the Rockies are 12-27 since May 7. |
Granderson heads north of the border for his age-37 season

What did the Pirates get in return for their franchise player?

Rivero could remain in Pittsburgh for some time to come
The White Sox, Angels, Athletics, Orioles and Marlins are the holdouts after Blue Jays fol...

The Pirates have several attractive trade chips if they decide to go into a full rebuild

Gerrit Cole was traded over the weekend and now McCutchen is on the move