Grading the week: Everything's coming up ... Astros?
The MLB week is freshly behind us, and now it's time to pass judgment on what transpired over the last seven days.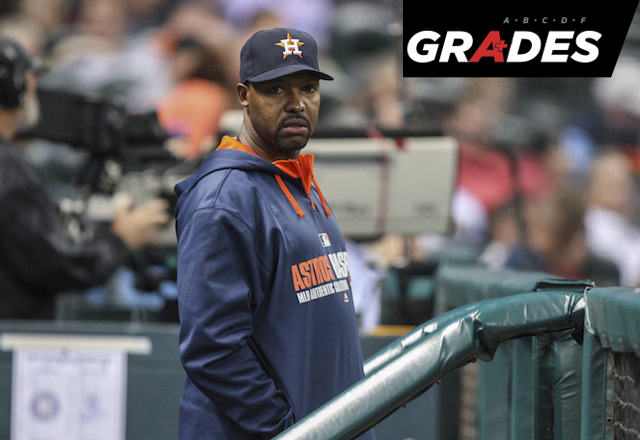 More MLB: Power Rankings | Expert Picks | Latest news & notes | Fantasy news
Another week of baseball is in the books, which means it's time for our weekly grades. As a reminder, we're pretty flexible with our grades. We grade individual series, teams, players, coaches, umpires, whatever. We try to stick to the usual A through F scale but will make exceptions from time to time. Onward ...
| Team | Grade | Analysis |
| --- | --- | --- |
| | A+ | Tim Hudson. He dominated the Cubs on Tuesday and the Cardinals on Friday. Combined in those two starts, Hudson gave up zero runs on nine hits in 14 innings while striking out 11 against just two walks. For the season, the 38-year-old now boasts an ERA of 1.75 and a K/BB ratio of 6.25. In the National League, he's the signing of the offseason thus far.  |
| | A- | The Astros. It was indeed an "A" week, particularly by Houston's preexisting standards. The 'Stros this week swept the Royals on the road (outscoring them 21-5 in the process) and then split a four-game set at home with the Orioles. Much of that work helped Houston secure a winning record for the month of May. In April, it should be noted, they went 9-19. As more and more upper-pipeline prospects join George Springer and company, they'll continue improving. And credit to what's been a surprisingly impressive front of the rotation.  |
| | B+ | The Fightin' A's. The schedule wasn't easy this week, as the Athletics matched wits with two of the best teams in the AL. In the end, they split a four-game home set with the Tigers and swept a three-game home set from the division-rival Angels. Winning five of seven from the likes of Detroit and the Halos will indeed earn you high marks. Once strength of schedule and run differential are taken into account, this is the best team in baseball right now.  |
| | F | Clay Buchholz. On Monday, Buchholz soiled the linens against the Braves (six runs and eight walks in 3.0 innings of work) and somehow managed to raise his 6.32 ERA to 7.02. Then he hit the DL (hyperextended knee) for the sixth time in his career. When healthy, he was generally excellent last year, but 2014 has been a colossal disappointment for Buchholz. Otherwise, though, it was a stellar week for the Sox.  |
| | F | The Rays. We're not even toe-deep into June, and the Rays are already 10 1/2 games out in the AL East. When play started Monday, they were just six games back, but then they proceeded to get swept by the Blue Jays and Red Sox, losing twice in walk-off fashion. We're accustomed to the Rays being perennial contenders of late, but right now they're on pace for 97 losses.  |
Charlie Morton will start either Game 3 or 4

Granderson, Verlander, Beltran and more are looking to reach the top of the MLB world

Houston's top relievers have been shaky this postseason
Our experts have a unanimous World Series pick

Otani's rare ability to hit and pitch will need to be accounted for in realms beyond real...

Kenny White has won 8 of his last 10 MLB Over-Under picks and has a strong play for Game 1