Grading the Week: Nationals surging
Time to hand out some grades for the week, with the Nationals on top and also some props for the Mariners.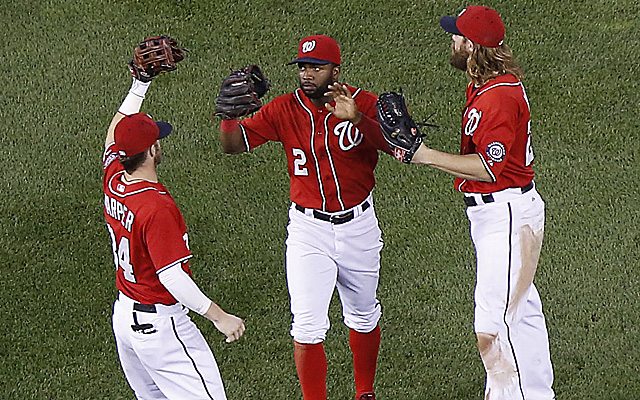 Another week in the books, and now we only have five left! For grades this week, as usual, we'll hand out one team per letter grade. On top, the team now holding the largest margin atop a division in all of baseball.
| Team | Grade | Analysis |
| --- | --- | --- |
| | A | The winning streak was broken Friday, but the Nationals still went 6-1 this week and have won 12 of their past 13. Unbelievably, they won in walk-off fashion five times out of six games at one stretch, with three of those coming this week. Despite a 10-3 loss to break the winning streak Friday, they still ended up taking two of three from the Giants. Perhaps most impressive was Washington being down 5-0 through three innings Sunday, but coming back to pound San Francisco 14-6. Only the A's and Angels have better records than the Nationals right now. |
| | B | Losing two of three in Philly to begin the week knocks them down from A-range, but the Mariners went out and swept the Red Sox in Boston for the first time in franchise history. That's good enough to get them some props here. Further, the Mariners are now 13 games over .500 for the first time since 2007. They also currently hold the second wild-card spot in the AL and that's a fine spot to be when Felix Hernandez is on board. Good times in Seattle. |
| | C- | After sweeping the White Sox in US Cellular Field in the first half of the week, the Orioles had built up a nine-game lead in the AL East and were flying high. They then headed across Chicago for a three-game set with the last-place Cubs. And they were swept. To rub salt in the wound, former O's prospect Jake Arrieta dominated them Friday, former O's minor-leaguer Tsuyoshi Wada dominated them Sunday and former Orioles reliever Pedro Strop threw fairly well twice. The Cubs outscored the Orioles 13-4 in the three games. So while it wasn't a disaster of a week in Chicago, the Cubs series knocks the O's down below average. Finding out Manny Machado's season is over wasn't good either. |
| | D | Salvaging the final two games of the four-gamer against the Braves keeps the Reds away from F territory with a 2-5 week, but this was pretty bad. Still with an outside shot to climb back into contention, the Reds were swept in St. Louis, blowing a few games and losing back-to-back walk-offs -- one of which came on a hit batsman. Overall, the Reds are five games below .500 and are actually just as close to the Cubs as the Pirates in the standings. |
| | F | The disaster that is the 2014 season continues for the defending champs. They just closed an 11-game homestand in which they won just two games. It ended with eight consecutive losses, seven of which came this week. They were swept in Fenway Park by the Mariners for the first time ever and have reached a season-low 18 games under .500. |
The Twins have already fortified the bullpen with Addison Reed, and now they want to address...

The Orioles likely want pitching, and the Indians have plenty of it

Halladay died in a November plane crash off the coast of Florida
The power-hitting outfielder is headed to Toronto

Martinez could add some power to a Boston lineup void of it

It's almost that time of the year again, time for the Tebow madness to return