Grading the Week: Past disappointments up top
Let's throw around some grades. We'll hit on the Angels, Blue Jays, Astros, Rays, Braves and Indians. Oh, and, yes, the Tigers went 6-0 this week.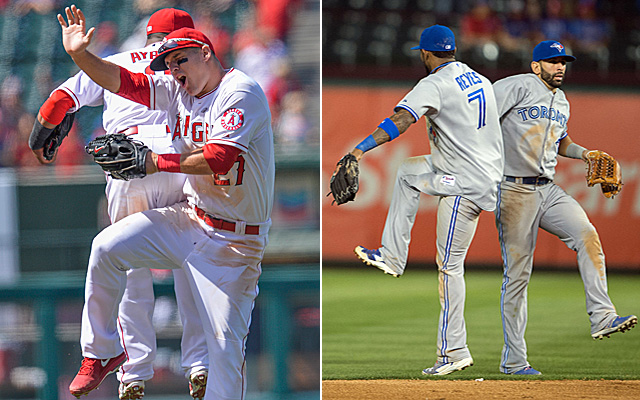 More MLB: Power Rankings | Expert Picks | Latest news & notes | Fantasy news
It's the end of the week, which means it's time for grades. This being the MLB with a marathon season, we don't go to the trouble of grading all 30 teams every week. I feel like that would be torture, frankly. Anyway, in lieu of that, we hand out each letter grade to one team, except this week we're going with two A's. I feel like these two teams are kind of tied together due to them being far and away the biggest disappointments in the AL in 2013.
Both are playing very well right now, so they're side by side at the top.
[Note: The Tigers just went 6-0 this week and obviously deserve an A, too, but we're going with a bit less obvious for fun. Detroit will get plenty of due, again, in the Power Rankings. If we really must say it explicitly, yes, the Tigers also earned an A.]
| Team | Grade | Analysis |
| --- | --- | --- |
| | A | The Angels have won eight of their last 10 overall, but we're only grading this past week, so it's a 5-2 week under consideration here. How about that pitching? In five of the seven games this week, the Angels allowed three runs or fewer. Take a look at Garrett Richards, too. He's 4-0 with a 2.42 ERA, is averaging more than a strikeout per inning and has the best hit rate (6.1 hits per nine innings) in the league. Overall, the Angels had a week that included both dominant wins and dramatic wins -- like Mike Trout's walk-off, three-run homer -- and have rather quietly moved to five games over .500 for the first time since 2012. |
| | A | The Blue Jays also had a 5-2 week. Now that closer Casey Jansssen is back, the bullpen implosions weren't a problem with four of those wins coming by two runs or fewer. We know the offense has power, but the pitching staff as a whole came through several times this past week, as J.A. Happ, Drew Hutchison and Mark Buehrle (twice) all had nice outings. The Blue Jays are right in the middle of the AL East race and are the only team in that division with a positive run differential. |
| | B+ | They were shut out to begin the week and dropped a 7-2 beatdown to the White Sox Friday, but overall the Astros rather sneakily took two series this week, going 4-2. The quality of the opponents wasn't terrible, but it wasn't great (the Rangers are actually 6-14 in their last 20 and the White Sox aren't going well, either). Still, the Astros won two straight series. That definitely warrants at least a B and I'll be a nice guy and throw a plus on there. |
| | C- | After being crushed on Monday, the Rays responded with two wins in Seattle -- the Mariners were hot at the time, too -- and it looked like things might be turning around. They would drop three of four to the Angels, though. David Price had an outstanding outing that ended up being a win due to two ninth-inning runs from his teammates Tuesday, but then he had a bad outing Sunday. The offense scored two runs or fewer in four of seven games. It was a 3-4 week, which isn't terrible for a West coast trip, but the minus is here to show that it was more bad than good. |
| | D | The Braves closed last week with a sweep of the Cubs, which halted a run of eight losses in nine games. That didn't help get them on track, though, as they were tasked with stiffer competition this week and went 2-5 against the Giants and Cardinals. Overall, the Braves have lost 12 of their last 18. We're only grading this week, so they're spared an F thanks to an excellent Mike Minor outing Tuesday and a ninth-inning comeback win Sunday. Still, this isn't good enough. As mediocre as the rest of the NL East is right now, the Braves should have put some serious distance between themselves and the rest of the division. Instead, the Nationals are a half-game back, the Marlins 1.5 out and even the Mets and Phillies are only 3.5 back. |
| | F | The Indians looked like they might be reverting to their "WIndians" ways, having won five of six coming into the week. Instead, trouble is afoot. They dropped two of three to the Jays and then were completely and utterly embarrassed -- at home, mind you -- by the A's in a three-game sweep. The Indians were outscored in the three losses by a combined score of 30-6. Justin Masterson's woes are troubling, but the rotation as a whole needs to be better. Maybe the promotion of Trevor Bauer will help. Something needs to change. I know the Indians started slow last year, but they were never more than five games under .500. They're six under right now. |
It's almost that time of the year again, time for the Tebow madness to return

Walker was a tremendous all-around player, but Coors Field undoubtedly inflated his career...

A beardless Wilson says that he tried to outrun the police on the second day he had his driver's...
The Diamondbacks outfielder was not impaired, he was just going way too fast

MLB can unilaterally implement rule changes, which will also include limits on mound visit...

If the MLBPA wants to repair MLB's salary structure, it should push for more money for young...