Grading the Week: Rays and A's both get an A
Baseball's two small market darlings both earn high marks for the past week, though not necessarily for the same reason.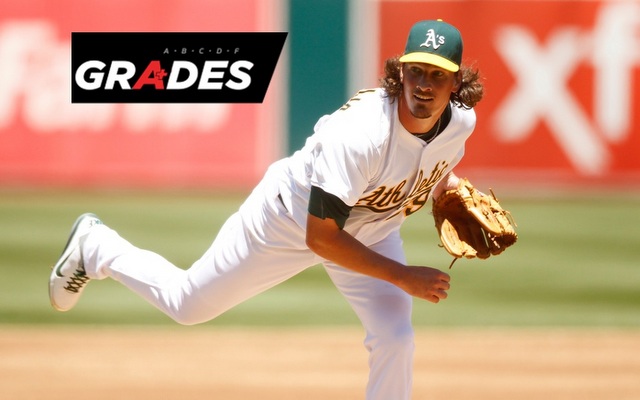 More MLB: Power Rankings | Expert Picks | Latest news & notes | Fantasy news
Another week of baseball is in the books, which means it's time to hand out some grades. As a reminder, we can slap a grade on anything -- individual teams, players, performances, umpires, MLB itself, whatever. We try to stick to the usual A through F grading scale, but sometimes we make exceptions. Like this week. Onto the grades.
| Team | Grade | Analysis |
| --- | --- | --- |
| | A | Yes, the Athletics did get swept in a three-game series by the Tigers early in the week, but I'm still giving them an A because A) they rebounded to sweep a four-game series from the Blue Jays, and B) they made what might be the most impactful trade of the summer. They gave up nothing off their major-league roster to get an impact starter in Jeff Samardzija (seven innings of one-run ball in his first start on Sunday) and an innings eater in Jason Hammel. Oakland has been the best team in baseball just about all season, but the A's did not rest on their laurels, instead going out and aggressively adding two quality arms to their already strong (but relatively unproven when it comes to workloads of 180-plus innings) rotation. I love that they're going all-in. |
| | A | It wasn't that long ago that the Rays looked dead in the water, likely facing competition for the first overall pick in the 2015 draft rather than a postseason berth. Then, in the middle of last week, Tampa started winning. And winning and winning. The Rays swept the Yankees in Yankee Stadium before taking three of four from the Tigers in Detroit. Suddenly the Rays are 8½ games back of the both the top spot in the AL East and the second wild-card spot, and while that is still one heck of a hill to climb, they now have a sliver of hope. How will this impact the David Price trade circuit? |
| | B | The Cubs did win four of six games this week, but I'm giving them a B mostly because of their half of the Samardzija/Hammel trade. They turned those two into one of the best prospects in all of baseball -- possibly the best prospect who was reasonably available in a trade -- in shortstop Addison Russell while also adding another first-round caliber talent in Billy McKinney. Dan Straily is not insignificant either -- pitching coach Chris Bosio has turned fledgling hurlers like Hammel, Jake Arrieta and Scott Feldman into solid (at worst) starters the past two years. Straily could be next. I won't give the Cubs an A for the trade only because there is always a chance they get nothing out of the deal. Russell and McKinney could flame out and no one would be too surprised. It happens. Getting the prospects in a prospect-for-big leaguer trade is always the risky end of the deal. |
| | B | Another B, this one for the Pirates. They won five of their six games this week, beating up on the lowly Diamondbacks and Phillies. That's exactly what they should be doing. The strong week has moved them to within 4½ games of the top spot in the NL Central and 1½ games back of the second wild-card spot. How much closer to a postseason berth would they be if they had taken Gregory Polanco north out of spring training rather than waited until after the Super Two cutoff to call him up? Two wins better? Maybe three if you're very optimistic? That could be the difference between back-to-back postseasons or an October on the golf course. |
| | F | Goodness gracious. The Phillies are a disaster. They lost four of five this week (nine of 10 overall) and were outscored 31-15 in the process. Ryan Howard is slugging .393. Domonic Brown has a .590 OPS. Their most marketable trade chip (Cliff Lee) hasn't pitched in weeks due to an elbow problem and is not particularly close to returning. The Phillies are a sinking ship in need of a serious change. A rebuild is necessary and if this recent stretch of poor play -- Philadelphia is 37-51 overall, fourth worst in baseball, so this isn't a two-week blip -- doesn't drive the point home to ownership and the decision-makers, nothing will. |
Marcell Ozuna figures to be the next Marlins star on the move

Several relievers have signed in the last two days

Several teams are interested in the switch-hitting first baseman
Neshek and the Phillies are closing on a two-year contract

And the team that first drafted Cole is interested

This scout was SUPER into Jeter