Grading the Week: Reds and Rangers going in opposite directions
This week's grades highlight two wild-card contenders whose seasons will come down to the final week.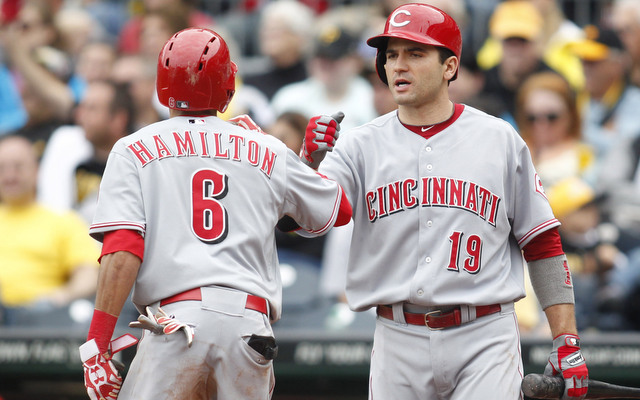 More MLB: Scoreboard | Standings | Probable Pitchers | Sortable Stats | Odds
The final week of the 2013 regular season is upon us, meaning this is the penultimate edition of our weekly grades. With that our mind, we're paying extra special attention to the teams in postseason contention and focusing our efforts on them. It's only fair, I suppose.
As a reminder, we're assigning one team per letter grade -- we bend the rules a little bit this week, as you'll see -- and not one letter grade per team. That would be a lot of work. Here are this week's grades:
| Team | Grade | Analysis |
| --- | --- | --- |
| | A | When the week started, the Reds were 3.5 games behind the Pirates (and Cardinals) for the top wild-card spot. Then they won five of six games -- including two of three from Pittsburgh in Pittsburgh over the weekend -- to move into a tie with the Pirates for the first wild-card slot. Yes, they were going to the postseason either way, but now Cincinnati has a chance to have homefield advantage in the wild-card play-in game. Don't think that's significant? The Reds are 48-26 (.649) at home this season and 41-41 on the road. They put themselves in a great position heading into the season's final week. |
| | B | The Athletics have been unstoppable for a good month now, and their surge culminated with their second consecutive AL West title on Sunday. They went 5-2 on the week and are still within striking distance of the best record in the AL and thus homefield advantage throughout the playoffs. Talk about a team that's taken care of business. |
| | C | No AL wild-card contender has a softer remaining schedule than the Indians. They've used that schedule to jump over the Rangers and into the second wild-card spot, and they close the season with two against the White Sox and four against the Twins next week. While Cleveland did go 5-2 this week, I'm only giving them a C because they did drop two of three to the Royals and were dangerously close to getting swept. The Tribe is a half-game up on Texas and control their own postseason fate. Can't ask for much more this time of year. |
| | D | The Pirates have such a comfortable lead on a playoff spot that despite going 2-5 this week, they still have a 99.9-percent chance to make the postseason according to Cool Standings. Still, going 2-5 dropped them into a tie with the Reds and 2.5 games back of the Cardinals for the NL Central crown. They opened the week tied with St. Louis. Losing three of four to the Padres and two of three to Cincinnati is a really bad but not crippling week for Pittsburgh. |
| | D | This was a season-defining week for the Orioles, who were 2.5 games back of the second wild-card spot at the open of business on Monday. Baltimore rallied to win their first two games against the Red Sox before dropping their final four games of the week -- one against Boston and three against the Rays -- to fall to 4.5 games back of a wild-card spot. With only one week left in the season, that's an insurmountable deficit even though they've not yet been mathematically eliminated. When push came to shove, the O's fell down. |
| | F | Boy oh boy. This is bad, folks. The Rangers, who lost all six of their games last week, went a moderately better 3-4 this week. The problem: they went 2-2 against the Rays and 1-2 against the Royals, two direct wild-card competitors. Texas didn't just not gain any ground in the standings, they lost ground to Tampa and Cleveland. After coming into the week with a 0.5-game lead on a wild-card spot and a 56.6-percent chance to make the postseason, the Rangers are now 1.5 games back with a 28.7-percent chance to make the playoff. Brutal. Brutal brutal brutal. |
The Twins have already fortified the bullpen with Addison Reed, and now they want to address...

The Orioles likely want pitching, and the Indians have plenty of it

Halladay died in a November plane crash off the coast of Florida
The power-hitting outfielder is headed to Toronto

Martinez could add some power to a Boston lineup void of it

It's almost that time of the year again, time for the Tebow madness to return