Grading the Week: Trade deadline gets an A+
This week, the entire league earns an A+ for the exciting show they put on at the trade deadline.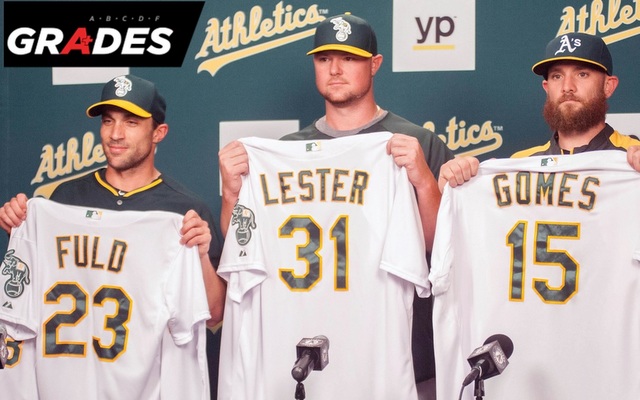 More MLB: Power Rankings | Expert Picks | Latest news & notes | Fantasy news
Another week of baseball is in the books, so it's time to hand out some grades. As a reminder, we try to stick to the traditional A through F scale, but we do bend the rules on occasion. Like this week. The grades can cover anything -- a team, a player, a series, a division, whatever. No reason to have hard rules for an exercise like this. On to this week's grades.
Team
Grade
Analysis
A+
I am making the executive decision to give all of MLB an A+ this week. Why? Because the trade deadline was awesome. Easily the best and most exciting trade deadline in the past five or six years. Probably much further back than that. There were two bona-fide blockbuster trades on deadline day itself, as well as several other deals that would have qualified as the biggest move at the deadline in most other years. Throw in the swaps that went down earlier in July and these past few weeks were just outstanding for fans of rumors and roster turnover. What a fun deadline this was. Hopefully more like this are on the way the next few years.
B
Depending on who you ask, the

Detroit Tigers

landed the biggest fish in the trade deadline sea by acquiring

David Price

in a three-team trade with the

Seattle Mariners

and

Tampa Bay Rays

. Detroit also went 4-2 on the week, which is pretty good. So why not an A then? The cost of acquiring Price, specifically

Austin Jackson

. They don't have a true center fielder on the roster now --

Rajai Davis

will get the job, but he lacks the quick first step and instincts for the position despite being a speedy guy -- and that's a pretty important position. Don't get me wrong, they are absolutely a better team now than they were before the trade deadline. But they did rob Peter to pay Paul. And besides, a B isn't a bad grade anyway.
B
Trade for Jon Lester and Jonny Gomes? Good! Trading away

Yoenis Cespedes

? Eh, bad. But Gomes and his ability to mash southpaws mitigate that somewhat. Losing two of three to both the

Houston Astros

and

Kansas City Royals

? Definite yuck. The

Oakland Athletics

both greatly improved their roster -- Cespedes is awesome but his reputation outweighs his production -- and lost a game in the standings this week, which is a net gain to me. The focus on the Lester/Gomes trade has been on their potential postseason impact, but Oakland will need both guys to help win the division first.
D
The

Atlanta Braves

don't have the financial wiggle room to go out and make a blockbuster pickup at the trade deadline, though they did rearrange some furniture by grabbing

James Russell

and

Emilio Bonifacio

from the

Chicago Cubs

. Their D grade is built on a terrible week on the field, in which they lost six of seven games, including the final three to the punchless

San Diego Padres

. Atlanta was outscored 30-15 this week, and sank to 3½ games back of the

Washington Nationals

in the NL East. They Braves are now two games back of the second wild-card spot as well and are quietly 41-47 in their past 88 games. The days of coasting to a division title are long gone.
 
F
The

Philadelphia Phillies

went 3-4 on the week and that isn't terrible. No, I'm giving them the F because they did nothing at the trade deadline. Nothing at all.

Marlon Byrd

stayed put.

Cliff Lee

and

Cole Hamels

stayed put.

John Mayberry

 stayed put. Everyone. They didn't make any moves and afterward GM Ruben Amaro Jr. blamed other teams for not being aggressive enough? Give me a break. Now Lee is out with an elbow injury and seems unlikely to pitch again this season, killing any trade value he may have had both in August and the offseason. Pretty much the worst possible thing the Phillies could have done at the deadline is stand pat and not unload some of those contracts. That's exactly what they did.
Plus the Cubs can clinch the NL Central title. Keep it locked right here for the latest from...

The club is expected to part ways with Collins after the season

Here is a preview of what's on the line Tuesday
Jerry Dipoto will have his hands full

Otani is said to be coming over this offseason, though nothing has been made official yet

What do the Mets need to do to get back to the postseason next year? Well, a lot