Grading the weekday series: Pirates just keep winning
Let us assign some grades for the series that were technically the weekday set (Monday through Thursday) -- led by the Pittsburgh Pirates.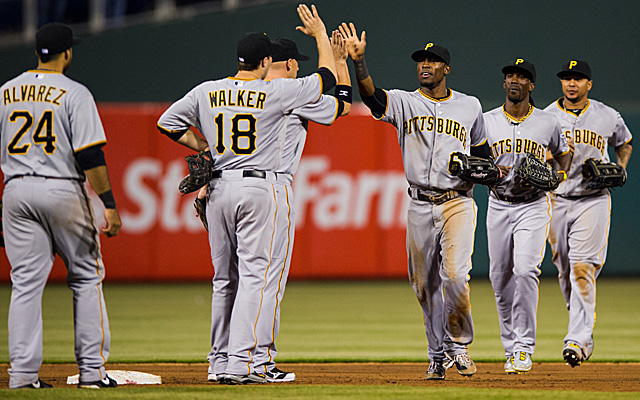 More MLB: Scoreboard | Standings | Probable Pitchers | Sortable Stats | Odds
With Thursday a bit of a transition period this week -- as will happen several weeks during the course of the season -- we need to start out by noting that we're only grading the "weekday" series right here. For example, the Nationals were swept by the Cardinals and came back and won big over the Reds on Thursday. But that Thursday is part of the "weekend" series, as it's the start of a four-gamer that runs through Sunday. So that game is ignored here.
Anyway, the weekday series were relatively evenly matched for the most part. We only saw one sweep with every team in the AL Central being part of a two-game split. There was only one four-game series, and the winner sits atop our report card this week.
As a reminder: We're only assigning one letter grade each in these bad boys. Otherwise, it would be overkill doing this twice a week.
| Team | Grade | Analysis |
| --- | --- | --- |
| | A | They lost Monday but only by one run. And then the Pirates won three straight in Philadelphia, outscoring the Phillies 13-7. Pedro Alvarez has really started to come around while Starling Marte is as exciting as could be atop the order. The bullpen has been excellent, and they're getting mostly solid starting pitching as well. And even with superstar Andrew McCutchen not doing as much damage at the plate as he's capable, the Pirates are 12-4 in their last 16. What is perhaps best about this team is the manner in which they just keep finding ways to get it done. Take Brandon Inge's tie-breaking single on Wednesday night in the eighth as a recent example. |
| | B | So close. Oh, so close. The Diamondbacks were pretty close to sweeping the defending World Series champion Giants in dominant fashion. But they blew a two-run lead in the eighth and then allowed a walkoff single on Monday. Then they blew a four-run eighth inning lead (two runs in eighth and two in ninth) on Tuesday, only to turn around and win in extras. Then, on Wednesday, they again blew a ninth-inning lead and won in extras. This time around, though, the D-Backs scored in each the eighth, ninth and 10th themselves. And, of course, they were playing in San Francisco against a great Giants team. So even if the blown saves are an issue, the Snakes took two of three and can take solace in outplaying -- or playing even with -- the Giants for about 27 of the 30 innings played in this series. |
| | C | The Reds won two of three in their weekday series, yes. But it was against the Cubs and probably should have been a series loss. In Monday's series opener, the Cubs twice blew saves. In the seventh, the Reds tied it up 2-2. Then in the 13th inning, the Cubs took a two-run lead, only to allow the Reds three runs in the bottom half. The Cubs then won the second game of the series 4-2 in 10 innings after again blowing a save in the ninth. And in the series finale, the Reds held on to scrape by with a 1-0 win. On the standings page, all that matters are wins and losses. Here, we're dissecting things and the Reds hardly looked stellar against a bad team at home. |
| | D | The Rockies were headed straight to the F line after failing a huge test against the Braves at home, but then Dexter Fowler happened. After being blown out Tuesday night -- making it a sweep for Atlanta in the doubleheader -- the Rockies were staring at stud closer Craig Kimbrel and a two-run deficit entering the ninth. Jonathan Herrera doubled in front of a Troy Tulowitzki single, setting up things for Fowler. And Fowler very nearly hit a three-run walkoff homer, missing it by a foot or two and instead grabbing a double. Still, the game was tied, Kimbrel had blown a save and the Rockies went on to win in 12. They showed serious mettle in the late innings here, and it's these types of games that can keep the Rockies in contention for a while. |
| | F | The Nationals had the best record in the majors last year but lost in the NLDS round of the playoffs in five games to the Cardinals. And it was a total gut-punch, as the Nats had the Cardinals down to their last strike -- this after a 6-0 Washington lead through three innings -- only to lose after a four-run Cardinals ninth. This week, the Nationals came in not playing their best ball but still sitting 10-8 overall. They were set to host the Cardinals and possibly exorcise some demons. And, instead, they got swept and were outscored 9-4. They won't get another shot at the Cardinals until late September. One can't help but wonder if another series loss would carry over psychologically into the playoffs, should the two clubs meet in October -- which is very possible given the personnel that both clubs sport. Then again, maybe it was the wake-up call the Nationals needed, as we have already seen them go out and crush the Reds 8-1. Time will tell. But for the stand-alone series this week, the Nats absolutely get an F. |
| | I | It's actually both the Tigers and Royals that I'm giving an incomplete, and it's not even the fault of either AL Central team. I'm annoyed we only got two in this one. First of all, the Royals came into Detroit as the early leader in the AL Central as they look to take a big step forward this year. Next you have the defending AL Central champs -- and, actually, the defending AL champs -- coming home after getting embarrassed by the Angels. It was the recipe for an outstanding series, and we only saw 2/3 of it. On Wednesday, the two clubs combined for 12 runs in innings 2-5 and otherwise didn't score, but there was a bit of back and forth in that period, not to mention the hilarity provided by Victor Martinez. And it was capped off with the return of Papa Grande. And then on Thursday, the Royals tied it with a run in the eighth and got an Alex Gordon grand slam to help grab the win in the 10th. Baseball fans everywhere were left wanting more. Instead, we have to wait until June 10 in Kansas City to see these two clubs square off again. Terrible. |
Then again, three trades in four days might be behind Jerry Dipoto's usual pace

Ohtani is arguably the best hitter and pitcher in Japan

The O's need rotation help, and Cobb is available for hire
The Red Sox and Cardinals are expected to make trade offers next

The free agent first baseman may be a fit in St. Louis

The front office changes in Atlanta continue