Grading the weekday series: Red Sox, Brewers pass with flying colors
The Red Sox and Brewers both earned high grades in our recap of this week's series.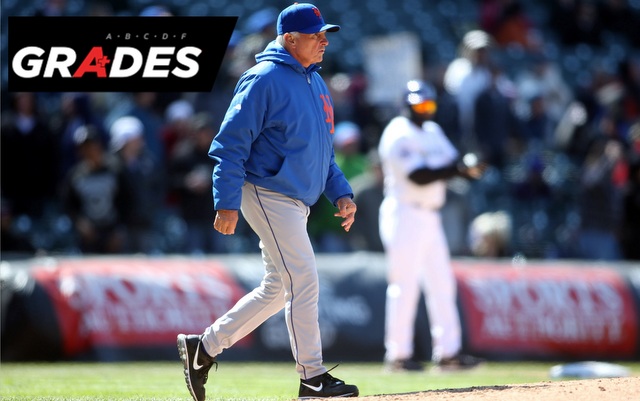 More MLB: Scoreboard | Standings | Probable Pitchers | Sortable Stats | Odds
Welcome to our latest recap of the weekday series. In an effort to keep things short and sweet, we're issuing series-ending grades for only entire series that ran at some point from Monday through Thursday. We assign one team -- or one aspect of a team, in some cases -- to each letter grade and that's it. So no, all 30 clubs are not represented here. Remember to check out or weekly recap of all 30 teams, otherwise known as the power rankings. On to this week's grades.
| Team | Grade | Analysis |
| --- | --- | --- |
| | A | After finishing in last place last year, the Red Sox remade their team (and coaching staff) over the winter, and the early returns are overwhelming positive. They've won six straight, including a sweep of former manager Terry Francona's Indians in Cleveland this week. Boston outscored the Tribe 16-8 in the series and scored within the first two innings in each game. It was pure domination. |
| | B+ | The Brewers lost eight of their first ten games this season, but they rebounced in a big way by sweeping the defending World Champion Giants at home in a three-game series this week. The offense stood out by scoring 21 total runs in the three games without the injured Aramis Ramirez and Corey Hart. As a bonus, recent call-up Blake Lalli provided a walk-off single on Wednesday for his first hit with Milwaukee. That's pretty cool. |
| | C | Baltimore took two of three from the Rays this week, with Matt Wieters capping the series off with a walk-off grand slam on Thursday night. Still, the Rays came into the series with a 4-8 record and a struggling offense, but both of the Orioles' wins were tight nail-biters. They didn't exactly lay the smack down on a division rival. Two wins in three games is two wins in three games, but they came by the skin of the mascot's teeth. |
| | D- | One week after having his collarbone broken during a benches-clearing brawl with the Padres, the Dodgers stood up for teammate Zack Greinke by ... getting swept by the Padres. Los Angeles was outscored 22-7 in the three-game set, and they held a lead for exactly one half-inning in the entire series. That's it. The only reason they're not getting an "F" from me is because Clayton Kershaw got rocked for three homers in the series finale on Wednesday. That just doesn't happen very often, so I'm okay with giving him (and by extension, the team) and mulligan for that one. Let's just call it grading on a curve. |
| | F | Specifically, the Mets' bullpen gets a "F" for the week. The team's relief crew allowed 18 runs and 26 base runners in 11 innings during their three-game series against the Rockies, which resulted in three losses. They were supposed to play four games, but it was snowing in Colorado and one game was postponed until later this summer. Considering how things went this week, I'm guess the Mets' bullpen was rooting for a full blown blizzard by about Wednesday. |
Get 15 percent off any order of more than $75 at CBS Sports Shop

Get your sports fans something that they'll wear all year

No, you're not imagining things. This MLB offseason has been very slow compared to the last...
Francesa will retire from radio next month, so he'll have plenty of free time next summer

The Twins need help in the rotation, and they may look to the trade market to find arms

Here are the bullet-points of what went down Tuesday regarding MLB and the Braves' punishm...