Grading the weekend series: Braves make early statement
Let's hand out some grades for the weekend series that we just witnessed. Included: Braves, Blue Jays, Angels, Dodgers and Rays.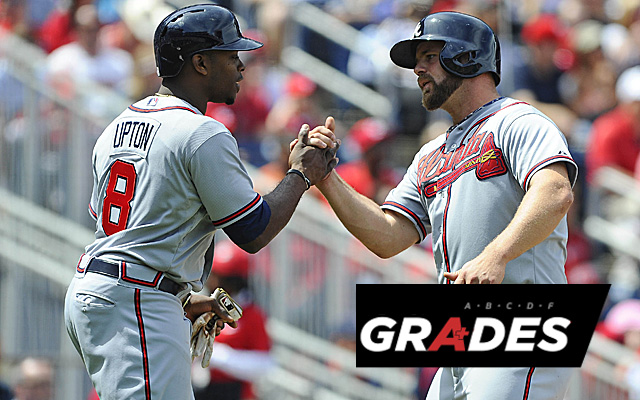 More MLB: Scoreboard | Standings | Probable Pitchers | Sortable Stats | Odds
It's time, once again, to hand out some series grades. As a reminder, doing grades for all 30 teams twice a week for six months would be overkill on top of overkill. So we'll hand out one of each of the five traditional letter grades.
And the "A" category for this weekend was probably as easy as it's going to be all season.
| Team | Grade | Analysis |
| --- | --- | --- |
| | A | The Braves went to Washington facing a nice litmus test here in the early going. The Braves were 8-1 but had played a mediocre Phillies team and two bad teams in the Cubs and Marlins. Meanwhile, the Nationals had baseball's best record last season and appear suited to be even better this year. But in three games, the Braves dismantled the Nationals in our nation's capital -- outscoring the Nats 18-5 in the sweep. Starting pitchers Tim Hudson (Saturday) and Paul Maholm (Sunday) were absolutley masterful while the offense pounded out 29 hits -- 10 for extra bases -- against one of baseball's best pitching staffs. The Braves are 11-1 and have the look of baseball's best team. Though it doesn't mean a ton mid-April, it certainly doesn't hurt. |
| | B | The Jays got off to a 3-6 start and went to Kansas City to square off against a team that had previously won six of its last seven. Then the Jays lost Jose Reyes for a few months, not to mention already being saddled with a multitude of players who were struggling early on this season. But there were enough positives to push them up to a B here. Jose Bautista and Edwin Encarnacion each hit a big homer while R.A. Dickey and Brandon Morrow put together encouraging starts. And overall the Jays won two of three, and the only loss was in a nail-biter on Sunday. Considering all that's gone wrong thus far, 5-7 isn't half bad. After all, the Reds started last season 4-8. How did they fare after that? |
| | C | The positives? The Angels took two of three games this weekend, and Josh Hamilton homered on Saturday and Sunday. So maybe he'll get on track. Mike Trout also appears to be coming alive, Albert Pujols had the walkoff double on Saturday night, and C.J. Wilson had a good outing on Sunday (6 IP, 1 ER). The negatives? Tommy Hanson looks bad, the Angels are still only 4-8 and were just outscored 10-9 in a three-game series against the lowly Astros. So we'll throw them right in the middle here. |
| | D | This spot is only for the Dodgers' offense. Friday, they were shut out by Patrick Corbin and the D-Backs' bullpen. Then Sunday, they were shut out by Trevor Cahill and the bullpen. In doing so, the Dodgers lost two games where Clayton Kershaw and Josh Beckett combined to allow four runs in 15 2/3 innings (calculates out to a 2.30 ERA). Scoring seven runs on Saturday prevents them from F territory, but seven total runs in three games is pretty bad for a lineup with this much talent. This isn't to say Corbin and Cahill suck, but they aren't great, either. It was a bad showing for the Dodgers' bats. |
| | F | Again, this is only the offense. Weather prevented the Rays from playing Friday, and that might have been a blessing in disguise the way these guys are swinging the bats. In two games, the Rays combined for one run on nine hits. They were 9-for-63 (.143) with 19 strikeouts in the two games and are hitting .212/.288/.293 this season. Yes, that's a slugging percentage below .300. For a baseline comparison, Padres starting pitcher Jason Marquis has a career .287 slugging percentage. Yes, this is F-worthy -- and not just for the series. For the entire season thus far. They do have a shot at redemption Monday, though, with the finale in Boston. |
The Nats will host the All-Star Game in 2018

The Orioles are looking to trade Machado heading into his walk year

The Cardinals have been linked for a while to the Baltimore star
Gallardo spent the first eight years of his career in Milwaukee

MLB revenues are at a record high right now, but teams aren't spending it on players

Chicago added Tyler Chatwood earlier this offseason but might not be done adding to the ro...