Grading the Weekend Series: Tribe on top
It's time to hand out some grades. We'll hit on the Indians, Rockies, Yankees, Pirates and Phillies.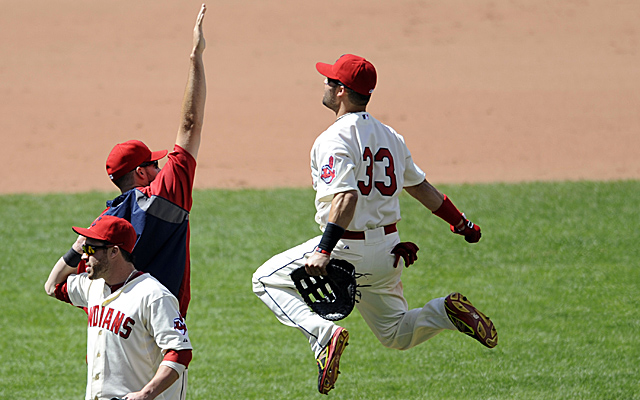 More MLB: Scoreboard | Standings | Probable Pitchers | Sortable Stats | Odds
It's time, once again, to hand out some letter grades. For the sake of brevity and avoiding overkill over the course of the season, we just give one team per actual letter grade, so only five teams get graded while 25 do not.
First things first, congrats and an honorary A to each team that swept its respective series. So, nice work and a sticker to the Chicago Cubs , Kansas City Royals (who have decided not to be trade deadline sellers!), Braves and Detroit Tigers . We'll go with the most impressive series win, relative to how good the teams playing each other this weekend were as the tiebreaker, and that lands us in Cleveland -- barely over the first-place Braves sweeping the first-place Cardinals.
Team
Grade
Analysis
A
The

Texas Rangers

are really struggling right now, but they're still a team with quality talent and entered the series with a better record than the

Cleveland Indians

. That's not the case now, though, as the Indians swept the Rangers in three games by an overall mark of 18-8.

Ubaldo Jimenez

was brilliant Sunday and is now 8-3 with a 3.12 ERA since a dreadful start. Also, the Indians pitching staff leads the majors in shutouts (team version).
B-
The

Colorado Rockies

are hanging around in contention -- six games back of the uber-hot

Los Angeles Dodgers

-- and won a series. Still, they had to scratch and claw to take two of three from the last-place

Milwaukee Brewers

(now without Ryan Braun), so we have to downgrade them a bit. It's obviously better than average (which would be a C), but they need better to hang with the Dodgers.
C-
In losing two of three, we can't get them even a stand-alone C. But they're up to a C-minus due to some circumstances.

Alfonso Soriano

is back in Yankee pinstripes and came through with a four-hit game -- including a homer and a walkoff single Sunday.

Derek Jeter

is back in the lineup and went 2-for-4 with a homer. The

New York Yankees

overcame an awful start by

Phil Hughes

to topple the

Tampa Bay Rays

, who have been arguably the best team in baseball lately. Salvaging that victory in the manner they did gains them mention here.
D
Losing a series to the

Miami Marlins

isn't what it was in the first two months of the season. They have been pretty good since the end of May overall. On the flip-side, they recently lost nine of 12 games and endured an embarrassing offensive drought. A team with aspirations like the

Pittsburgh Pirates

-- which are far beyond a winning season for the first time since Barry Bonds was skinny -- needs to win series over the Fish. It's pretty simple. It wasn't a disaster, as they won Saturday and, again, the Marlins aren't the embarrassment they were in mid-May, which is what keeps the Bucs from an F. Also, the good news for the Pirates is they're still only 1.5 games out and have a huge five-game series with the Cardinals at home this week.
F
A five-game losing streak turned into eight, as the

Philadelphia Phillies

were swept by the Tigers and outscored 24-5. This pretty much ends any illusions of contending this season, I'd guess. It wasn't just the scoreboard. There was an embarrassing inning Sunday in which the Phillies gave up eight unearned runs on only two hits -- one a bunt single. They did commit three errors and walk two runs in during the frame, though. And then after the game came more comments from

Jonathan Papelbon

about how he didn't sign up for this and the franchise needs a new direction. What an utter debacle of a weekend.
Iowa and Missouri are two programs mixing technology and analytics

Sunday's MLB roundup features the D-Backs clinching a postseason spot and the Mariners going...

The 2017 season has been, by far, the worst season of Cabrera's career
The Mariners were eliminated from postseason contention with Sunday's loss

Maxwell became the first MLB player to kneel during the national anthem Saturday

The Blue Jays are not expected to bring Bautista back next season