Grand experiment: When will new-wave Astros be able to cut it?
Houston and its GM Jeff Luhnow have a plan that's being ridiculed in some quarters. And it may take awhile, once it starts paying off, it may pay off big.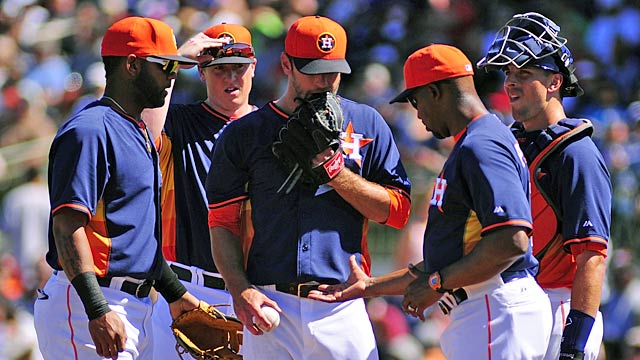 MORE: Spring Training | Scoreboard | Team previews
KISSIMMEE, Fla. -- Here in a land that progress forgot, where the folks and the buildings have been around forever and not much else has changed since the '60s or so, the Astros seems decidedly out of place. In this long lineup on US-192 of bowling alleys, second-tier theme parks and one-star chain restaurants, the Astros are the one thing that's cutting edge.
Whether they admit it or not, they are not like other MLB teams, either. Their recent past is worse, their present is very likely worse (rival scouts sometimes call them the "disAstros") while their future could be off like a rocket, the thing their home city is best known for, meaning actual rockets and not the pitching great who comes to camp to advise young pitchers and polish his image.
In any case, the differences between the Astros and everyone else go far beyond the won-loss record, which was almost all-time bad two straight years, and even their prospect stash that currently puts other teams to shame. They just do things differently.
The Astros emphasize taking pitches like no others (though they deny there was ever a suggestion at any level to take 3-and-2 pitches). They shift throughout the system like almost no others. They "piggyback" pitchers in the minors, meaning two starters go one day, one after another.
They employ a staff economist. They also employ a guy who left NASA, and another guy who used to design semiconductors. They hired two guys who were bloggers, albeit very smart bloggers, in key front-office roles.
"The Astros have guys with computers running around," one player said. And they never stop computing.
They attempt to lock up non-stars years before arbitration, and in one case, offered a minor leaguer (albeit a truly great one, outfielder George Springer), a $23-million, seven-year deal that included team options, a proposal he rejected last September.
"I'm not sure we do any one thing differently from every other team," the GM and architect Jeff Luhnow said. "We're very disciplined in articulating, communicating and sticking to our strategy."
The strategy appears to be this: don't mindlessly repeat what everyone else did in the past, back when Kissimmee was cool.
"New ideas are welcome," stressed Luhnow, the Northwestern and University of Pennsylvania graduate who is known as a saber first guy but who was also the Cardinals' scouting director during a period of tremendous success (of the 25 players on the Cardinals' 2013 World Series roster, 16 were drafted by Luhnow).
"We're not afraid to try something new."
If there is indeed a box, the Astros couldn't possibly see it from where they are. It is baseball's grand experiment, with perhaps half baseball rooting against it and even reveling in their back-to-back all-time bad seasons (disAstros!), and half hoping it is a monstrous success, if only to show there is a different way to do things.
Their ultimate goals are the one thing that's similar, even if they are running on a calendar instead of a clock: as Luhnow put it, they want to win games at the major-league level, and titles, too.
Losing big has its benefits
When that comes, well, they aren't saying. It certainly won't be this year; on paper, their current roster looks again like easily the worst team in baseball, at least when short-term success is the objective. They're 20 minutes from Disney World here, and clearly ensconsed in Tomorrowland. "We don't care if anybody's laughing at us now," one Astros person said. "We're not trying to race anybody. This isn't a rush to the buffet table.
They are in for another long season, though that understandably goes unmentioned. Luhnow said, "I'm excited. This team will be improved and could be significantly improved." (For the record he said basically the same last year, when 15 straight defeats left them at 51-111, marginally worse than the 55-107 the year before.)
Of course, that doesn't really matter. Their non-success actually helped them win the No. 1 pick two years running, No matter, based on their amazing group of prospects they would seem to have an excellent chance to shoot straight up at some point, then have a fairly long run of success.
"We look good on the back field," is the way one Astros executive put it.
Prospects are just that, they'll tell you. But man, what prospects the Astros have.
There are the obvious ones, like No. 1 overall picks Carlos Correa, a shortstop, and Mark Appel, a right-handed pitcher, plus Springer and another right-hander, Mike Foltynewicz. But there are guys no one's ever heard of who came for no money, like Dominican lefty Reymin Guduan and Dominican righty Jandel Gustave, who are throwing 100 mph on those back fields. Everyone throws hard back there, although no one tops Foltynewicz, who touched 101 mph in every start last year at Class-A Lancaster and Double-A Corpus Christi.
The prospect list goes on. Delino DeShields, like his dad, can run with the best of them. Jonathan Singleton is the big first-base talent who came for Hunter Pence and talked openly about his pot addiction earlier this spring. Rio Ruiz is an infielder with power, Preston Tucker an outfielder with power, Nolan Fontana a middle infielder who'll ultimately play second, Joe Sclafani a versatile infielder from Dartmouth and Andrew Alpin, a Darin Erstad type in center field.
And the pitchers are all over the place. Josh Hader is a 94-mph-throwing lefty who came in the Bud Norris trade. Andrew Thurman is a 97-mph thrower who threw 91 when he was drafted out of Cal-Irvine. Lance McCullers is another power arm. Vincent Velazquez is yet another pitcher who can crack 100 mph.
Solid pitching import Scott Feldman, who received a generous $30 million, three-year free-agent deal and will lead the young staff, and he said that compared to what he sees out back, "I'm the thumb-er of the staff," referring to a pitcher who just flips it up there.
Correa, the first of two straight No. 1 over all picks, is a 19-year-old kid who plays like Manny Machado and acts like Derek Jeter. A higher compliment can not be enunciated.
"He should be up right now. He's ready," one scout said of Correa. Instead, he'll go to Class A Lancaster for a few weeks before expected domination and a leap to Double-A.
When he was drafted, the early speculation was that Correa, a tall kid at 6-foot-3 would have to move from shortstop to third base, but now Astros people will remind you that Cal Ripken, Troy Tulowitzki and Alex Rodriguez were all similarly tall.
Hard to believe, Correa led the Midwest League in fielding percentage as an 18-year-old. Then he did something even more impressive. At the ring ceremony to honor their league championship, he volunteered to speak to the 150 team intimates in English, his second language. As for the idea he may be moved from shortstop, he invoked some English colloquialism. "That ain't gonna happen," he said with a smile. By all accounts, he is correct.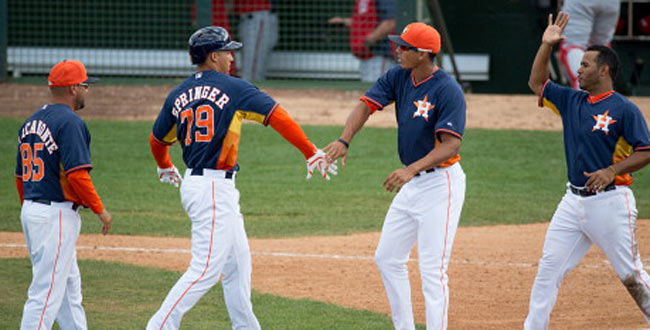 Springer, the polished so-called "preppy" from Connecticut, had 37 homers and 45 steals last year. Springer, yet another great talent and high character guy, describes his style thusly, "I play fast. I play aggressive. I play loose." But for now he will play in the minors again, though Luhnow promises he will be up before too long this year.
The idea to lock up the multitalented Springer makes perfect sense, as the odds of such a rising star missing are microscopic. Ultimately, catcher Jason Castro, their best position player, will be someone to look at as a long-term hold, although there is said to be some concern how he'll hold up since he's an undersized catcher. Keeping Castro should be an obvious goal, but word is, they are trying to sign to long-term deals third baseman Matt Dominguez and outfielder Robbie Grossman, which surprises some folks since they are less established at the big-league level. (One competing GM said, "I don&'t get it. It makes no sense.")
A different approach to contracts
Luhnow explained that they are willing to make multi-year offers to players others might consider non-stars so long as they believe they're good enough to be major-leaguers through all their pre-arbitration and arbitration years. "In the past these deals were limited to the best players in the game," Luhnow said. Not now, not here. Though Dominguez is a fine defensive third baseman and has some power, he isn't established as an average starting player as of yet, and the same could be said for Grossman, whom others may view as useful but not worthy of a long deal so soon.
Springer rejected his $23-million offer last September, and was recently returned to the minors, a move his agent is considering grieving, as the Houston Chronicle first reported, which is bringing a bit of controversy to camp. The claim could be that Springer is only in the minors due to a purposeful delay in his service time when Houston must know he is already a major leaguer, as evidenced by the $23-million offer, first reported by Ken Rosenthal of Foxsports.com; the case is understandable but might be stronger had Springer not hit .161 this spring.
Springer declined to discuss his contractual situation, and Luhnow denied the player is being punished for rejecting their offer. "We'd never use a contract tool to affect a person," Luhnow said. "They're separate, the business aspect and playing aspect."
While that may be litigated another day, there's no denying that Springer and the others bring a future excitement to the Astros that separates them from most, if not all, others. Appel, another great kid like Correa and Springer, as well as a Stanford man, may initially have been surprised by the "piggybacking," or stacking of starters, which meant he'd be pitching once every four days rather than the once every seven at Stanford, but Appel, who passed on a Pirates $3.8-million deal as the No. 8 pick a year earlier to sign for $6 million and join his hometown team. He threw the other day after appendectomy surgery seven weeks earlier, and while he lit up the radar gun, too, he said he needs to shake off some rust.
Appel is a deeper thinker than your average 23-year-old (he was missed Saturday in manager Bo Porter's fun "Word on the Street" competition, a password-like game, now that he's on minor-league side) and says he's "very blessed and very grateful to be part of the Astros organization, the team I grew up rooting for; and as an employee and 100 percent Astros, it's not my place to question what's going on."
Intellectually, Appel gets it, anyway. "They might be doing some unorthodox things, but they have gathered the evidence to support what they're doing," Appel said.
Though of course, the ultimate evidence won't come on the field for another couple or even few years. To be fair, they are improved from last year after signing Feldman, trading for center fielder Dexter Fowler and remaking the whole bullpen, which was all-time bad. But realistically, they still enter the season as a rare team with zero chance. Their division is improved, and they simply aren't ready for prime time.
Castro, their lone 2013 All-Star and another Stanford man, plus diminutive second baseman Jose Altuve and Fowler are the three proven major-league position players who'd be considered at least big-league average (and Castro's showed it in only one year), Feldman is a solid mid-rotation starter, and pitching prospect Jarred Cosart, who came from Philly in the Hunter Pence trade, is in the first wave of their flame-throwing pitching gems; in his last start he threw five innings of perfect baseball, with nine strikeouts, against most of the real Nationals lineup.
The Astros' collection of young players is something to behold, though their senior advisers, consultants and executives aren't too bad, either. Clemens enjoys speaking to pitching groups. Biggio is a wise young Astro legend, and older hands Enos Cabell and Jimmy Wynn are on the staff, as well. Pitching great Nolan Ryan has added even more luster to a front office group that's quite an eclectic mix of Hall of Famers, would-be Hall of Famers and math nerds.
Luhnow pays the ultimate Astro compliment to Ryan, saying, "He's an outside-the-box thinker." Folks are wondering whether old school and new school will mix, but Luhnow by all appearances is making every effort to work nicely with Ryan, whose son Reid is a personable and popular leader who happened to be the team president and a notch above Luhnow in the front-office hierarchy (though Luhnow reports directly to owner Jim Crane).
When it was mentioned to Luhnow that he has little choice but to welcome the great Ryan considering he's a Hall of Famer whose son is in charge, Luhnow said, "I can't complain. Who am I? These are guys I had on my fantasy team 20 years ago. Now they're going to advise me. I think it's amazing."
The whole operation is quite something, really; though we won't know for two years or maybe many more whether the great experiment will work.
The Orioles are looking to trade Machado heading into his walk year

The Cardinals have been linked for a while to the Baltimore star

Gallardo spent the first eight years of his career in Milwaukee
MLB revenues are at a record high right now, but teams aren't spending it on players

Chicago added Tyler Chatwood earlier this offseason but might not be done adding to the ro...

The Dodgers and Braves pulled off a whopper on Saturday