Granderson is set to return, but do Yanks even need him?
The Yankees have done a miraculous job without their big everyday stars. Well, they should get the first big star back on Tuesday night.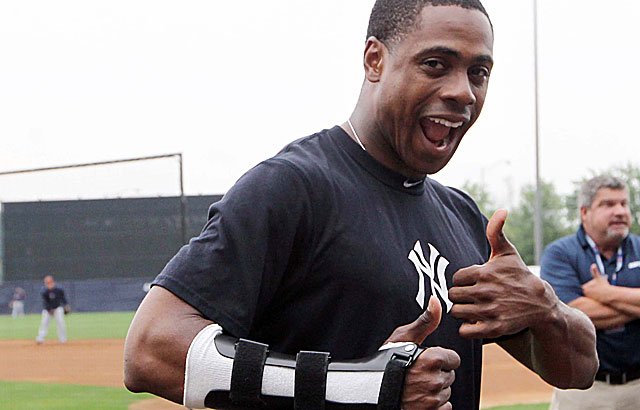 Curtis Granderson is to set to become the first of the injured Yankee everyday stars to return on Tuesday night. But, to the shock of almost everyone, the Yankees don't actually appear to need him at the moment.
The storyline for the 2013 Yankees was supposed to be about them trying to tread water until all their mega-stars started to come back. Well, Granderson's arrival is upon them (the Yankees haven't said he's officially back, but that's the plan, according to folks in the know), and, to the surprise of everyone involved, the fill-ins, stop-gaps and fliers that they took this spring are all producing at such a great rate, it's going to be a tight squeeze.
Vernon Wells has been a shocking godsend. Lyle Overbay came on a three-day "tryout'' ("It was like an NBA-type thing,'' general manager Brian Cashman recalled) and has been a revelation, maybe just a notch below a godsend. Travis Hafner was whispered by scouts late this spring to be nearing the end due to a supposedly slow bat and has been only slightly less shocking than Wells and Overbay.
Then they've called up a bunch of kids (Preston Claiborne, Vidal Nuno, Corban Joseph among them), and they've all contributed, as well. And we're not talking about their top prospects, either. Just kids doing the job.
New York is 24-14, tied with Texas for the best record in the AL.
"All these guys deserve the credit. They're the ones doing it,'' Cashman said by phone. "This is definitely not something you'd put in the predictable category.''
No, not exactly. Folks pegged this year as the one in which the Yankees, who've averaged an amazing 97 wins the past 17 years, would finally start heading down to the point of being ordinary ... or worse (that includes yours truly, who picked them last in the East, which they miraculously lead at present).
Granderson will be welcomed back, of course. But, considering how everyone else is doing, it'll be interesting to see where their resourceful manager, Joe Girardi, finds the room. Wells and Hafner have been excellent, Brett Gardner (a Girardi favorite) has been fine, and Ichiro is, well, Ichiro.
So the team that was scrambling to field a team after what one scout called "the worst spring training anyone's had in years'' (he meant in terms of luck), suddenly seems almost stacked. Almost, anyway.
Wells (nine homers, 22 RBI, .299) was so bad last year that some Angels people were rooting for a release, and some Rangers folks were hoping and praying Mike Scioscia would use him even more. But he looks reborn in New York.
The Yankees liked Wells enough this winter that they had talks with the Angels. But they certainly didn't expect this.
"He's doing more than we expected,'' Cashman admitted. "We felt he'd produce like a low-end regular, at worst.''
Folks were shocked the Yankees agreed to pay even close to one-third of Wells' salary ($6.5 million of $22 million), but he now looks like a bargain. Yankees scouts saw improved bat speed in the spring.
But the key just might have been the WBC insurance money. Mark Teixeira's salary is being paid for by MLB, which insured players who participated in the WBC, enabling the Yankees to add Wells.
"Now, we want all our guys to play in the WBC. So, hey, everyone play," Cashman joked.
The Yankees' approximate $230 million payroll is the highest ever, but their disabled-list expense is by far a record, too, with Alex Rodriguez, Derek Jeter, Kevin Youkilis and several other lower-paid players (Francisco Cervelli, Ivan Nova and Eduardo Nunez among them) still out. Overall, they've had 12 players make 12 stays on the disabled list, which looks like an epidemic compared to last year, when they used the DL only 17 times.
The word on Jeter and A-Rod (and the Yankees may be able to collect some insurance money on him, too) is they should be back sometime after the All-Star break. Teixeira has to be out until at least June 1 now that he's on the 60-day DL.
Phil Hughes and Joba Chamberlain have returned from DL stays, and Michael Pineda is working his way back. Youkilis, seemingly indispensable with both A-Rod and Teixeira out, won't be able to return from back trouble when his 15-day period is up.
In the meantime, Overbay (.252 BA, 6 HR, 22 RBI) will man first, extending that "three-day tryout." When the Red Sox let Overbay go in the spring, Cashman conceded he was initially unenthused. But, eventually, he decided he'd give him a three-day try since he knew he'd bring better defense than Juan Rivera.
"As great a player as Jason Giambi was, with Tino Martinez and Teixeira we learned how important defense at first base was for us," Cashman said.
That doesn't mean they are set everywhere. There will be continuing adjustments on the fly. A source said the plan is for infield prospect Davis Adams to be promoted when he is eligible on Wednesday. Based on how everyone else is doing, it's no wonder the Yankees have a good feeling about Adams, who's batting .309 at Triple-A Scranton/Wilkes-Barre.
Cashman said when everyone started going down, they started telling each other "we're going to have to find a way to survive." But, so far, they are quite obviously thriving.
The pitching that they counted on has been terrific, and that shouldn't be such a surprise. But the everyday players that they're throwing out there are just as much a part of their stunning run.
"We're getting significant contributions from all the people who are new people," Cashman said. "It's been a blessing."
They've been praying for quick returns for their stars. That'll start happening on Tuesday night, and it will be interesting to see how it affects things.
The Nats will host the All-Star Game in 2018

The Orioles are looking to trade Machado heading into his walk year

The Cardinals have been linked for a while to the Baltimore star
Gallardo spent the first eight years of his career in Milwaukee

MLB revenues are at a record high right now, but teams aren't spending it on players

Chicago added Tyler Chatwood earlier this offseason but might not be done adding to the ro...