Great signs early from Tyler Skaggs, Trevor Bauer, but caveats apply
Former Diamondbacks prospects Tyler Skaggs and Trevor Bauer had lost a bit of their luster heading into 2014, but so far, so good for each. There are some caveats, though. Let's take a look.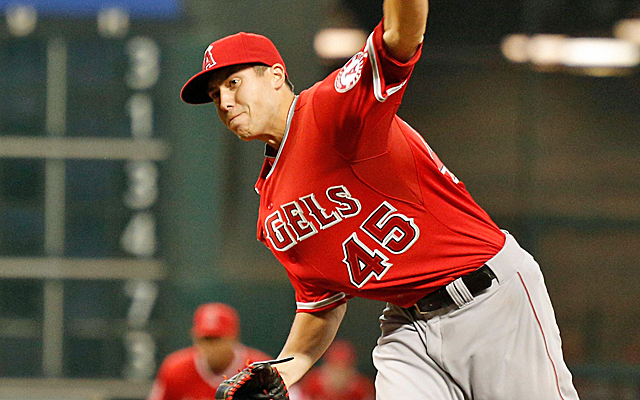 More MLB: Scoreboard | Standings | Probable Pitchers | Sortable Stats | Odds
The world of prospect rankings moves so quickly -- and sometimes drastically -- that it's easy to forget about or at least overlook guys once they've had even a minor speedbump.
Take the cases of former Diamondbacks crown jewel pitching prospects Trevor Bauer and Tyler Skaggs. The hype for each player had basically subsided heading into this season due at least partially to a poor showing in 2013, but both are still plenty young and have tons of upside.
Each has also had one very good big-league start so far in 2014, but the best parts about each outing were the positive steps seen from within.
Let's start with Skaggs, since he threw first.
Tyler Skaggs
The 6-foot-4 lefty was a top-15 overall prospect in Baseball America's rankings heading into both the 2012 and 2013 seasons. His stock fell after going 6-10 with a 4.59 ERA and 1.47 WHIP in Triple-A last season. He had a 5.12 ERA in seven starts for the D-Backs, too, before being traded to the Angels in the offseason (part of the three-way Mark Trumbo deal).
[Interesting sidenote: He came to the D-Backs by way of the Angels originally as part of the Dan Haren trade in 2010.]
The results of his outing against the Astros were great. He threw eight innings, allowing only four hits, one unearned run and one walk while striking out five.
The caveats: It came against the Astros and it's only one outing -- so he's got more than 30 outings to go, mostly against better offensive teams.
The upside: Skaggs' four-seam fastball was sitting 4-5 miles per hour higher than it had been the past two seasons (brooksbaseball.net). Oh yeah, and he mixed in a new sinker (aka two-seam fastball) that was almost as fast.
"That's what you have to do -- you have to keep your secret weapon in your back pocket," Skaggs said (latimes.com). "I don't think any of the teams knew that. I don't even think the Angels knew I had one, honestly."
The efficiency was very impressive, too, and that's something Skaggs had struggled with. He only needed 95 pitches to get through eight innings and 29 batters faced, or just 3.28 pitches per plate appearances. Previously in his big-league career he was averaging 3.87. To put that in perspective, at that rate he would have needed an additional 17 pitches at his old rate. That's a whole extra inning the bullpen gets to rest.
With the sinker working like that, Skagg can continue to get ground balls, stay efficient due to pitching to contact within the zone and, in turn, can help work deeper into games. And the increased velocity will no doubt start missing more bats in future outings.
Oh yeah, and he's only 22 years old.
Trevor Bauer
The third overall pick in the 2011 draft out of UCLA, Bauer was immediately a consensus top-10 prospect in all of baseball. He started off the 2012 season on fire in Double-A and earned his promotion to the bigs for a June 28 start. It's been a couple of years, but many will recall he arrived to significant fanfare. It wasn't quite Stephen Strasburg level, but it was close.
And Bauer was terrible. He did have one good outing, but ended up with a 6.06 ERA in four starts and a minor feud with respected All-Star catcher Miguel Montero over pitch selection. Bauer was then shipped to the Indians in the offseason and was again bad in four starts. What's worse, he wasn't dominating the minors anymore. He was 6-7 with a 4.15 ERA, 1.58 WHIP and 106 strikeouts in 121 1/3 innings.
Wednesday against the Padres, Bauer allowed four hits, two runs (just one earned) and two walks while striking out eight.
The caveats: It's just one start and it was against the Padres, who have struggled offensively. It was also just a spot start and he'll need to earn his way into the rotation by proving himself in the minors.
The upside: Bauer's four-seam fastball was back up to levels it was in the spring of 2012, when he was dominant (brooksbaseball.net). Not only was he throwing harder, but he had much better control.
Bauer only threw strikes on 57.1 percent of his pitches in his first eight career big-league starts. Wednesday, the rate was 65.7 percent. Walks and control in general had been a major concern, but through two starts (including on Triple-A start), Bauer has four walks in 12 innings.
No one will mistake him for Cliff Lee or Adam Wainwright any time soon at that rate, but if he's working at a high strikeout rate -- 17 K in 12 IP between the two AAA/MLB outings -- that can be forgiven. Strikeouts can erase lots of mistakes and the increased velocity in part suggests Bauer can get back to when he was striking out more than a batter per inning in the minors.
Indians manager Terry Francona sounded impressed Wednesday.
"The first time through the order he worked ahead. The second time, he fell behind a few times but pitched himself back into the counts. With his stuff and the way he's trying to attack the zone, his progress is going to come quick," Francona said (cleveland.com).
And, keep in mind, Bauer might seem like a bust due to how fast he was hyped and how quickly he fell off the radar, but he's still only 23. Just to throw out a name for comparison's sake, Andrew Cashner is 27. Or how about this: Jeff Samardzija is 29.
---
Obviously, there are always reasons to find some skepticism -- some of which were listed as caveats above -- but there's a reason these guys were once so hyped. They are both supremely talented. As Francona alluded to, once a pitcher with such high upside "gets it," things can come together pretty quickly.
Skaggs and Bauer are definitely two potential breakout pitchers to watch this season. The good signs are there, just as the talent is. It's just a matter of it all coming together for an extended period of time.
Dioner Navarro still hopes to return someday

Christian Yelich's agent says his client's relationship with Marlins is 'irretrievably bro...

The free-agent market has been slow and one player is bracing for an even longer wait
The Mets didn't want to trade a young outfielder for an older one

Josh Harrison doesn't sound pleased Gerrit Cole and Andrew McCutchen have been traded away

The team's media contracts expire following the 2019 season