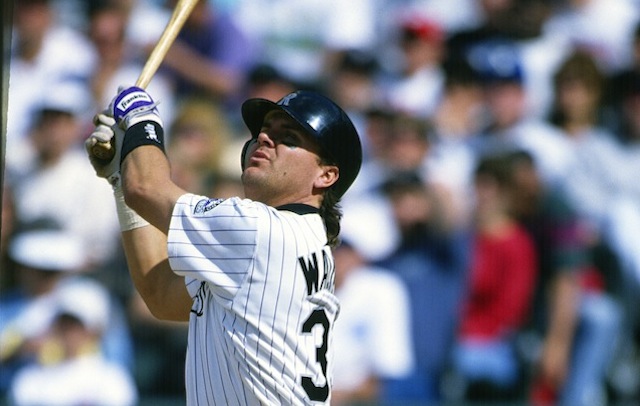 Hall of Fame cases: Luis Gonzalez | Moises Alou | Lee Smith | Fred McGriff | Don Mattingly | Jack Morris | Rafael Palmeiro | Sammy Sosa | Edgar Martinez | Jeff Kent | Alan Trammell
The BBWAA Hall of Fame announcement is less than a month away, so, between now and then, we will analyze each of the Hall of Fame candidates individually.
The idea is simple: we'll attempt to paint an argument as each player being a Hall of Famer and then create an argument as to why the player is not a Hall of Famer. Some will be easier than others but most are not obvious. When we're done, you can decide for yourself if the player is Cooperstown-worthy.
Today we're going to cover outfielder Larry Walker.
THE BARE ESSENTIALS
Walker played 17 years in the big leagues from 1989-2005. He spent most of that time with the Rockies but also suited up for the Expos and Cardinals. Walker hit .313/.500/.565 (141 OPS+) with 471 doubles, 383 home runs, 1,311 RBI and 230 stolen bases. He never won a World Series but he did help St. Louis to the NL pennant in 2004.
This is Walker's fourth year on the Hall of Fame ballot. He received between 20.3 and 22.9 percent of the vote in his first three years of eligibility. As a reminder, a player must appear on 75 percent of the ballots to be immortalized in Cooperstown.
THE CASE FOR INDUCTION
Walker is one of only 19 players in baseball history to retire with a .300/.400/.500+ batting line while coming to the plate at least 5,000 times. Eleven of those 19 are in the Hall of Fame. The other eight are either retired and on the ballot (Walker, Frank Thomas, Edgar Martinez), retired but not yet on the ballot (Manny Ramirez, Chipper Jones, Todd Helton), still active (Albert Pujols) or banned from baseball (Shoeless Joe Jackson). This is a very exclusive club.
During his peak from 1994-2004, Walker hit an outrageous .331/.422/.614 (148 OPS+) while averaging 43 doubles, 35 homers, 118 RBI and 18 stolen bases per 162 games played. He led the league in hitting three times (.363 in 1998; .379 in 1999; .350 in 2001), on-base percentage twice (.452 in 1997; .458 in 1999), slugging percentage twice (.720 in 1997; .710 in 1999), OPS twice (1.172 in 1997; 1.168 in 1999), doubles once (44 in 1994), home runs once (49 in 1997), total bases once (409 in 1997) and WAR once (9.8 in 1997).
That performance in 1997 -- .379/.458/.710 with 49 homers, 130 RBI and 33 stolen bases -- earned Walker the NL MVP. He received votes in seven other seasons and has three other top 10 finishes (5th in 1992; 7th in 1995; 10th in 1999). Walker was also a five-time All-Star and seven-time Gold Glove winner. The defensive component of WAR considers him one of the 10 best defensive right fielders in baseball history. Walker was more than just a masher. He was a legitimate two-way threat.
Because he spent the bulk of his career with the Rockies and playing in the hitter haven known as Coors Field, it's important to add context to Walker's career. The easiest way to do this is with OPS+, which is adjusted for ballpark and the overall league environment. His career 141 OPS+ is the 68th best in baseball history, on par with guys like Chipper (141 OPS+), Duke Snider (140 OPS+), Vladimir Guerrero (140 OPS+), Reggie Jackson (139 OPS+) and David Ortiz (139 OPS+).
During his time with the Rockies -- opening day 1995 through August 5, 2004 -- Walker hit an insane .384/.464/.715 in nearly 2,500 plate appearances at Coors Field. That's nuts. On the road, however, he hit a still excellent .280/.385/.514 in over 2,300 plate appearances. That's a big home/road split (1.179 OPS at home vs. .899 OPS on the road) but his performance away from Coors was still outstanding. It's on par with the career performance of borderline Hall of Famer* Gary Sheffield (.292/.393/.514), for example.
* That's an argument for another day. Sheffield will be on the ballot for the first time next year.
As for his career ranks, Walker is 13th all-time in slugging percentage (.565), 16th in OPS (.965), 55th in WAR (72.6), 57th in on-base percentage (.400), 61st in home runs (383), 68th in OPS+ (151), 81st in batting average (.313) and 81st in doubles (471). There's a pretty strong case to be made that he's one of the 80 or so best position players in baseball history.
THE CASE AGAINST INDUCTION
The biggest knock against Walker is that Coors Field inflated his career numbers, which it did. He was excellent on the road during his time with the Rockies as I mentioned above, but he did get a boost from the friendly home ballpark. There's no denying it. I think it's safe to say Walker would have fallen short of that hallowed .300/.400/.500+ mark had he played his entire career with the Expos or Cardinals. We can't completely discount Walker's performance at Coors Field -- it happened and tons of other players have played there without putting up those kinds of numbers -- but we do have to consider his career totals inflated.
The other knock against Walker is that he was very injury prone, playing 140+ games only four times in 17 big league seasons. He was healthy enough to bat 600+ times just once after 1997 and from 1994-2000, Walker played in only 814 of 1,077 possible games. During his 16 years as a full-time player, he averaged only 123 games per season. The guy was a star-caliber player when he was actually on the field, which was often much less than he, his team and fans would have liked.
Walker never had a "signature moment" in his career either. I don't necessary think that should be used against him in a Hall of Fame argument, but there's no doubt having that standout moment -- Jack Morris in the 1991 World Series, for example -- helps a player's case. Voters tends to remember the dramatic moments.
---
Walker is a very interesting Hall of Fame case because I don't think many people realize just how good he actually was. He's also the first true Coors Field player on the ballot and so far it appears that has been held against him.
Sunday: The cases for and against Mark McGwire.