Greg Holland: Strikeout machine
Royals closer Greg Holland is striking out opposing hitters at a massive rate, but he says he's not trying to strike them out. It just keeps happening.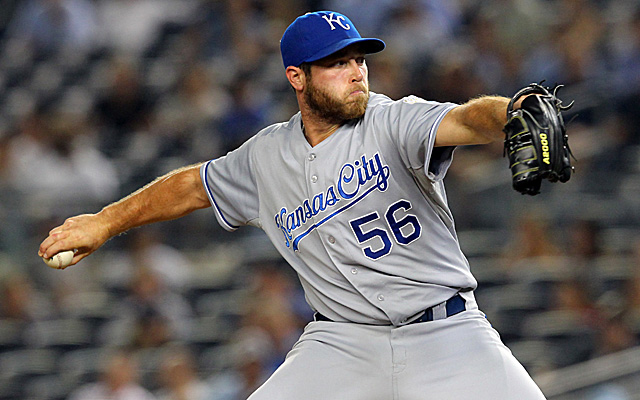 More MLB: Scoreboard | Standings | Probable Pitchers | Sortable Stats | Odds
NEW YORK -- Royals closer Greg Holland might be pretty underrated nationally, but he absolutely deserves any attention that he gets and more.
The diminutive right-hander has struck out 60 batters in just 35 innings this season -- an ungodly rate of 15.4 per nine innings. He has faced 135 batters, meaning he has struck out 44.4 percent of the hitters that he has faced this season.
"The guys in the bullpen make fun of me sometimes if I get a pop up instead of a strikeout," Holland said Monday. "They ask if I'm hurt."
But that doesn't mean he's trying to punch guys out.
"It's not really something I'm definitely trying to do," he said. "You wanna get ahead, so you have more options. For me, it's nice to get early contact and get weak contact in order to make out. But once I get to two strikes, I'm gonna try to get a chase. But from the first pitch, I'm not trying to strike guys out."
As he alluded to, even when he's not striking guys out, Holland is in control this season.
When you combine that with his sub-2.00 ERA (1.80) and sub-1.00 WHIP (0.91), Holland, 27, is close to joining an elite group. Only twice in major-league history has a pitcher with all least 10 innings pitched been under a 2.00 ERA and 1.00 WHIP with more than 15 K/9. Amazingly, both instances happened last year with Aroldis Chapman and Craig Kimbrel.
Still, those guys are well known as elite closers. Holland has flown under the radar this season. Maybe a three-strikeout appearance in Tuesday's All-Star Game will help change things. Maybe it won't.
Regardless, Holland is striking guys out at a rate that merits national attention.