In the wake of the Yordano Ventura-Jose Bautista skirmish that spilled over into social media Sunday, two Blue Jays have drawn league suspensions, Major League Baseball announced: Right-hander Aaron Sanchez was suspended three games for intentionally throwing a pitch at Alcides Escobar with warnings already in place, and manager John Gibbons was docked one game for coming back onto the field after he was thrown out.
It was much more fun to talk about the bad blood between the Royals and Jays before the authorities had to hand out their discipline. For example, a TV analyst for the Blue Jays giving some insight with a pro-wrestling bent. Gregg Zaun of Rogers Sportsnet, who also played for the Jays, did a WWE-like rant that made viewers think of Jesse Ventura as much as Yordano Ventura, and our Matt Snyder covered it Monday. Part of Ventura's original rant to Bautista was accusing the Jays of stealing signs, a charge made by several clubs that goes back years and sometimes involves a mysterious "Man in White" at Rogers Centre.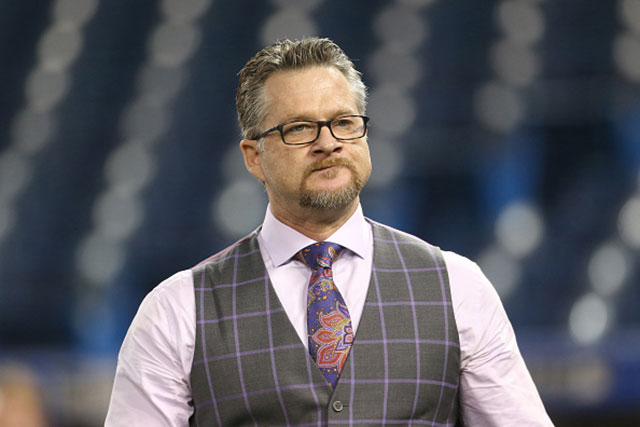 Zaun, incidentally the cousin of Orioles great Rick Dempsey, wasn't done on the subject of sign-stealing Monday night. He joined Danny Parkins and Carrington Harrison of 610 The Drive sports radio in Kansas City on Monday evening and punctuated his points with some anecdotes about stealing signs when he played. Including:
"The only thing I can tell you about stealing signs is, when I played for the Blue Jays (2004-2008), yes we stole signs, and we were happy to do it."
Responding to a question about Yankees manager Joe Girardi, along the Orioles and other teams accusing the Jays of stealing signs in recent seasons, Zaun replied:
"The best sign-stealer I've ever seen is Alex Rodriguez, and he plays for the New York Yankees. He's one of the smartest players I've ever seen. I flat-out knew he was stealing signs, but I could tell you right now, we weren't exactly making it hard on him because our guys were either too dumb, or too lazy, to use anything complicated."
Check out the entire interview, but the 23:30 point is where Zaun talks about his playing days and A-Rod:
Zaun's biggest point was that teams like the Royals needed to use more complicated signs if they didn't want them stolen but, in conjunction, if they wanted to throw inside at teams they think are stealing, please do, because that's old school. It's also kind of dangerous, but does that matter when trying to uphold the game's integrity, such as it is?