Greinke's healthy and his team isn't, so it's time to deal
Zack Greinke erased any doubts about his health with his performance Tuesday night against the Phillies. The Brewers, with another late-inning loss, are looking less and less like a team that could make the playoffs. Plenty of scouts watched Greinke. The Brewers owner watched his team. It's time to deal, right?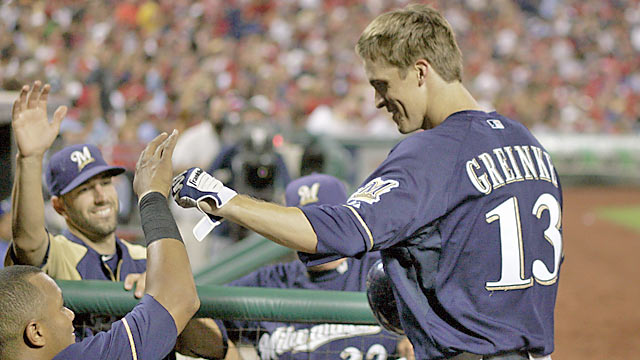 Sure the Brewers enjoy having Zack Greinke aboard, but a trade before the deadline now seems inevitable. (AP)
PHILADELPHIA -- The scouts, you've got to believe, saw what they needed to see from Zack Greinke .

Next question: Did Mark Attanasio see what he needed to see of the Milwaukee Brewers ' bullpen?

Greinke certainly pitched (and hit) well enough Tuesday night to remove any doubts anyone would have about his health. He's healthy, he's good, and if he's available on the July trade market, he'd be one heck of an addition for any contending team looking for top-of-the-rotation help (which means most of them).

And given that the Brewer bullpen turned in yet another ghastly performance in a 7-6 loss to the Philadelphia Phillies , given that the Brewers are now 12 1/2 games out of first place and nearly as far out in the wild-card race, you've got to believe that this team will be in sell mode.


More on Zack Greinke
Related links
There were some suggestions the last couple of days that perhaps they needed another nudge or two in that direction. If so, perhaps it's just as well that Attanasio, the Brewers' owner, was at Citizens Bank Park to see in person just how bad the Phillies' six-run eighth inning looked.

Attanasio also saw how good Greinke looked over the first seven innings (just one run on three hits, just 87 pitches, a fastball that topped out at 96 mph and a devastating curveball) in his first start since July 13. Oh, and Greinke hit a home run and make a couple of nice fielding plays, as well.

As Brewers manager Ron Roenicke said, "Zack was outstanding . . . That's as good an all-around performance as you can have as a pitcher."

Plenty of teams have shown interest in Greinke, with the Texas Rangers , Los Angeles Angels and Atlanta Braves considered to be at the front of the pack, but with the Chicago White Sox and others also considered to be possibilities. Most of those teams had a scout in attendance Tuesday, and other teams (notably the Boston Red Sox ) were represented, as well.

The Red Sox's presence was interesting, given that Allard Baird was the scout in attendance. Baird and Greinke have a strong relationship, going back to their time together with the Kansas City Royals .

Greinke admitted to thinking "a little" about the possibility that this was his last start for the Brewers, but he said he hadn't spent much time wondering about what teams will try to trade for him.

"I really don't want to think about a different team while I'm on this team," he said. "I enjoy playing here. I don't really look forward to being traded from here."

And yet, there's been no indication at all that Greinke will re-sign with the Brewers, despite their offer of a five-year deal for more than $100 million. With Greinke headed for free agency at the end of the season, and with the Brewers' postseason chances seeming to decrease by the day, a trade before next week's deadline seems inevitable.

Unless, of course, Attanasio balks at the idea of giving up on the season.

The Brewers owner is ultra-competitive, and besides that, he likes the strong crowds the Brewers continue to get at Miller Park. But he has to see what everyone else sees, a team that has been sabotaged by its bullpen to the point where the season hardly seems salvageable.

With Tuesday's loss, the computers at coolstandings.com lowered the Brewers' playoff chances to 2.1 percent (while raising the Phillies' chances to 0.8 percent).

Tuesday's loss was at the hands of Jose Veras , Manny Parra and Kameron Loe , rather than John Axford or Francisco Rodriguez . But the entire bullpen has been so bad that Roenicke was talking (seriously, it seemed) about possibly trying Livan Hernandez as a late-inning guy.

Even with the bullpen issues, Roenicke resisted the temptation to push Greinke past 87 pitches on Tuesday. His explanation was sound, pointing out that the Brewers had already made a mistake by allowing Greinke to start three consecutive games sandwiched around the All-Star break, which led to them giving him 10 days between starts after that, and led some interested teams to wonder more than usual about his health.

"I pushed him [with the three straight starts], and it didn't work very well," Roenicke said. "I would not feel good if I pushed him [Tuesday] and if in two or three days he says 'I don't feel right.' I would not feel good about that."

Greinke seemed somewhat amused by the concerns, and by the idea that scouts would come see one game and need to make a judgment on that. And he offered a strong vote of support for Roenicke.

"I think Ron's probably the smartest manager I've played for," he said. "His decisions are well thought-out, and they've made sense to me probably 99 percent of the time."

The decisions now belong less to Roenicke than they do to the Brewers' front office, and even more than that to Attanasio, the owner.

The rival scouts have seen what they needed to see. Greinke is healthy, and he's very, very good.

He's worth acquiring in a trade. The Brewers' season no longer seems to be worth trying to save.

The next move, it seems, is up to Mark Attanasio.