Griffey to wear Mariners cap; Piazza Mets: Scenes from HOF presser
Ken Griffey Jr. and Mike Piazza had their Hall of Fame press conference Thursday. We learned what cap each will wear on his plaque. Also, here are some pictures!
Ken Griffey Jr. and Mike Piazza were elected as Hall of Famers Wednesday evening by the BBWAA. Thursday in New York, they had their Hall of Fame press conference.
The biggest tidbit of information from the presser was that Griffey would be wearing a Seattle Mariners hat on his Hall of Fame plaque while Mike Piazza would be wearing a New York Mets hat.
The Hall of Fame makes the decision on which cap players will wear, but takes input from the players. In Griffey's case it was obvious. In Piazza's, he was actually a much better hitter on a rate basis with the Dodgers for seven years, but played 246 games more with the Mets, plus 26 of his 32 career postseason games for them as well. Past that, Piazza's relationship with the Dodgers has been sour for a while and he loves the Mets. So it was easy enough for the Hall, in all likelihood.
These selections are pretty significant for each franchise. Griffey is the first-ever Mariner rep in the Hall while Piazza is the first-ever Mets position player (Tom Seaver has a Mets cap).
As for the rest, here are some team/photo/video highlights of the presser. Click with impunity.
.@mikepiazza31 puts on his new uniform. #PiazzaHOF #Mets pic.twitter.com/XG2MbAwPs5

— New York Mets (@Mets) January 7, 2016
Ken Griffey Jr. and Mike Piazza, welcome to the Hall of Fame team. This contract is for life! #HOF2016 pic.twitter.com/E300hbIoLQ

— Baseball Hall (@BaseballHall) January 7, 2016
Griffey pointing at Piazza, 'he wore it backwards more than I did' pic.twitter.com/YJLGIRxlNN

— C. Trent Rosecrans (@ctrent) January 7, 2016
Electees looking sharp in their #HOF gear. pic.twitter.com/WwRBNLeIOt

— MLB (@MLB) January 7, 2016
"I'm going in as a New York Met." #PiazzaHOF #Mets pic.twitter.com/c1IwWKYiqU

— New York Mets (@Mets) January 7, 2016
Junior: I played 13 years in Seattle. I did most of my damage as a Mariner...I want to be the first to go in as a Mariner. #JrHOF

— Seattle Mariners (@Mariners) January 7, 2016
Finally, I generally ignore Jose Canseco, but he comes strong with a The Simpsons reference here:
Congrats to Junior the 3rd teammate off my Springfield Nuclear Power Plant team to make the Baseball Hall of Fame! hug for Mike Piazza too

— Jose Canseco (@JoseCanseco) January 7, 2016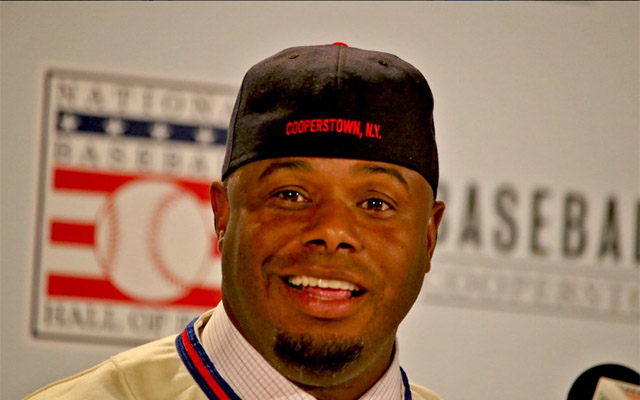 Neither Josh Donaldson nor Brian Dozier have talked about a new contract extension

Francisco leads the Dominican Winter League with seven home runs

Thome deserves enshrinement and here's why the case against him does not hold up
The Twins have already fortified the bullpen with Addison Reed, and now they want to address...

The Orioles likely want pitching, and the Indians have plenty of it

Halladay died in a November plane crash off the coast of Florida