Growing Hosmer looking to chase away Royals baseball blues
With their best chance to win in years, the Royals need a lot of things to happen -- including, and especially, a big summer from slugger Eric Hosmer. Is this the year the No. 3 overall pick in the 2008 draft will reach his potential and lead the Royals to a crown?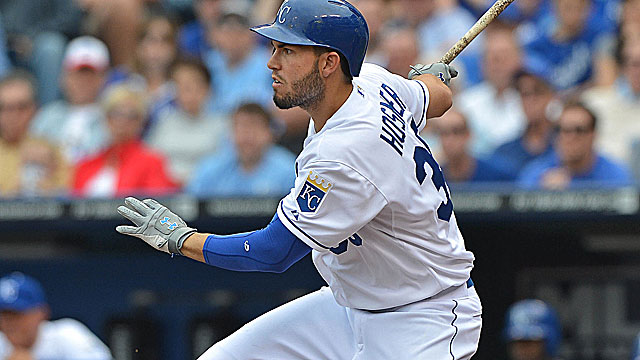 Somewhere along the path to instant superstardom, Eric Hosmer misplaced the treasure map.
You know, the one that Mike Trout and Bryce Harper had in their clutches last summer.
See, normally this would not be such a big deal. For more than a century, phenoms were allowed the same two-steps-forward, one-step-back developmental track while attempting to gain solid footing in a very, very difficult game.
More on Hosmer, Royals
Related links
But as Hosmer regressed in 2012 and helped drag the Kansas City Royals down with him -- one, two, maybe even three steps backward -- Trout and Harper were dancing wildly to their own music.
Which only amplified one of the foremost baseball questions going right now in a gritty, barbecue-stained baseball town starved for a winning Royals team.
When, Eric, when?
It has been written often that the weight of this franchise is strapped across the impressively broad shoulders of Hosmer, the third-overall pick of the 2008 draft.
Problem so far is that picture looks like one of those cartoon sketches in which you can barely see the top of Hosmer's head above the ground as this heavy organization threatens to push him subterranean.
When he debuted on May 6, 2011 and produced a .293 season, 19 homers and 78 RBI over 128 games as a rookie, the wide-open Midwestern sky was the limit.
Then came 2012, and Hosmer couldn't get out of his own way. Too often overeager and jumpy at the plate, he hit .232 with 14 homers and 60 RBI in 152 games. His .255 batting average on balls in play was the seventh-worst in all of baseball.
He is smart. He is affable. He has this long and lanky body (6-4, 226) that looks as if designed in some hardball laboratory.
And, even given last summer's struggles, he absolutely remains the Last, Best Hope to deadlift a franchise with 17 losing seasons over the past 18 years into better days.
"What Mike Trout did last year was good if you're a veteran going on your 10th year," says Hosmer, showing a few signs of life following an April (.250, no homers, eight RBI) that depressingly resembled 2012.
"I haven't had a chance to know Bryce. I played with Mike [in the 2010 Futures Game]. He's a great person. If you talked with him off the field, you wouldn't even know he plays baseball. What he did was unbelievable.
"I definitely feel that, at some point in my career, I can have a year like that."
When, Eric, when?
"This kid is going to be a perennial .300 hitter with 25 to 30 home runs who drives in 100," says manager Ned Yost, who had a front-row seat on Atlanta's staff during Chipper Jones' emergence and as Milwaukee's manager when Ryan Braun debuted.
Yost talks of Hosmer's youth. And of the process that all but the select few must grind through before the lights go on and the product is finished.
He talks about last summer's storm.
"It was like getting stuck in the mud," Yost says. "The harder he spun his wheels, the more stuck he was."
Hosmer, 23, had never been stuck like that.
Not at American Heritage High School in Plantation, Fla., where Baseball America rated him as the schoolboy player with the best power in the nation -- and closest to the majors -- before the 2008 draft.
Not during his first two years in the minors, when Baseball America rated him as the Royals' top prospect entering the 2011 season.
Now, on a club finally backed by some good pitching and ready to win, here Hosmer is at the crossroads of letting it happen and forcing it to happen.
What he most learned from 2012 was not only the difficulty of relaxing and letting things happen but the necessity of it.
"How much time there is in a season," he says. "There were times I'd get in hitter's counts and try to make something happen."
Nothing the Royals have not seen before, and from their own phenoms. All-Star Alex Gordon endured three or four false starts before finally putting all of the pieces together in his fifth season.
"Every player is different," says Gordon, 29. "He's not who I am. Everyone has a different path.
"I've talked to him about hitting. He's a smart kid."
Biggest difference this year for Hosmer is that he has shortened his swing and lessened his leg kick striding into the ball.
"I know he's only hitting around .270," Gordon says, "but he's lined out hard in 10 or 12 at-bats so far.
"Sometimes, it's not always about the stats."
No. But when his home run in Baltimore last Thursday snapped a streak of 144 homerless at-bats, well, that is an open invitation for increased scrutiny. The Royals need power from this guy.
In Hosmer's defense, when you look closely at this early season in Kansas City, you see … snow. And wind. And cold. With Hosmer still searching for it and Mike Moustakas and Jeff Francoeur slumping (and Billy Butler, until Monday night), the Royals rank last in the majors in home runs.
For a team predicted to at the very least contend for a wild-card slot, that must change.
"April and May are tough in our park," Francoeur says. "You can get to where you try so damn hard.
"I've done it. Everybody's done it."
This is part of what Yost sees, too. The core group of young Royals has won together at every minor-league stop. And they try so damn hard.
"That's why we will win," the manager promises. "These kids all came up to the big leagues with great expectations. Not from the outside but from within.
"At times, they want it so badly it's actually a detriment to them. It actually causes the problems."
You don't even have to look closely at times to see them overreaching. Overthinking.
Yost saw it with that young group in Atlanta in the 1990s and with the young group in Milwaukee in the mid-2000s.
"Two, two-and-a-half years of struggling, then boom!" Yost says. "The correlation, it's exactly the same."
Two summers ago, Hosmer became only the fifth player in history to bat at least .293 with 19 homers and 27 doubles in his first major-league season by the age of 21, joining Albert Pujols, Joe DiMaggio, Ted Williams and Orlando Cepeda.
He still has all of that confidence. He sees Trout ahead of him and knows he can get there. Just let it happen. Don't force it.
The way that Hosmer figures it, if the Royals can put this team together, win and paint Kauffman Stadium in royal blue-clad fans from top to bottom … how much fun will that be? How gratifying?
When, Eric, when?
"I'm 23 years old," he reminds. "I have a lot of baseball ahead of me."
Gonzalez was reportedly killed in a car crash in Cuba

Our Black Friday FA shopping guide includes a starting pitcher, slugger, super sub, and re...

Get 15 percent off any order of more than $75 at CBS Sports Shop
Need a gift for someone who loves baseball? We're here to help as the holidays approach

Several prominent Japanese-born Mariners and ex-Mariners have said they will help as well

Get your sports fans something that they'll wear all year