Growing sense is Phillies would prefer to trade Lee than Hamels
The Phillies' asking price on Cole Hamels is said to be high.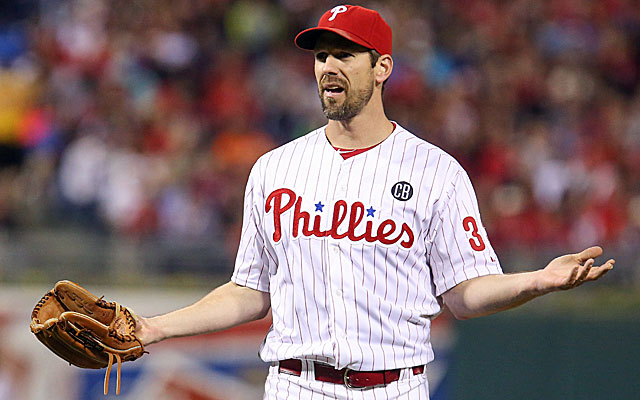 More MLB: Power Rankings | Expert Picks | Latest news & notes | Fantasy news
The strong belief, based on talks so far with the Phillies, is that the team would much prefer to trade Cliff Lee than Cole Hamels.
But, as one rival GM said, "Cliff Lee isn't pitching. So how can you make a deal for him today?"
That is a fair point, but Lee is expected back soon from an elbow issue that has sidelined him for a few weeks, and it's possible he could pitch in two or three games that could amount to a showcase for the star left-hander.
The asking price, meantime, is said to be very high for Hamels -- if the Phillies will even trade him. Hamels, operating on a six-year, $144 million deal, is 3-5 with a 2.93 ERA.
Phillies GM Ruben Amaro said earlier this week in this space he's "open to anything," suggesting longtime Phillies stars Jimmy Rollins and Chase Utley are least likely to move due to their 10-and-5 trade veto rights.
Lee was 4-4 with a 3.18 ERA before being sidelined. Another issue with Lee is his heavily backloaded contract that guarantees him $48 million through the end of next year and could be worth $63 million through 2016. The '16 option is a vesting option that's likely to vest.
Both Lee and Hamels have no-trades with at least 20 teams on them, but people around the team suggest Hamels is more likely to invoke his, as he wants to remain in Philly. Lee, like closer Jonathan Papelbon, would likely choosing winning over city, they say.
Marcell Ozuna figures to be the next Marlins star on the move

Several relievers have signed in the last two days

Several teams are interested in the switch-hitting first baseman
Neshek and the Phillies are closing on a two-year contract

And the team that first drafted Cole is interested

This scout was SUPER into Jeter