Hal Steinbrenner fine with A-Rod apology, backs Cashman, Girardi
Yankees owner Hal Steinbrenner says "it is time to focus on baseball" and leave the A-Rod hoopla in the past.
• 1 min read
Spring training is still in its infancy, but Yankees camp has already seen a media blitz due to the hoopla surrounding embattled slugger Alex Rodriguez, who is making his return in 2015 after sitting out last season due to a season-long suspension for his ties to the Biogenesis scandal. 
Rodriguez has been on an apology tour as of late, which included a meeting with Yankees brass to express his remorse over his past transgressions. Whatever Rodriguez said, it seems to have been enough for Yankees owner Hal Steinbrenner, who said "it is time to focus on baseball."
"That is really all I am interested in right now, and I told him this, we want to get Alex Rodriguez through spring training healthy so he can contribute," Steinbrenner said, per the New York Post. "It is my same wish for the other 24 players. That's it. I am not going to dwell on the past. I am not a grudge holder. It is just not my personality. If he can contribute and be healthy, he will be an asset and he will contribute."
Rodriguez wasn't the only topic on Steinbrenner's mind. He also voiced his support for general manager Brian Cashman and manager Joe Girardi after the Yankees have missed the playoffs the last two seasons.
"We are at the beginning of the season, no one is on a hot seat right now," Steinbrenner said. "I am absolutely comfortable with [general manager Brian Cashman and manager Joe Girardi].
"Nobody wants to hear me whine about it, but what Girardi dealt with the last two years with injuries. I think he has done a good job, given two abnormal years [for injuries] that I hope doesn't happen again. As far as Cashman, I think he made some great trades [last] July. That certainly went into my thinking [in re-signing the GM this past offseason]. But more importantly he is a smart guy. I like the people he has under him."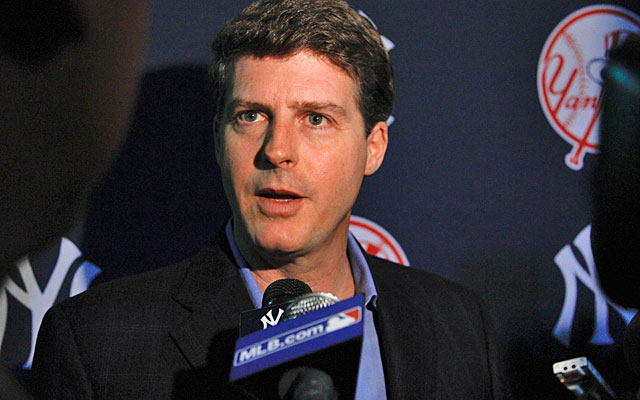 There's now a crowded outfield in San Diego

The former Braves star served as a race official for the Daytona 500

He'd be a good fit in the Bronx, but can they make it work and still stay under the luxury...
The slugger had shoulder surgery in November

Tebow reported to spring training with Mets position players on Sunday

Santa Clara senior Jake Brodt did the honors Saturday