Hall of Fame expansion era ballot announced with big-name managers
Joe Torre, Bobby Cox and Tony La Russa headline a group of managers, owners, executives and players vying to make the Hall of Fame via the Expansion Era committee ballot.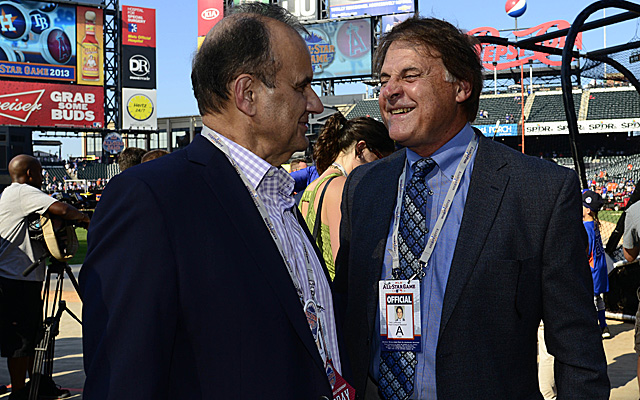 The Hall of Fame expansion era ballot has been announced and it's headlined by some big-time, big-name managers.
This ballot is not the same one as the BBWAA ballot with players like Craig Biggio, Jack Morris and Barry Bonds vying for the vote this coming January. Here's the Associated Press on the committee who will vote and this specific ballot:
This year's committee includes Hall of Famers Rod Carew, Carlton Fisk, Whitey Herzog, Tom Lasorda, Paul Molitor, Joe Morgan, Phil Niekro and Frank Robinson; Toronto Blue Jays President Paul Beeston; retired club executive Andy MacPhail; Philadelphia Phillies President Dave Montgomery; Chicago White Sox chairman Jerry Reinsdorf; Steve Hirdt of the Elias Sports Bureau; Bruce Jenkins of the San Francisco Chronicle; Baseball Writers' Association of American Secretary-Treasurer Jack O'Connell; and retired Fort Worth Star-Telegram reporter Jim Reeves.

This year's ballot, chosen by a BBWAA-appointed historical overview committee, covers baseball's expansion era. Players, managers, umpires, executives whose most significant impact was from 1973 on were considered as part of a three-year cycle. The golden era (1947-72) will be voted on in 2014 and the pre-integration era (1871-1946) will be judged in 2015.
In order to be inducted into the Hall of Fame, anyone on the ballot will need 75 percent of the vote from the above committee.
Up for induction: Managers Joe Torre, Tony La Russa and Bobby Cox, owner George Steinbrenner, MLBPA head Marvin Miller and players Dave Concepcion, Steve Garvey, Tommy John, Billy Martin (also a manager), Ted Simmons, Dave Parker and Dan Quisenberry.
Vida Blue, Ron Guidry, Al Oliver and Rusty Staub were on the 2010 ballot, but have been dropped off.
It'll certainly be interesting to see how this goes down, because generally speaking these classes are pretty small and at least a handful of those names above seems deserving to be in Cooperstown. Last time around, 2010, only Pat Gillick was elected.
Adell shows part of the reason why Los Angeles drafted him 10th overall in 2017

And, well, they're probably right

Supposedly, MLB execs have discussed letting teams hit any three hitters they want in the...
Keep tabs on the top 50 free agents on the market right here

After the departures of Steven Souza and Corey Dickerson, the Rays add a right-handed bat

Rasmus essentially walked away from baseball during last season