Hall of Fame voters inexplicably snub Marvin Miller again
The Veterans' Committee has spoken, and once again legendary MLBPA leader Marvin Miller has been shut out of Cooperstown.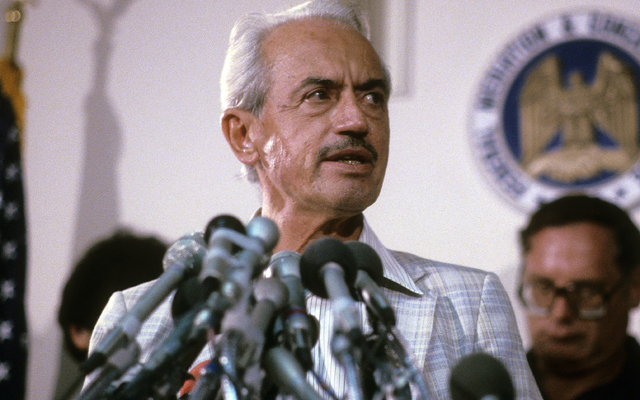 MORE: Cox, La Russa, Torre elected to Hall
I'll confess: I thought common sense would prevail this time around. Legendary MLBPA leader Marvin Miller, one of the great figures in the history of organized labor, was just one vote shy of election to the Hall of Fame in 2010. This time, when the Expansion Era Committee caucused and again evaluated his case, I thought he'd surely be voted in, especially since Miller passed away in November of 2012 at the age of 95. 
But that didn't happen. Instead, Miller's vote total declined, and if a posthumous sense of nostalgia and appreciation didn't increase his traction with voters, then it seems he'll never be inducted. I hesitate to use the word "injustice" when it comes to matters as ultimately trivial as election to the Baseball Hall of Fame, but Miller's serialized mistreatment by the Veterans' Committee is inexplicable and indefensible at best. 
After all, this is a conclave that previously voted in the likes of Bowie Kuhn, the quintessence of the "stuffed shirt" commissioner who did little more than stand athwart changes that ultimately made baseball a better game. As for Miller, his impact on the modern game is hard to overstate. 
Here's part of a statement released Monday by Donald Fehr, Miller's immediate successor at the MLBPA and current head of the NHLPA: 
"In the first half of the 20th Century, no single person was more important to Baseball than was Jackie Robinson.  In the second half of the 20th Century, that recognition unquestionably belongs to Marvin Miller."
Hear, hear to all of that. 
Miller is the man who, armed with his training as an economist for the United Steelworkers of America, forged the MLBPA into something more than a handmaiden to ownership, something more than a "company union." Recounting the gains made by the players under Miller would take too much bandwidth (and keep in mind that bandwidth is not especially finite). Most notably, though, he methodically and relentlessly attacked the reserve clause -- the patently unfair system that yoked a player to one team for life or until the team was done with him.
Finally, in 1975, thanks to the "test cases" of Andy Messersmith and Dave McNally, the reserve clause was overturned by arbitrator Peter Seitz, and free agency in baseball was born. In part because of that and in part because Miller was able to persuade owners to accept salary arbitration, the average major-league salary increased tenfold during Miller's tenure. And that's to say nothing of the pension system he created -- one that's the envy of athletes in other professional sports. 
All of those are good things, both on the principle of economic freedom and in terms of making MLB a more attractive destination for athletic talent around the world. Contrary to popular misconception, free agency also improved parity and competitive balance across the league. 
Roll back the years and one could make the case that the Hall of Fame should be for the players on the field and not the "operators" who crafted the systems and structures of the game. But with inductees, both recent and distant, like Kuhn and Happy Chandler and William Hulbert and Bill Veeck and Lee MacPhail and Walter O'Malley and Jacob Ruppert, that Rubicon has long ago been crossed. As such, there's no rationale for keeping Miller out. To do so is both ahistorical and embarrassing.
The Hall of Fame is a museum at heart, and every museum is tasked with telling the story of its subject. Without the due acknowledgment of Miller, baseball's story ends in its feudal era. 
CBS Sports HQ Daily Newsletter
Get the best highlights and stories - yeah, just the good stuff handpicked by our team to start your day.
Please check the opt-in box to acknowledge that you would like to subscribe.
Thanks for signing up!
Keep an eye on your inbox for the latest sports news.
Sorry!
There was an error processing your subscription.
Martinez had just one postseason home run entering the night

Will the Red Sox advance to the World Series, or can the Astros force a Game 6 back in Bos...

The reigning-champion Astros will be fighting for their playoff lives on Thursday
It's Game 6 of the NLCS, and the Dodgers are one win away from returning to the World Seri...

The Nats need a couple new starters -- but may not have to find a way to get them other than...

Moreland has been dealing with a nagging hamstring injury this postseason