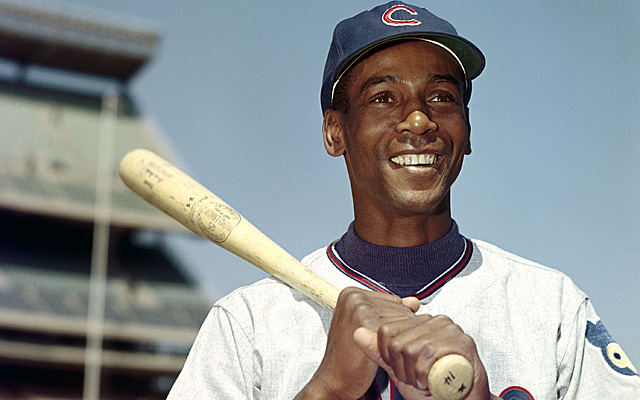 Chicago Cubs legend and Hall of Fame shortstop Ernie Banks died Friday at 83 years old, the Cubs announced.
"Words cannot express how important Ernie Banks will always be to the Chicago Cubs, the city of Chicago and Major League Baseball. He was one of the greatest players of all time," Cubs owner Tom Ricketts said in a statement. "He was a pioneer in the major leagues. And more importantly, he was the warmest and most sincere person I've ever known.
"Approachable, ever optimistic and kind hearted, Ernie Banks is and always will be Mr. Cub. My family and I grieve the loss of such a great and good-hearted man, but we look forward to celebrating Ernie's life in the days ahead."
Known for his fun-loving, positive attitude, "Mr. Cub" broke into the major leagues for the Cubs in 1953. Over the course of a 19-year career, all of which came with the Cubs, Banks would hit .274/.330/.500 with 407 doubles, 512 homers and 1,636 RBI. He also racked up 2,583 hits and 1,305 runs.
The 12-time All-Star and two-time MVP led the NL in homers and RBI twice each and is still one of the best power-hitting shortstops in history -- though he did move to first base for the second part of his career because of knee issues.
With Banks, though, the stats only tell a portion of the tale. His infectious personality won over the hearts of Cubs fans and opposing fans alike for years, despite him being stuck on so many bad Cubs teams. The Cubs' press release announcing his death specifically mentioned his "charm" and "wit." He popularized the Wrigley Field moniker, "The Friendly Confines."
"Let's play two," Ernie liked to say, suggesting a doubleheader was always better than just a single game in one day. How did it start? Well, he was quoted in the Houston Chronicle as having said the following in July 1969:
"It was about 105 degrees in Chicago and that's a time when everybody gets tired. I came into the clubhouse and everybody was sitting around and I said, 'Beautiful day. Let's play two!' And everybody looked at me like I was crazy. There were a couple of writers around and they wrote that and it stayed with me."
In 1977, Banks was elected into baseball's Hall of Fame in his first ballot, receiving 83.8 percent of the vote.
In 1982, the Cubs retired Banks' No. 14, the first time in the history of the franchise a number was retired.
In 2008, an Ernie Banks statue was unveiled outside Wrigley Field on the third base side.
In 2013, Banks was awarded the Presidential Medal of Freedom, joining the likes of Hank Aaron, Roberto Clemente, Jackie Robinson, Joe DiMaggio, Ted Williams and Stan Musial in gaining this honor.
All this from a man who grew up in segregation and played his first years of professional baseball in the Negro Leagues with the Kansas City Monarchs. He also served in the Army during the Korean War.
Quite a life, Mr. Banks. Rest in peace. You will truly be missed.
Here's an excellent video tribute to Banks: