Hall of Famer Eddie Murray charged with insider trading, settles with SEC
Hall of Fame first baseman Eddie Murray has been charged with insider trading by the SEC. Murray has agreed to settle the charges, paying a total of $358,151 without admitting or denying the allegations.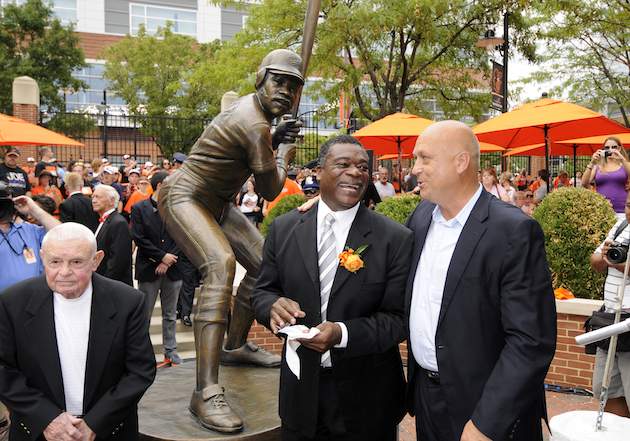 Eddie Murray played 13 of his 20 big-league seasons in Baltimore. (Associated Press)
Earlier this week the Orioles honored Eddie Murray with a statue at Camden Yards -- the rest of his week isn't going as swimmingly.

The Securities and Exchanges Commission released a statement that it is bringing charges against the Hall of Famer for insider trading. The SEC reported he has agreed to a settlement.

From the release:
The SEC brought initial charges in the case last year, accusing former professional baseball player Doug DeCinces and three others of insider trading on confidential information ahead of an acquisition of Advanced Medical Optics Inc. DeCinces and his three tippees made more than $1.7 million in illegal profits, and they agreed to pay more than $3.3 million to settle the SEC's charges.

Now the SEC is charging the source of those illegal tips about the impending transaction – DeCinces's close friend and neighbor James V. Mazzo, who was the Chairman and CEO of Advanced Medical Optics. The SEC also is charging two others who traded on inside information that DeCinces tipped to them – DeCinces' former Baltimore Orioles teammate Eddie Murray and another friend David L. Parker, who is a businessman living in Utah.

The SEC alleges that Murray made approximately $235,314 in illegal profits after Illinois-based Abbott Laboratories Inc. publicly announced its plan to purchase Advanced Medical Optics through a tender offer. Murray agreed to settle the SEC's charges by paying $358,151. The SEC's case continues against Parker and Mazzo, the latter of whom was directly involved in the tender offer and tipped the confidential information to DeCinces along the way.
The release says he has settled for a total of $358,151. Again, from the release:
Murray agreed to settle the charges against him without admitting or denying the SEC's allegations by consenting to the entry of a final judgment permanently enjoining him from violating Sections 10(b) and 14(e) of the Securities Exchange Act of 1934 and Rules 10b-5 and 14e-3 thereunder. Murray agreed to pay disgorgement of $235,314, prejudgment interest of $5,180, and a penalty of $117,657 for a total of $358,151. The settlement is subject to final approval by the court.
For more baseball news, rumors and analysis, follow @EyeOnBaseball on Twitter, subscribe to the RSS feed and "like" us on Facebook.
Dioner Navarro still hopes to return someday

Christian Yelich's agent says his client's relationship with Marlins is 'irretrievably bro...

The free-agent market has been slow and one player is bracing for an even longer wait
The Mets didn't want to trade a young outfielder for an older one

Josh Harrison doesn't sound pleased Gerrit Cole and Andrew McCutchen have been traded away

The team's media contracts expire following the 2019 season