Hamstring strain to sideline Starlin Castro for 7-10 days
After injuring his hamstring Sunday, Starlin Castro is expected to miss seven to 10 days, the Cubs have announced.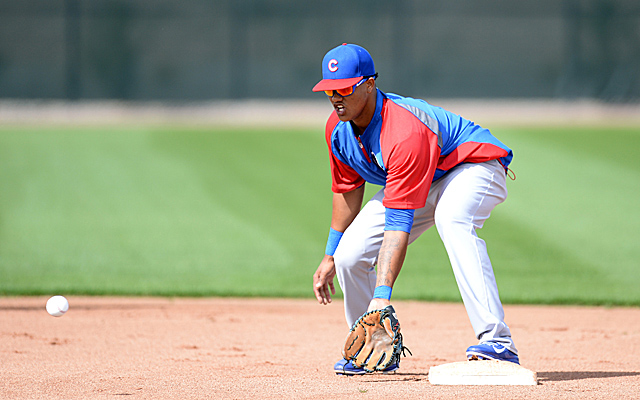 More MLB: Spring training | Scoreboard | FA: Position players | FA: Pitchers
Cubs shortstop Starlin Castro has been diagnosed with a mild right hamstring strain and will be out for the next seven to 10 days, though it's not expected to impact his readiness for the beginning of the regular season.
"From what we gathered, it's similar to what happened to him last year at this time," said manager Rick Renteria (via Cubs.com). "It's seven to 10 days and we're just being cautious with him. It shouldn't set him back for the regular season."
As Renteria alluded to, Castro missed two weeks last spring with a hamstring injury.
He ended up being healthy enough for the regular season to appear in 161 games. In fact, since his promotion he has played nearly every day, having never hit the disabled list. He has missed two games due to injury in his career against 606 games played.
Of course, the performance on the field last season was a problem. Castro -- a two-time All-Star before turning 23 years old -- hit .245/.284/.347 (72 OPS+). His strikeouts rose, walks lowered and power was significantly diminished.
Thus far in the spring, Castro is 2 for 2 with a double and an RBI.
Maxwell joins a growing movement across sports

The Yankees punched their ticket to the playoffs with a win over the Blue Jays on Saturday

Sabathia's stance seems to be an increasingly popular one among athletes
Plus the A's and Brewers have hope, Giancarlo goes deep again, and much more

Matt Chapman and Matt Olson give the A's hope

Despite an awful month, the Dodgers are again NL West champions