Hanley Ramirez jams shoulder after tumbling over brick wall
After running into and falling over a wall in foul territory, Hanley Ramirez left Sunday's game holding his right shoulder in apparent pain. The Dodgers say it's a jammed shoulder.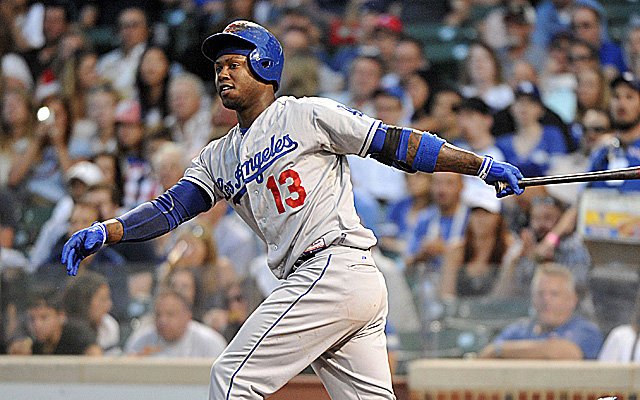 More MLB: Scoreboard | Standings | Probable Pitchers | Sortable Stats | Odds
In terms of injuries, Dodgers shortstop Hanley Ramirez just can't catch a break this season. A torn ligament in his right thumb cost him the first 24 games of the season and he only played four games before hitting the disabled list again with a hamstring injury.
And now it's a jammed shoulder, the Dodgers say.
In the bottom of the seventh inning against the Cubs in Wrigley Field, Ramirez ventured into foul territory to grab a David DeJesus pop up. Ramirez caught it, but then barrelled over the brick and concrete wall and into the front row of the stands. He was tended to immediately and pulled from the game. As he walked off the field, he was holding his right shoulder -- his throwing shoulder -- and appeared in pain.
In watching the slow-motion replay, he's gotta have a few additional bruises, too, as his legs and ribs appeared to take quite a blow from the concrete atop the wall, too.
As things currently stand, the Dodgers haven't said anything about the severity of the injury or given a timetable as to his possible return to the field.
Ramirez, 29, has played like an MVP when healthy this season. He's hitting .361/.411/.644 with 17 doubles, 11 homers, 37 RBI in 54 games. If he is to miss any amount of time, Nick Punto will likely fill in.
Neither Josh Donaldson nor Brian Dozier have talked about a new contract extension

Francisco leads the Dominican Winter League with seven home runs

Thome deserves enshrinement and here's why the case against him does not hold up
The Twins have already fortified the bullpen with Addison Reed, and now they want to address...

The Orioles likely want pitching, and the Indians have plenty of it

Halladay died in a November plane crash off the coast of Florida