Happy 10th Anniversary: A-Rod traded to Yankees
It was 10 years ago Sunday that Alex Rodriguez was officially traded from the Rangers to the Yankees.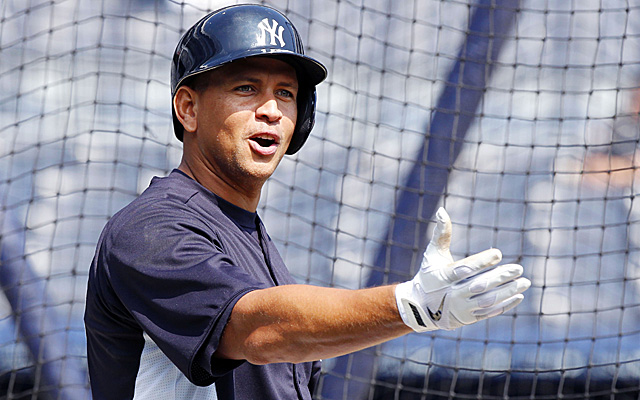 MORE: FA tracker: position players | FA tracker: pitchers
Was it really 10 years ago that Alex Rodriguez was traded to the Yankees in a high-profile deal with the Rangers?
Yes, yes it was.
From the baseball-reference.com transaction registry:
February 16, 2004: Traded by the Texas Rangers with cash to the New York Yankees for a player to be named later and

Alfonso Soriano

. The New York Yankees sent Joaquin Arias (April 23, 2004) to the Texas Rangers to complete the trade.
The deal was reported a few days earlier but became official on the 16th.
A-Rod was the reigning AL MVP that offseason, coming off a year in which he hit an MLB-best 47 homers with 118 RBI while leading the AL in runs and slugging percentage. He would go on to win two MVPs with the Yankees and a World Series ring in 2009.
And now he's baseball's biggest pariah.
Soriano would actually only spend two seasons with the Rangers before being traded to the Nationals for Brad Wilkerson, Armando Galarraga and Terrmel Sledge. So the Rangers didn't really get much in return to Soriano in the end, but the salary relief helped the club build into the perennial contender they are now.
Perhaps most interesting on the A-Rod front, though, is that the Red Sox were heavily involved in Rodriguez talks and, in fact, at one point it appeared there was a deal in place. It fell through, though, and the rest is history. The Red Sox have three World Series titles since and the Yankees have one. It's interesting to think of how different history would be for the two franchises -- and Rodriguez himself -- had he gone to Boston instead of the Bronx, especially with all the success for all three parties since.
One thing we do know, though, is that surely Red Sox fans are quite pleased with how things turned out.
L.A. manager Dave Roberts indicated that Puig's benching was related to more than one inci...

Manager Torey Lovullo said so on Monday
Let's see how SportsLine forecasts the race for MLB's 10 playoff spots

Monday kicks off the final week of MLB action. Let's take a look at everything that went d...

No other rookie in baseball history has hit more home runs than Judge has this year