Happy Anniversary: Red Sox and Dodgers swing blockbuster trade
On this date in 2012, the Red Sox and Dodgers completed one of the biggest blockbuster trades we'll ever see.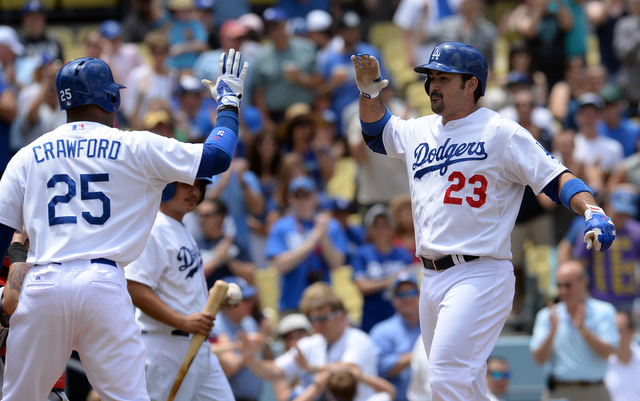 Two years ago, the Red Sox and Dodgers completed one of the biggest trades we'll ever see. Maybe not in terms of the number of players involved (nine), but certainly in terms of the money.
Here's the breakdown:
The Dodgers absorbed more than $260 million in salary across 14 contract seasons in the trade. The deal came just a few weeks after they acquired Hanley Ramirez and a few months after the new ownership group took over. They wasted no time showing they meant business.
I wouldn't call the trade a win-win, but both teams accomplished what they wanted with the deal. The Red Sox used their newfound financial flexibility to add depth during the 2012-13 offseason, making a series of smaller free-agent signings (Mike Napoli, Shane Victorino, Koji Uehara, etc.) that helped them win the 2013 World Series.
The Dodgers, on the other hand, established themselves as baseball's new superpower with a fat new television contract and the highest attendance in the league. Their 183 wins are the third most in the National League since the date of the trade -- the Cardinals and Braves have the most at 186, but it'll only be a few weeks before Los Angeles passes them -- and they went to the NLCS last year. They're again on their way to the postseason this year.
Of course, the trade helped the Red Sox win the World Series last season and that trumps everything. They also finished in last place in 2012 and are likely to do the same in 2014, so that title year is sandwiched between two disaster years. The Dodgers used their financial might to absorb those contracts and they've yet to hinder them from making any moves.
Maybe one day we'll see another blockbuster of this magnitude, but it seems unlikely. This trade was a perfect storm -- the Red Sox were in last place and wanted to shed some big contracts, and the Dodgers were willing and able to take on those contracts. Trades like this happen in video games, not real life. Everything aligned perfectly and the course of baseball history was changed.
Jonathan Singleton was suspended after a third positive test for a drug of abuse

Rodriguez will join Jessica Mendoza and Matt Vasgersian on the "Sunday Night Baseball" boo...

Jeff Wilpon talked about payroll on Tuesday, and it won't make any Mets fan happy
Yelich's agent recently asked the Marlins to trade him before the spring

I've only been in the BBWAA three years, but here's what my ballot would've looked like this...

In the last two votes, Clemens has gained nearly 17 percent in Hall of Fame voting