Harper will be a star eventually, but there is only one Mantle
Nationals manager Davey Johnson reached a bit when he invoked the name of Mantle as a comparison to the just-promoted Bryce Harper.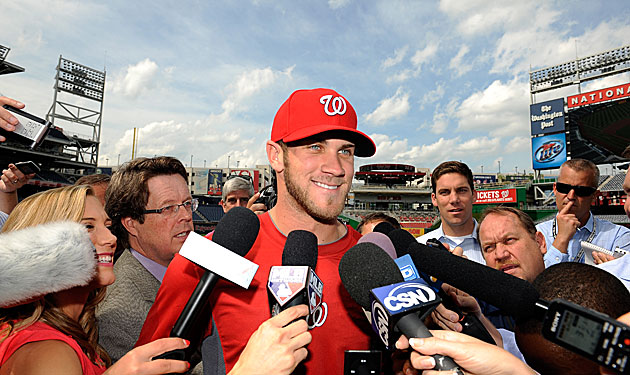 Bryce Harper made his debut with the Nationals last week. (Getty Images)
It was one word. But in baseball, it is an undeniably big word: Mantle.
With that one word, Nationals manager Davey Johnson raised the stakes in the expectations for 19-year-old wunderkind Bryce Harper. Maybe unnecessarily so.
More on Bryce Harper
Related content
Johnson, who played with Frank Robinson, Brooks Robinson and Hank Aaron, and managed Cal Ripken Jr., Gary Sheffield, Roberto Alomar and all those talented 1986 Mets, was called to answer a question from well-known
Washington Post
columnist Thomas Boswell about whether he could think of any one player who he is reminded of when he sees Harper swing so hard while keeping his balance and mechanics. And Johnson provided that one-word answer. "Mantle."
Harper likely will be a huge star one day. His power is off the charts, and his arm and speed are special, too. Baseball insiders generally view him as the best positional prospect in the game. One National League executive said Tuesday, "I think he will win home run titles and compete for MVP awards."
But that's still a far cry from your own manager invoking that word. Mantle.
The reality is, Harper's legend has been growing since he reputedly hit a 502-foot home run at Las Vegas High in his hometown known for its stars, before he got a GED and skipped most of high school to embark on his inevitable pro career. Nationals teammates teased him this spring by posting "Namath 12" above his locker after he suggested in an
MLB
.com intereview that he could see emulating Joe Namath's lifestyle. In reality, he has been drawing comparisons to superstars for years so it was no surprise for Harper to utter his own over-the-top comp.
But with this one word Johnson set the bar even higher. It's great that Davey, a supporter for Harper to make the Nationals from the start, is so honest. But it seems to be a reach that's unnecessary. And maybe a little bit unfair.
I recall in the spring of 2011 when I was quizzing then-manager Jim Riggleman about Harper, and the comparison Riggleman made was to Clint Hurdle, who we know now as the loquacious, consistently upbeat manager of the Pittsburgh Pirates and formerly of the Colorado Rockies. But before that, back in the 1970s, Hurdle was a baseball prospect comparable to Harper. Like Harper, Hurdle was featured in
Sports Illustrated
as a wonderboy who was destined to be the next great thing. We know now he never was.
While Riggleman's comparison wasn't nearly as interesting as Davey's, it might have been more prudent. Harper seems better equipped to hear crazy comparisons than your average kid. But still, why invoke that name?
People who are close to Harper say he didn't show any nervousness at all for his callup at storied Dodger Stadium, and it sure didn't look like it with the way he played. He's probably better equipped and prepared to handle what's said than almost any prospect before him. Heck, he even impressed Vin Scully, the legendary Dodgers broadcaster who has seen everything and is believed to have broadcast Mantle's first game in a big-league park six decades ago (an exhibition game against the Brooklyn Dodgers).
But the hype is getting crazy. For Harper's first game, people hardly noticed that Stephen Strasburg, an equally ballyhooed prospect, was pitching for the Nationals.
Harper is a better kid than he has been given credit for, too. It's hard not to feel different when everyone is telling you how special you are at age 19 (and much earlier than that), and yes, he will occasionally say something that reminds you he is the only teenager currently playing major-league baseball.
But he isn't a bad lad at all. His veteran Nationals teammates seemed to genuinely like him in his two spring trainings with the team. The batboy of his Arizona Fall League team, who I met through Twitter, an Arizona State student, told me over sushi in Scottsdale this spring that he and Mike Trout, the other "top" positional prospect in the game, were two of the kindest guys on that team.
But let's not lose sight of the fact he won't turn 20 until after the season and that the Nationals' original plan was to give Harper 300-400 at-bats at Triple-A Syracuse, not the 75 he actually did get before they realized they desperately needed an offensive spark with both Ryan Zimmerman and Mike Morse out with injuries.
And please, let's not forget there is only one Mantle.
Gallardo spent the first eight years of his career in Milwaukee

MLB revenues are at a record high right now, but teams aren't spending it on players

Chicago added Tyler Chatwood earlier this offseason but might not be done adding to the ro...
The Dodgers and Braves pulled off a whopper on Saturday

Sabathia will reportedly spend a 10th season in the Bronx

Fowler suffered a knee injury at Chicago's Guaranteed Rate Field