Harrison having third surgery; The good news? Rangers have insurance
Matt Harrison, Texas' Opening day starter, has joked that he may set a record for surgeries this year. The latest one is for thoracic outlet syndrome.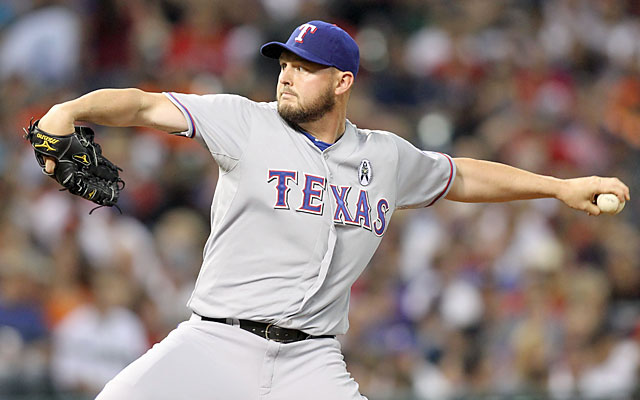 The Rangers have received bad news after bad news this season on left-hander Matt Harrison, who after recently opting to have thoracic outlet surgery on his non-throwing right shoulder, joked that he may set a surgery record this year. This is his third surgery of the year, reportedly set for Monday.
The one piece of good news, at least as far as the team is concerned: they do have insurance on Harrison, whose $55-million, five-year deal begins with a $5-million salary this season.
"We'd rather have Harrison,'' lamented one Rangers person.
That's understandable as Harrison was 18-11 with a 3.29 ERA in 2012, when he made his first All-Star team at age 27 and received his first Cy Young votes, leading to his big, backloaded deal that's to pay him $8 million next year, and $13 million a year each of the three years after that. With a $1-million signing bonus and $2-million buyout at the end, that's $55 million.
It isn't known exactly how much the Rangers' insurance will cover. But suffice it to say, the Rangers weren't expecting a year like this for Harrison, who had two surgeries already -- one in April and one in May -- for a herniated disk in his back. Thoracic outlet syndrome is a nerve condition can be tricky for pitchers, but Harrison had a successful procedure on his throwing shoulder and was back within three months a few years ago, so he has expressed how unconcerned he is about this one, this time on his non-throwing shoulder.
The procedure involves the removal of a rib to help alleviate numbness in the arm or hand. According to the Dallas Morning News, Harrison, the Rangers' Opening Day starter, has been dealing with pain in his shoulder and neck and headaches in addition to the numbness issue.
The contending Rangers are having a very positive year financially, as they suposedly didn't spend their full budget, even after adding Matt Garza and Alex Rios. Their payroll had been listed at $115 million at the start of the season, down a bit from last year, thanks to the losses of Josh Hamilton, Mike Napoli and Michael Young.
Harrison explained that he may as well take care of it this year since the two back surgeries have knocked him out of action, anyway. He was 0-2 with an 8.44 ERA in 10 2/3 innings before going on the disabled list for what will turn out to be the year.
The other piece of good news is that the Rangers' pitching is perhaps the deepest in their history, especially after the trade for Matt Garza and the returns from injury of Joakim Soria, Alexi Ogando and Neftali Feliz. Colby Lewis, like Harrison, is out for the year
Despite a seven-game ALCS, the Houston rotation lines up nicely for the World Series

Sabathia and the Yankees are a perfect fit for each other

Bregman threw out Greg Bird at the plate to preserve the Astros' lead
The 2017 World Series begins Oct. 24

The Yankees returned to contention even quicker than their front office expected

The Dodgers have the better defense, rotation, and bullpen, in our estimation