Harvey talks $200 million contracts and more in 'Men's Journal' profile
Mets right-hander Matt Harvey opened up about a number of things in a 'Men's Journal' profile, including non-baseball topics.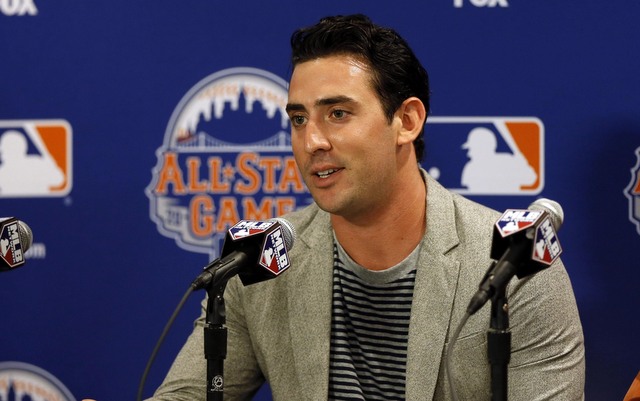 More MLB: Scoreboard | Standings | Probable Pitchers | Sortable Stats | Odds
The NL lost the All-Star Game to the AL by the score of 3-0 on Tuesday night, but it wasn't because of their starting pitcher. Mets right-hander Matt Harvey threw two scoreless innings before giving way to the bullpen, showing the same electric stuff that has made him one of the best and brightest young stars in baseball.
David Amsden profiled the 24-year-old Harvey for the August issue of Men's Journal, getting the Connecticut-raised and UNC-educated righty to open up on a number of topics. For example, he idolizes Derek Jeter:
"That guy is the model," he says. "I mean, first off, let's just look at the women he's dated. Obviously, he goes out -- he's meeting these girls somewhere -- but you never hear about it. That's where I want to be."
Oh, you thought he idolized Jeter because he's a historically great player who is beloved by millions and will be a first-ballot Hall of Famer? Nah, it has more to do with his low-profile but high-quality love life. I'm sure Harvey appreciates Jeter as a player as well, of course.
Here's Harvey on his pre-start rituals:
"I shave," he says. "I let it grow out, and on game day, I shave. But otherwise, my prep is basically to not prep. Go out and have fun, you know?"

(snip)

"I have a 48-hour rule," he says. "No drinking two days before a start. But those other days? Yes, I'm gonna go out. If I was locked up in my house all week, I don't know what I'd be like on the baseball field."
Harvey lives in Manhattan's East Village and readily admits he likes to take in the area's active bar scene. Here's what Henrik Lundqvist, goalie for the New York Rangers, had to say about his good friend, who takes his style as seriously as his pitching:
"Matt's very funny," says Lundqvist. "He calls me sometimes and says, 'Let's go shopping, teach me some stuff.' " Harvey has no shame in admitting that his fierce competitive streak extends far beyond the pitching mound. "He always makes the best-dressed lists," he says of Lundqvist. "Well, I want to be on those lists."
What about life at chateau Harvey, back home with the family?
"Dirty martinis and music -- that's the big motto in our family," he says, describing his extended Italian-American clan as a rowdy tribe, fond of letting loose as often as possible. "We get the booze going, and the music starts playing. Always old-school hip-hop. Jay-Z. Tribe Called Quest. The Pharcyde. My parents love that stuff."
That ... sounds pretty awesome, actually. As a fellow Italian-American, I can vouch for the "rowdy tribe, fond of letting loose" lifestyle -- it comes with the territory, trust me -- but for some reason I get the sense the Harveys are a lot cooler than the Axisas.
Here's one final tidbit from the profile:
"No matter what, New York is now my home," he says, finishing the night's last drink. "I could buy a place now, but I've gotta wait for that $200-million contract. If I'm going to buy an apartment, it has to be the best apartment in the city."
It takes a certain level of self-confidence and arrogance to be a world-class athlete, and based on Amsden's profile, it's clear Harvey isn't lacking lack that prerequisite for stardom.
The Nats will host the All-Star Game in 2018

The Orioles are looking to trade Machado heading into his walk year

The Cardinals have been linked for a while to the Baltimore star
Gallardo spent the first eight years of his career in Milwaukee

MLB revenues are at a record high right now, but teams aren't spending it on players

Chicago added Tyler Chatwood earlier this offseason but might not be done adding to the ro...