Have knuckleball -- and dreams -- R.A. Dickey wins an historic Cy Young
Mets' right-hander R.A. becomes the first full-time knuckleballer in major-league history to win a Cy Young award. ...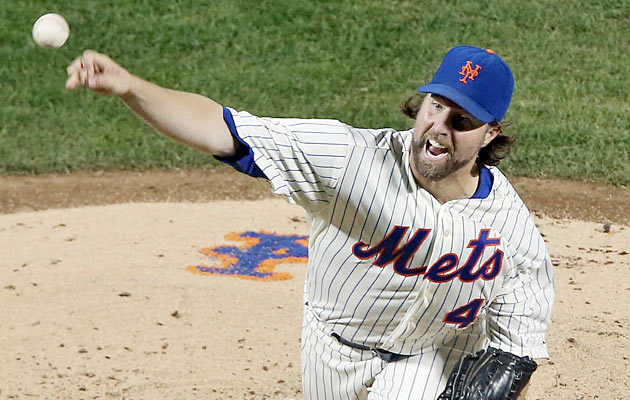 'This is a victory for all of us. It really is. It brings a legitimacy to the pitch.' (Getty Images)
Float like a butterfly, sting like a Cy Young winner.
There you go. Finally, officially, declaratively, historically: R.A. Dickey's knuckleball, sigh-worthy and Cy-worthy.
No knuckleballer had ever before won a Cy Young award until Dickey ran away with the National League portion of the Baseball Writers' Association of America's voting Wednesday. Dickey earned 209 points, the Dodgers' Clayton Kershaw was second at 96 and the Nationals' Gio Gonzalez was third at 93.
This day was both well-earned and hard-earned for Dickey, 38, whose life has taken more twists than the craziest knuckleball you ever saw. He writes about it movingly in his book, Wherever I Wind Up: My Quest for Truth, Authenticity and the Perfect Knuckleball. It is a great read. Put it on your Christmas list.
More Cy Young coverage
Related content
More MLB coverage
"When I wrote the first pages of my book, I said, 'I'll never lead the league in strikeouts,'" Dickey was saying during a conference call following Wednesday's announcement, and yet that's exactly what he did this season with 230, one more than Kershaw's 229.
Notably, Dickey reminisced, he never did write "I will never win a Cy Young award."
That came up in conversation with his co-author, Wayne Coffey, as they were reviewing the manuscript.
Why don't you just say you'll never win a Cy Young? Coffey asked, looking for a more dramatic statement.
Because I hope to, Dickey told him.
"I always had a big imagination," Dickey said Wednesday on the conference call.
His Cy Young is a testament both to defying the laws of gravity and defying the boundaries of that imagination.
The product of divorced parents, the son of an alcoholic mother, a victim of sexual abuse as a child by both a 13-year-old babysitter and a teenage boy, that was only the start for Dickey.
Fast-forward to his baseball career, and you find a top prospect at the University of Tennessee who became the Rangers' first-round pick in 1996. But a team doctor didn't like the way Dickey's arm was hanging in a Baseball America cover photo, and it turned out he had no ulnar collateral ligament in his right elbow.
That one photo cost him $735,000. The Rangers reduced their offer from $810,000 to $75,000. What was he going to do?
Fast-forward again, 16 years and four organizations later. Dickey was a washed-out has-been whose fastball had flamed out when he embraced the knuckler in 2005 and 2006.
Ah, the knuckleball. The last refuge of a desperate man.
"We live in a culture now that's got a very progressive mentality, which is fantastic," Dickey said of Cy voters embracing what so often in the past was viewed as a gimmick pitch. He noted that his victory is "a compliment to the vision and imagination of the voters. They didn't see it as a trick pitch."
Well, before those who voted go to the "aw, shucks" routine (disclosure: I did not vote on this award), let's quickly say that it was the NL hitters whom Dickey faced who offered the most thorough testimony that what he was throwing was not a trick pitch.
Not only did Dickey, 20-6 with a 2.73 ERA, lead the NL in strikeouts, he also ranked first in innings pitched (233 2/3), complete games (five) and shutouts (three).
He throws what he calls an "angry knuckleball", which, translates into a pitch that never has been thrown before: A hard knuckler that averages around 85, 86 mph. Those knucklers who came before him didn't get the pitch out of the 60s or 70s.
By throwing it hard, Dickey has better control than most previous knuckleballers. As his catcher this summer, Josh Thole, estimated, when he wants to throw a high knuckler, he can do it "six out of 10 times, and maybe even more than that."
It did not come easily, or naturally. From consultations with Charlie Hough, he learned the best grip. From Tim Wakefield, he learned to throw toward home plate as if aiming through the frame of a door. From Phil Niekro, he learned to fire his hips toward the plate while finishing the pitch.
In the roughly 45 minutes from the time he won the award to the time he jumped on a conference call with BBWAA members, he said he received 127 text messages and more than 35 or 40 phone calls.
He answered one phone call: From Niekro.
He answered one text: From Wakefield.
And he vowed that as soon as the conference call ended, he would answer one more text: From Hough.
"Phil Niekro said the kindest things," Dickey said. "This is a victory for all of us. It really is.
"It brings a legitimacy to the pitch."
It really is amazing what a big imagination can do.
Let this be a lesson not only to all aspiring knuckleballers out there, but to kids from all walks of life that dream of becoming everything from a baseball player to the scientist who cures cancer.
"My hopes always outweighed my doubts, which kept me going," Dickey said.
He spoke of his wife, Anne, who even in the darkest moments when the game was pushing him away continued to support his dream, because she "did not want me to have one singular regret."
He spoke of Omar Minaya, the former Mets' general manager who brought him to the organization in 2010. Sure, Dickey was the first cut the club made that spring, but it was an opportunity.
And when you're surrounded by supportive coaches throughout your life, family who loves you and, yes, he said, fans like those in New York who turned out to CitiField to watch and holler for him even after the season had slipped away from the Mets … well, it's amazing, where the journey that springs from just one opportunity can lead.
"I am not a self-made man, by any stretch of the imagination," Dickey said.
Thanks to guidance and wisdom from Niekro, Wakefield and Hough, he's not even a self-made knuckleballer.
But he is the first full-blown knuckler ever to win a Cy Young award.
"With imagination, hard work, people who love you and vision," Dickey said, "you can do it."
As the man himself said, all you need is a big imagination.
Now, go dream.
CBS Sports HQ Daily Newsletter
Get the best highlights and stories - yeah, just the good stuff handpicked by our team to start your day.
Please check the opt-in box to acknowledge that you would like to subscribe.
Thanks for signing up!
Keep an eye on your inbox for the latest sports news.
Sorry!
There was an error processing your subscription.
Plus the Rays shut out the powerful Yankees and everything else to know about Saturday's MLB...

The road is Omaha is complete, now it's time for the College World Series

Kershaw allowed two runs in three innings in his first start back from the disabled list
Several teams could use the future Hall of Fame third baseman

The Brewers now have too many infielders instead of too many outfielders

Senzel entered the season ranked as the game's seventh-best prospect