Head games, rodents and killer pitching -- NLCS wraps in St. Louis
The scene shifts again for the Dodgers and Cardinals, who take their emotional race for a World Series berth into its final Act ... or, if Los Angeles wins Game 6, Acts. ...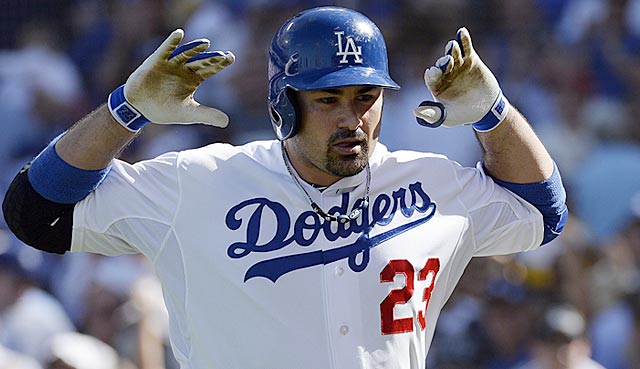 ST. LOUIS -- America's Team -- you know, the Dodgers -- are back in town (theoretically having chartered here via Air Pimp), and the head games that are now fueling this National League Championship Series rage toward Game 6 on Friday night.
But before we get to the pitching gem that is Clayton Kershaw vs. Michael Wacha, let's pause for a moment to explore life, love and that ever-elusive concept that is far more complicated than either of those -- baseball protocol.
Quick, who said this: "This ballclub is about emotion. We showed emotion every single time. And when [the runner] got to second base the first time, he reached over and put the fists up way high. That was telling the other guys, Let's go. Get me home. And that's what it's all about in baseball."
Dodgers manager Don Mattingly? Bench coach Trey Hillman?
No. How about Yankees bench coach Tony Pena, speaking in his role as manager of the Dominican Republic team at the World Baseball Classic finals in San Francisco on March 19? He was talking about Jose Reyes.
Though it sure could have been Mattingly dissecting Gonzalez's fist pump following his Game 3 RBI double ... or Cardinals manager Mike Matheny discussing Carlos Beltran's double fist pump following his two-run double in Game 1.
Now, this: "It's a different style, the way we play here. ... Here, we get a chance to come out and just be able to give high fives to the guys. We can jump."
Gonzalez? Puig?
No, and no. That's Robinson Cano, Yankees second baseman, speaking of the Dominican Republic team on March 12 in Miami.
Though it sure could have been any one of the Cardinals discussing David Freese hopping up and catching some serious air after scoring what would be the winning run in St. Louis' 1-0 Game 2 victory.
In the end, this NLCS is going to come down to whether the Cardinals can solve Kershaw (who was brilliant in a 1-0 Game 2 loss), and whether the Dodgers got enough of a feel of Wacha's excellent curve in Game 2 (6 2/3 scoreless innings) to draw some Busch Stadium blood.
Or it is going to be decided by Adam Wainwright's resolve and Hyun-Jin Ryu's courage in Game 7 on Saturday night.
Gonzalez, Puig and Andre Ethier are going to have far more to say about it with their bats than with their actions. And Beltran, Matt Holliday and Yadier Molina are going to win or lose this thing with their grace under pressure ... which, yes, must include measured reactions even if Puig duckwalks all the way from the dugout to his position in right field or the Dodgers add Mickey Mouse to their roster as the new closer.
This is a supremely talented cast of characters we're watching here, so to take your eye off the ball, as the expression goes, would be a mistake.
That said, in case you've been slow to the table this year, even stuffy old baseball has been slowly marching forward. Never was that more evident than in watching the Dominican Republic's championship team in this spring's WBC. They were a traveling carnival, a hit-and-running kaleidoscope of color, chatter and chew. And, man, were they a blast.
Never has the game been as multi-cultural as it is now, and I'm not talking about the culture clash between St. Louis' staid Midwestern values and Los Angeles' hipster SoCal vibe.
No, the game is far richer today because of the contributions of players from the Dominican Republic, Japan, Puerto Rico, Venezuela, Cuba, Korea, Australia and points beyond. They all bring with them a different way of doing things. Sometimes, the adjustments to that get rocky and uncomfortable.
The game should be played with joy. It's one thing to show an opponent up in a manner of poor sportsmanship. But if we're going to start keeping score on every fist pump at second base or scream in exultation after a guy triples, well, that's a whole lot of going out of your way to look for trouble.
Dodgers setup man Brian Wilson maybe has never made as much sense as he did late Wednesday afternoon, saying, "If you give a baseball player the ability to have fun, he's going to run with it. We are told daily that we're playing a children's game, and we are. So, we act like children sometimes."
I get Wainwright being upset if Gonzalez was hollering at him from third base the other night while he was trying to pitch.
And I get the Cardinals being upset at Puig completely disrespecting plate umpire Ted Barrett the other afteroon.
But Puig is way too much fun to watch -- and far too great a talent -- to get upset every single time he unleashes more than a small dose of enthusiasm.
"We've been very consistent with how we think about this, and we understand it's our responsibility to take care of ourselves," Matheny said on a conference call Thursday afternoon. "That is a big responsibility, and we've got a lot to take care of."
What the Dodgers appear to be doing right now is taking the proverbial mile after being given an inch. Gonzalez making those Mickey Mouse ears is so completely out of character for him as to make him nearly unrecognizable in that moment.
When Wainwright went public with the "Mickey Mouse stuff" comment the other day ... even if you give him every benefit of doubt and say he is 100 percent correct, it still became an opening for the desperate Dodgers, looking for any avenue back into this series, to find it.
And then Mattingly, with a broad smile, took it to the absurd after his team pushed this series back to St. Louis with the 6-4 victory Wednesday.
"We've kind of become America's team, because everyone wants to see a seventh game," Mattingly said. "Probably, even the fans in St. Louis would like to see a seventh game. So I figure that everyone's for us to win on Friday night."
Woof.
On a conference call of his own Thursday, Mattingly said the Dodgers are not trying to get into the Cardinals' heads, it's more about just having fun.
"We play the game the way you would play it in Little League," Mattingly said, and you don't even have to close your eyes to visualize the Cardinals vigorously nodding their heads in agreement with that.
Matheny said that the Cardinals need to worry about themselves, and not anybody else. They do that, there is no reason why they can't close out a series that they've controlled since winning the first two here at Busch Stadium.
"It's not our right and responsibility to dictate how other teams go about their [business]," Matheny said. "As far as getting under our guys' skin, our guys want to compete. We're not out there to make friends."
There's no more danger of that this week, with the final act -- or acts -- waiting in the on-deck circle, ready to go.
Dioner Navarro still hopes to return someday

Christian Yelich's agent says his client's relationship with Marlins is 'irretrievably bro...

The free-agent market has been slow and one player is bracing for an even longer wait
The Mets didn't want to trade a young outfielder for an older one

Josh Harrison doesn't sound pleased Gerrit Cole and Andrew McCutchen have been traded away

The team's media contracts expire following the 2019 season