Healthy Jake Peavy could help carry Red Sox back onto October calendar
Injuries have held Jake Peavy back the past few seasons, but when he's on his game, few are better. Now Boston hopes its prize July acquisition can team with Jon Lester and John Lackey -- maybe even Clay Buchholz -- to return the Red Sox to October glory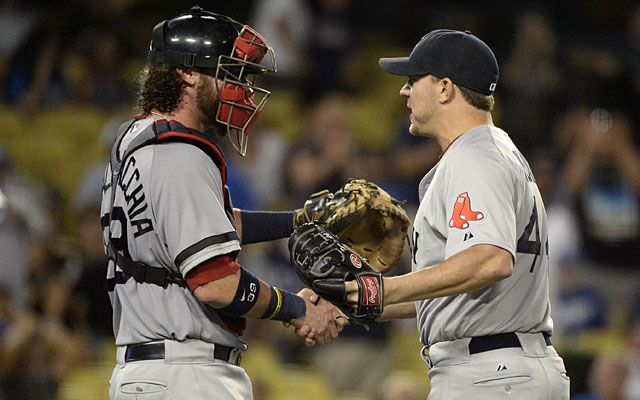 Jake Peavy charges through baseball at one speed, throttle wide open, pedal to the metal. Always has.
Wears his emotions on his double-knit sleeves during games. Howls coming off the field after big innings. Gushes about the support he gets -- with the bats or with the gloves -- from the "boys" behind him.
The time when this full-metal-jacket approach works best, of course, is when Peavy's body is healthy enough to keep pace with his racing mind. Which is why the Red Sox right now look to be in terrific shape with him in their rotation heading into September, and why general manager Ben Cherington's trade for him on July 30 remains in contention for one of the moves of the year.
In a dazzling, complete-game 8-1 three-hitter against the Dodgers on Sunday night, Peavy showed flashes of his old 2007 NL Cy Young form.
In facing his old Chicago teammates Saturday in Fenway Park, the White Sox will see a different Peavy than the one they shipped to Boston in the three-way deal with the Tigers.
Not only did Peavy miss 46 days in Chicago earlier this year with a rib cage injury, he still wasn't himself in the July 20/25 starts he made for the White Sox after coming off of the disabled list.
He heard the trade rumors. He knew what was at stake. He's no dummy ... just, maybe, at times, a tick overly competitive.
"I kind of rushed back from the injury," Peavy said. "Obviously, the trade deadline was pressing."
It's not the first time he has raced that deadline clock. When the Padres traded him to the White Sox in 2009, he was practically willing an ankle injury to heal so he could leap into key stretch-run games.
Now, seven starts in following his return from the DL, Peavy again feels -- and looks -- pretty darned good. And if he can stay in this physical happy zone for a couple of weeks, there is no gauging the heights to which Peavy, Jon Lester and John Lackey can help push this Red Sox team.
"He's a strike-thrower who commands the strike zone, and it's great to have him," said Juan Nievs, Boston's first-year pitching coach who worked with Peavy the  past few years in Chicago as the White Sox's bullpen coach. "We're going to benefit from having him.
"He competes every outing."
That has never been a question.
In recent years, it's his body that has held him back.
Given his battle scars, you might say that Peavy is on the older side of 32. There are many innings inside of that arm. Lots of wear and tear. The ankle injury. Shoulder. Rib cage.
"But I do think I'm hitting my stride, endurance-wise," Peavy said. "I'm able to hold my stuff. My velocity, I'm not anywhere close to worried about that. But I did see a decline in my stuff in Kansas City [Aug 9]. And Toronto [Aug. 15], I felt the same way.
"But I felt fine the last two starts [Dodger Stadium, and in San Francisco on Aug. 20]. I've been working hard to hold my stuff, and it's encouraging."
Dodger Stadium always has been like a second home to Peavy. He's now 7-1 with a 2.85 ERA in 13 career starts there.
One scout who was in the stands there Sunday night came away very impressed, noting how sharp Peavy looked and how he mostly "toyed with" a very good Dodgers lineup.
"Jake's the kind of guy who, during the course of a game, there could be some alteration that needs to be made, maybe using different [pitch] sequences with guys, and he's great," Nieves said. "The third time through the lineup, or the fourth time, you start looking at different options.
"Having him have the capacity to do that, it's wonderful."
As the Red Sox aim to completely obliterate the wreckage of the past two summers by holding onto their AL East lead over the next month, Peavy's not alone. Lester, who has been magnificent lately, and Lackey, whose comeback has been inspirational, also have the capacity to make key alterations that allow them to pitch deep into games.
So, too, does Clay Buchholz, though who knows when he next will see a seventh or eighth inning. Out since early June, Buchholz hopes to return Sept. 10 during a crucial series against the Rays.
"It's nice," Nieves said of this particular asset in his starters. "That's what makes this game so fun."
So far, much more enjoyable in Boston than 2012, or September 2011.
In five starts in Boston, Peavy is 2-1 with a 3.31 ERA.
Right now, he and the Red Sox are both in the giddy stage of endless summers and wide open futures. There is no limit to how good things could be in Boston this autumn.
No question, last weekend's Dodgers series was a statement series. Los Angeles had not lost a series since mid-June.
"This bunch is a veteran bunch. We know what we have here," Peavy said, ominously. "I knew that the day I walked into this clubhouse."
As if Peavy, of anybody, really needed to be re-energized.
But the trade did it.
"Of course," he said. "When you go from a situation I went from. ...
"I'm happy to see the White Sox playing well now. We had good players who just didn't get it done, and that was disappointing. I didn't want to be in a situation where I had to be moved.
"But to come to first place from last place, if you can't get energized by this ... at this point in my career, that's all I want, is a chance to win.
"I couldn't ask for anything more."
Mark Appel was one of the players being moved about on Monday night

Garrett Cooper is the answer to a trivia question

We still don't know if Ohtani will be jumping to the majors yet
Kinsler is a free agent next winter

Opening Day will be Thursday, March 29 -- the earliest opening day in MLB history

The World Series champion and big-time wrestling fan was on hand Sunday night